Here are some pretty things I've come across this week,
from some blog
or catalog
or friend
or magazine
or another;
or just from my own browsing&shopping&surfing,
that I need to convince My Prince to dole out the cash for...
Personally, I can never have enough go-to "basics" in black or white. Even with the bursts of color that have inundated my wardrobe in the last couple years (thank you, Lilly!), I still tend to choose a solid neutral for balancing out the brightness. Bonus points whenever I can find one that is a little different, a little more feminine. Like that tee!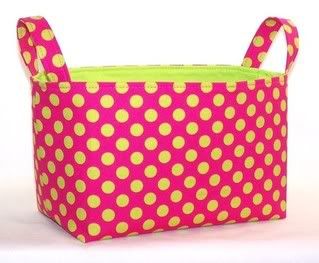 Reversible Organizer Basket in Preppy Pink&Green Polka Dots from
Sew Gracious
I need one of these in every room of the house for my collections of hyper-organized
catalogs,
headbands,
library books,
magazines,
mail,
recipes,
to-do lists,
etc.
(& maybe one for my vehicle, too.)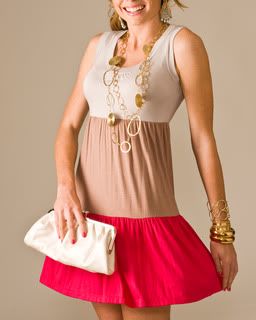 The first time I shopped at Francesca's was during spring break of my senior year of college, in New Orleans. I bought an excessive amount, & I am still particularly fond of a pair of nautical-feeling heels I found there that day.
I was delighted a couple years later when I realized there were other other Francesca's shops popping up. The store feels&looks so boutiquey, I hadn't considered that it wasn't just a random boutique in New Orleans. One of the main reasons I love it so, is that I can buy
fun,
trendy,
not-so-classic
pieces, without spending very much money. Yet their merchandise is always superior in quality&taste to other inexpensive, trendy "mall stores."
(You know the ones I'm referring to...I've pretty much banned them from my closet because I get annoyed by poor quality - & by seeing an overweight teenager squeezed into the same top I am apparently too old to be wearing...seeing as how I am pushing a stroller!)
Anyway, I just love the concept&style of that little dress. A little Neapolitan layer cake:
vanilla,
chocolate,
& strawberry.
Comfortable,
inexpensive,
& sweet.
Another summer dress find for Sara's closet!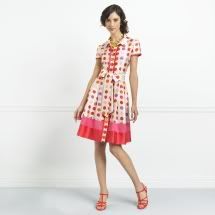 Of course, fun&whimsical can also be classic&tailored.
Which of course lends itself to being a bit more expensive.
But oh, Kate, you are always worth every penny, aren't you?...
...we'll just have to see if My Prince thinks there is room for you in our closet, too!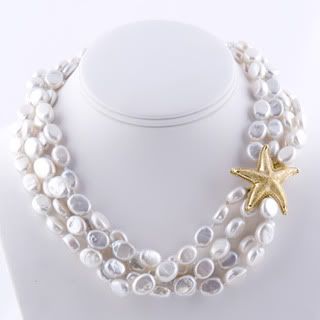 Okay, so
remember weeks ago when I asked
you to help me figure out who designed the bracelets I coveted? Well, none of you helped me out (
tsk, tsk ;)
), but the correct answer was
Fornash
. I have three of their beautiful bracelets now - thank you, My Prince! - & a little wish list of some of their other headbands&jewelry.
So that necklace is (obviously) not Fornash, but it is very similar in style to one of my Fornash bracelets. & I love it! If we happen upon an extra $1,800 sitting around, that we don't have anything to do with (hehe); I think it'd be a great addition to my fun, summery jewelry collection...don't you?
Here are my (decidedly more affordable) Fornash bracelets:

(Actually, my freshwater pearl turtle bracelet is apparently no longer available...Forgive me for not taking the time to take a photo of my own & upload it. But imagine that turtle from a necklace, in place of the ladybug on that bracelet in the center, & you'll get the idea!)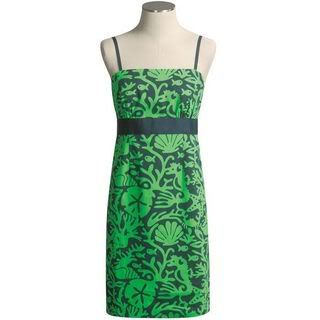 (By the way, that first bracelet pairs beautifully with this

Vineyard Vines

dress I have!)
T.G.I.F.! What do YOU want this weekend?