It amazes me, that people are so often amazed, when I tell them that I mostly home-prepared Pretty Little Bare Feet's "baby food."
It's not hard to do,
& I am a stay-at-home mama.
I also love to cook.
So why on earth
wouldn't
I spend a little of my time in the kitchen devoted especially to the preparation of her meals?
Pretty Little Bare Feet is a toddler now, so she's eating differently, which is definitely fun (most of the time, anyway). But it was also really fun back in the days of
introducing one new food at a time,
a few days in between each one;
& getting to see
that first reaction,
to that first taste,
of some fresh new food!
Last summer when Pretty Little Bare Feet got the green light from her pediatrician to begin eating solid foods, I was delighted to take her with me to stroll the local farmer's market. Whatever was delicious&fresh that weekend was what she would get to taste for the first time that week.
In this post I'd like to share with you some of my first few baby steps into cooking homemade baby food (from last summer), as well as some go-to recipes&tools that are helpful when cooking for children of any age!
You've all figured out that I have quite the admiration for Williams-Sonoma. So when my sick pregnant self noticed this gadget in the catalog during my first trimester, I bookmarked it immediately. As Pretty Little Bare Feet's six months appointment approached, I ordered the Babycook. I began putting it to use right away! & I still use it occasionally for
chopping,
pureeing,
or steaming.
Sometimes specifically for Pretty Little Bare Feet, sometimes for something else.
This wonderful little piece of green magic (I swear it's lucky coincidence that it fits into my color scheme in the kitchen!) was the backbone of my homemade baby food success. It is seriously the easiest thing in the world to use. Even if you don't think you are a "cook," you can use this to cook for your baby. If you can work a microwave, you can work the Babycook.
& if you have enough time to watch a sitcom,
you have enough time to check back in with the Babycook during commercial breaks,
& have a week's worth (or more) of baby food prepared at the end of the show.
(You will, of course, have to use your freezer to keep more than a couple days' worth fresh. I did use the Beaba tray, & I do recommend it.)
Because I drink the Williams-Sonoma Kool-Aid, my first baby/toddler cookbook was the one sold at Williams-Sonoma. I have since acquired quite a few more. I still use this one frequently, though, & I have found many of our favorites in it. I also follow the author's
blog
at
Petit Appetit
.
A few other great blogs I use for baby-/toddler-/kid-friendly recipes are:
I didn't actually use "recipes" for some of Pretty Little Bare Feet's first homemade baby food purees. If you buy a Beaba Babycook, it comes with a little booklet that tells you how many measures of water you use in the Babycook, based on what fruit or vegetable you are cooking&pureeing. This also determines the amount of time that it will steam.
It doesn't, however, tell you how much of that fruit or vegetable to use. There is a little steamer basket in the Babycook, so you obviously don't want to overfill that. But I often made two, or even three, little baskets' worth of chopped food at once. I just steamed them in shifts. After steaming, you remove the basket before pureeing, & that generally creates enough room in the Babycook to put more than one basket's worth of the steamed food in to be pureed together at once. If you do more than one batch at a time, you will
save the effort,
& time,
of prepping the food again;
& of cleaning the Babycook,
& dishes,
again.
Nor does the Babycook literature give you any real
direction,
guidance,
or information about the foods you prepare in it.
So even with the magic Babycook, you will probably still want to seek out additional resources for making the purees really good, as opposed to just being cooked, & edible for baby. I adapted the following recipes from combining bits&pieces of information&recipes, mostly from the aforementioned sources; as well as from my own trials&errors.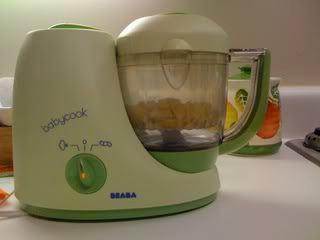 (sorry for the iPhone-quality photo)
potato puree
(yield: makes about 1 1/2 cups)
6 small yellow potatoes, peeled
1/2 cup water
*Wash, peel, & cut potatoes into 1-inch chunks.
(Wait to peel the potatoes until right before cooking. Don't soak them in water, or they'll lose their vitamin C.)
*If you have a Babycook, follow Babycook directions for adding water to steam potatoes. After steaming, remove steamer basket & add the 1/2 cup water. Follow Babycook directions to puree to a consistency your baby can handle.
*If you do not have a Babycook, heat 1 teaspoon extra-virgin olive oil in a saucepan over medium-high heat. Add potatoes & cook, stirring occasionally, 6-8 minutes. Add the 1/2 cup water & bring to a boil. Reduce heat to maintain a gentle simmer, cover, & simmer until potatoes are soft, about 20 minutes. Mash with a food processor, potato masher, or wooden spoon, to a consistency your baby can handle (mash with a fork to make it thicker, or put some or all of it in the food processor for a smoother texture).
(You could also use some of your baby's usual formula or milk, instead of water. Pretty Little Bare Feet preferred this at first.)
*Spoon some of the puree into your baby's bowl & serve lukewarm.
*To store, refrigerate cooled puree in an airtight container for up to 3 days, or fill ice-cube trays or larger containers to freeze for up to 3 months.
(Root vegetables are great first foods for babies because they are naturally sweet, & they are easy to puree to a very smooth texture. Potatoes are a good source of complex carbohydrates, which are a good source of energy. Potatoes are also a good source of potassium; & they contain vitamin C. As long as you leave the peel on, they also contain fiber. They blend well with most vegetables. Baked potatoes are very good for children, & you can top them with baked beans for added fiber.)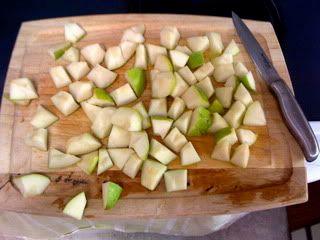 (sorry for the iPhone-quality photo)
pear puree
(yield: makes 2 cups)
4 ripe pears, quartered&cored just before cooking
(Fujis have the least amount of acid, so that's the best choice for young babies.)
*Let pears ripen on a countertop.
(Pears are sweeter after they've ripened. If they aren't ripe enough when you cook this, your puree may be too tart for your baby.)
*If you have a Babycook, follow Babycook directions for adding water to steam pears. After steaming, let cool & scrape flesh from skins. Remove steamer basket & follow Babycook directions to puree pears until smooth.
*If you do not have a Babycook, bring 1 inch water to a boil in a pot. Put pears in a steamer basket, set in pot, cover tightly, & steam until tender when pierced with the tip of a knife, 7-10 minutes, depending on ripeness. Check regularly that the fruit has not caught on the bottom of the pot. Let cool & scrape flesh from skins. Blend pears with a handheld electric blender, press through a strainer, or puree in a food processor until smooth.
(Cooking them with the skin on retains more nutrients!)
*Thin if necessary with a little boiled water. As baby gets older, add baby's cereal to thicken this liquidy puree, if desired. Serve lukewarm.
*To store, refrigerate cooled puree in an airtight container for up to 3 days, or fill ice-cube trays or other containers to freeze for up to 3 months. Expect some slight discoloration during storing.
(Pears are great first foods for babies. They are high in fiber, & can help with constipation. But for Pretty Little Bare Feet, they didn't create the same, um, explosive effects that prunes did.)
***Please note that I am not a doctor. I am a blogger, a lawyer, & a stay-at-home mama. I gather&read a lot of information before I prepare food for my own child. I would encourage you to do the same, rather than only going by what I've posted (although I do stand behind the observations I've recorded here). Each child is different, with different needs. Foods are also different in different regions. I use guidelines I've received from our pediatrician, for feeding our child. Please use the advice of your own pediatrician regarding the age at which your child should begin eating which foods, & what serving sizes are appropriate for your child. Thank you for reading my blog! Please feel free to email me with any questions you may have.***