I could relive one Easter memory from my childhood, & it would be my mama's homemade Easter basket cake!
I hate that I don't have any of the actual photos - they're at my mama's house - to share with y'all, because I'm telling you that my mama's Easter basket cake was genius. I believe I must have been about five years old that Easter, as I remember that in all of the photos of my little cousin Jackie, he was still crawling. & he is about four years younger than I am.
Anyway, that was also a particularly fun Easter because I was old enough to really make lifelong memories.
My parents would have driven me up to my grandparents' from where we lived about six hours away;
one of my very first "best friends" lived right next door to my grandparents';
my aunt&uncle lived about twenty minutes away with their boys;
another aunt&uncle lived about ten minutes away with their brood of about seven or eight;
& I am almost certain that my closest-in-age-&-otherwise girl cousins,
Elizabeth&Erin,
had gotten to come all the way down to Alabama,
from Chicago!,
with their parents.
It was more than likely the only Easter that so many of the grandchildren were able to get together at my grandparents'. Truly a special Holiday!
I remember that we made homemade ice cream in a homemade ice cream maker out in the front yard, with my pawpaw&uncle. Back then, before they got older & moved next door to my mama's older brother, my grandparents lived on a mountain top, waaay back from the road. You could just barely see the top of their driveway from the end of the driveway at the road. There were a couple huge trees right at the end of the driveway, & then all along the sides of the driveway. The rest of the (huge) lawn was just
beautiful,
pure,
green
grass.
(& my pawpaw loved to ride that lawnmower, so you can bet that lawn was freshly mowed for us grandkids that weekend, too!)
We had what may have been the world's longest-lasting Easter egg hunt. I remember that I had to get special permission to walk all the way out to the edge of the road with my cousins to look for the last of the hidden eggs out by those big trees. That's because it was almost dark by then.
& oh, how I love the photos my mama has of me in that little gem of an Easter dress - with, yes (of course!), a beautiful little white Easter hat to match.
But what I remember most vividly, & what I've been dreaming of recreating for years, was my mama's legendary Easter basket cake. She may have gotten the idea from some
cookbook,
or magazine,
or another;
but the final product was all her creation. It was
made with cream cheese frosting,
covered in coconut;
& it was decorated with multicolored jelly beans,
perfectly arranged all over.
I won't be recreating it this year, as we are visiting a couple of our dearest friends at their house for Easter weekend. Saturday is their daughter's first birthday party!, & we haven't been able to see them since...August?
(Has it been that long? It's been too long, anyway.)
We are going to do Easter supper with my mama here at our house Friday night, & have the Easter Bunny drop by then, too.
(Because who wants to carry a
Little Tikes Cozy Coupe
three hours away, unload it, reload it, & drive it back home? Not us!)
I am going to do some baking&cooking this weekend, but nothing as monumental as the Easter basket cake recreation.
Besides, Pretty Little Bare Feet is only fourteen months old, so I'm not sure she'll be able to truly appreciate & remember the wonder of it just yet.
I was able to round up some Easter basket cakes in the spirit of what my mama made. Maybe you'll be inspired to design one of your own, too!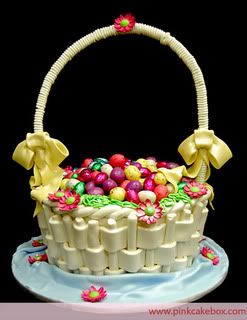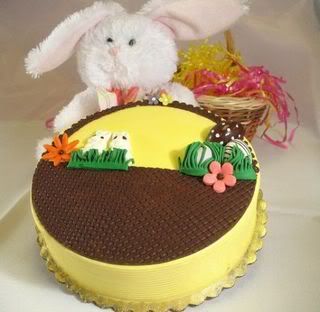 Oh! & you were wondering about that "grateful" part of the title?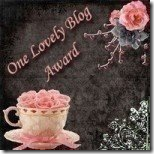 *I am passing it on to these three lovely blogs: