If any of you have actually been wondering where I've been lately, it has obviously not been behind the MacBook. Pretty Little Bare Feet has already cut one molar in the way back, up top, & she appears to be teething again. This is a bit interesting (at least to us mommies of toddlers), as she has not completed her bottom incisor set. These teeth are all out of order. She's not particularly difficult to deal with, but
she is a bit fussy
(which is not common for her),
she is biting on anything we'll allow her to bite on,
& she is drooling constantly.
Basically, I'm getting less done while she is awake, which means I have to move blogging further down the to-do list when she is napping.
I've also been putting in more miles running, as My Prince & I ran a 5k yesterday for the Montessori nursery school that Pretty Little Bare Feet will begin in the fall. So I had to "train" a bit to make sure I didn't make a fool of myself. I didn't make a fool of myself, but I did fall prey to a particularly aggressive attack from some pollen along the course. I've been blowing my nose & sneezing pretty much constantly since about the second mile, more than twenty-four hours ago. Miserable. But thanks to a shot, & an Rx that it took going to four different pharmacies to fill (See? That pollen is ruthless!); I am sniffling a bit less now.
(For some additional stress, Pretty Little Bare Feet's pediatrician has diagnosed her with these same seasonal allergies. & hers had the added misfortune of blocking her Eustachian tube, which resulted in a buildup of fluid, which resulted in a mild ear infection. Most unfun!)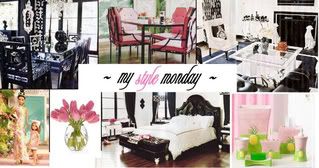 Yay! We are discussing playrooms this week! So fun!
One of the things My Prince & I love most about the house we bought, is the upstairs. The second&third bedrooms are upstairs by themselves, with one full bathroom. The upstairs hallway is open to the downstairs, though, in a loft style, so these bedrooms aren't too isolated.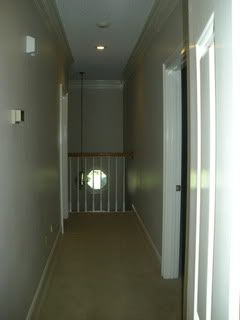 (Just enough privacy for us, without too much privacy for Pretty Little Bare Feet &/or any of her future siblings.)
But the bedrooms are also huge, so we wouldn't feel the least bit guilty about having siblings share one of the rooms when they're really little. Our third bedroom is big enough to serve as a guest bedroom, with a couch & television, on one side; & an office on the other side.
Pretty Little Bare Feet's room has two closets.
(These photos are mostly from before we moved in. A couple of them are from right after we painted & put up the border&wallpaper, but even those are from before the nursery was finished. Maybe one day I can share more of the complete room, but hopefully these can help you visualize what I'm describing...)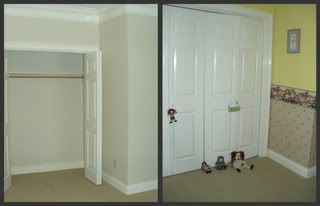 One of them has double doors, with a long shelf inside & the standard bar that runs underneath the shelf.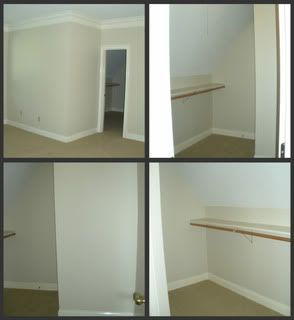 The other is a huge walk-in closet that has a shelf all the way down one wall, & a bar under the shelf for hanging clothes&things on.
It is definitely big enough to serve as a playroom for a small child (or two), & that is what its intended purpose is. Right now, Pretty Little Bare Feet is too young to go up&down the stairs by herself all day, but I look forward to the day that most of her toys can stay upstairs in her bedroom&playroom (& I can take back my downstairs rooms!).
Of course, since
My Style Monday
is all about having unlimited money&space for decorating our dream houses...I have some grand ideas&inspirations for Pretty Little Bare Feet's dream playroom...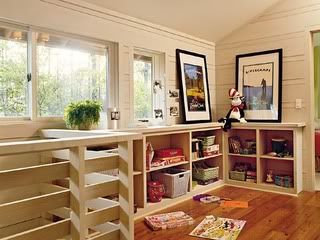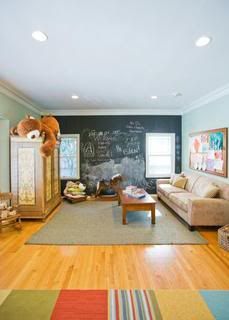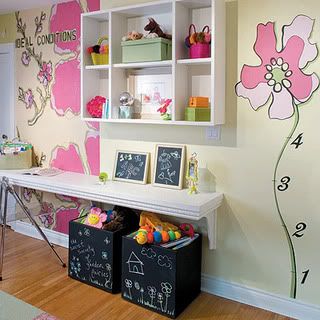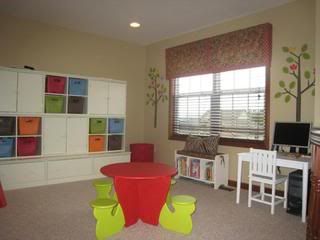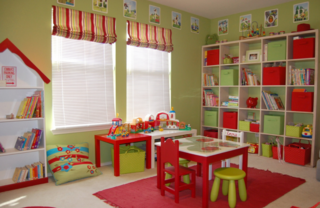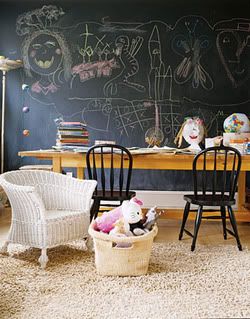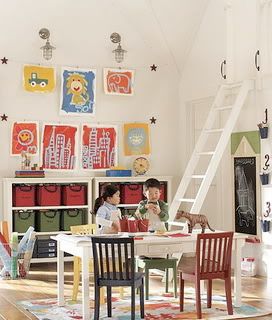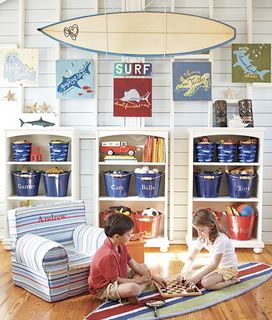 I could look at this stuff all day. Not that we live vicariously through our children...but isn't it nice to kind of relive some of the joys of childhood, & with the added benefit of acquired aesthetic&taste?
(BTW, I am so sorry if you were kind enough to add my button to your blog, & have recently had issues with it. I had thought I knew Photobucket well enough to know how to resize my button without having to change the html code, thus affecting how it would appear where it had already been posted. However, apparently Photobucket one-upped me on that one. It kept registering that the old photo was still in my album, & wouldn't let me change the new photo name to the old photo name. Anyway, if you'd be so sweet as to recopy it, it will show up properly with what is in the html box on my sidebar now. & for those of you that hadn't added it...I resized it, so what are you waiting for?! ;))