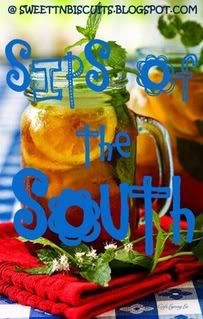 This is my last post for the
Sips of the South
series for spring 2010. I really enjoyed doing it (though I apologize I started late & ended late!). I intend to join back up when it starts again in the fall.
A Southern garden...what are the must-haves in every Southern garden?
My Prince & I have been discussing flowers&gardens here lately because it's warmed up enough (& finally stayed that way consistently long enough!) that it's getting comfortable to lounge around outside.
When we moved into this house late last spring, we knew we wanted to do a lot with the lawn. There is a corner of the backyard that the previous owners let get overgrown&wild, & we've discussed landscaping it into a little garden area with a walkway through it.
Recently we even sat down together with a gardening catalog. While My Prince is really the one with the
green
thumb, I like to at least put in my
nine
two cents about what I think are the prettiest flowers.
& like most Southern ladies, I do have my personal favorite flowers that are Southern classics.
I was thrilled to find that one outer side wall of our house is flanked with a beautiful row of azalea bushes. These actually don't require just a whole heck of a lot of care (I don't think?), so they miraculously survived&thrived during the residency of our neglectful predecessors here.
If you've never been to Mobile, I recommend visiting during azalea season. They have some of the most beautiful blooming varieties, all over the city, that you will ever see. It is especially beautiful to visit when the charming old downtown area is covered in them. It makes for a beautiful drive or stroll.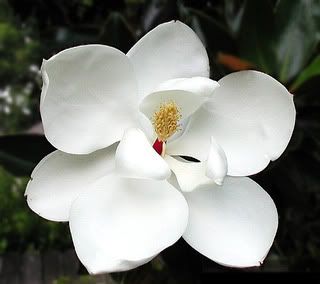 One thing that will remain when My Prince overhauls that back corner of the yard, is our magnolia tree. It blossoms so beautifully. Just when we'll think it's retreated for the season, we'll see one last set of delicious blooms to enjoy. Our big window in the living room looks out on this tree, & I leave the blinds open most of the time during the day. I really enjoy sitting in my big comfy armchair next to that window, & admiring the magnolias in between chapters of a good novel.
Our neighbor across the road from us has a beautiful, breathtaking dogwood tree in his front yard. If our front lawn were larger, I'd plant a mirror image of it over here.
(Unfortunately, it isn't.)
In the spring, though, I seriously stop&marvel at its beauty every time I go out front.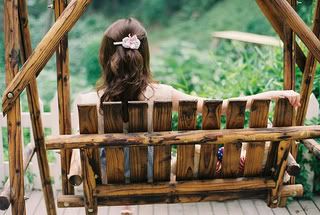 Personally, I don't think any Southern garden (or home, for that matter) can truly be complete without a swing. We were lucky that we bought a house that already had one. It's on the back patio (which we're seriously considering screening in now...thoughts?). So it's not exactly in a "garden." But my dream home would have at least one swing on the
huge,
columned,
wraparound
porch; & another out in the gardens on the grounds somewhere.