I know. I
intended
to participate in
Pink&Green Thursday
yesterday.
But it's been a long time since I've been a daily or near-daily blogger;
& even though I thought about it several times throughout the day,
I ultimately forgot.
I also had a mini panic attack yesterday when two random strangers commented on photos on my Facebook - since I have always had all of my photos set to "friends only."
(Guess what? In case you are not aware, Facebook's newest set of anti-privacy privacy settings automatically negates whatever YOUR settings are as soon as you "check in" to a location - which I've never done! - or tag a person. Once that has been done, your post goes on the public page for that location &/or allows ALL "friends of friends" of anybody you tag - which could be strangers OR people you know but AREN'T friends with for some reason! - to view & comment on YOUR photos. Also, anybody you are friends with has the ability to "share" your photos on THEIR walls with THEIR friends at any time. So, in short, it does not matter how tight your privacy settings are set - they will be overridden as soon as you check in or tag a friend...or a friend that does not honor the same privacy desires you have can share your photos if they choose. Lovely, huh? I swear if it weren't for all the shopping I do for my children on Facebook, I'd just get everybody's contact info & deactivate the thing. Grrr. End rant.)
Here are some pretty things I've come across this week,
from some blog
or catalog
or friend
or magazine
or another;
or just from my own browsing&shopping&surfing,
that I need to convince My Prince to dole out the cash for...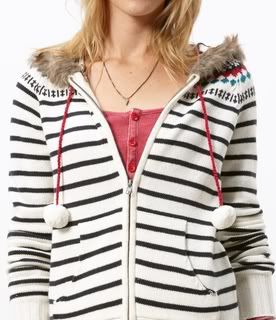 What, you haven't worn Roxy since the tenth grade either? ;) Well, somebody told my mama the other day that I didn't look a day over twenty.
(I used to always get "teenager" comments, I think maybe because I'm only 5'1; but hey, I'm only three months out from having a second child, so I will gladly take twenty! I'm twenty-eight, for the record!)
Besides, I think Roxy looks decidedly less juvenile than I had thought that they did. & I'm pretty sure true fashionistas don't care what the tag on the inside says, or so the fashion editors would have you believe.
(Though I am admittedly very brand-conscious - not for "status" reasons, just out of sheer loyalty to the lines that are excellent quality, consistently match my style, & fit me best.)
Anyway, if it all of a sudden got quite brrr! this week where you live, I'm sure you've been moving your sweaters to the front of your wardrobe, as well. ;)
I need a new "everyday" watch.
I want that one! ;)
But I had a harder time finding something boy-oriented for My Little Man's first Halloween...until I found this adorable tote at Pottery Barn Kids - & it's super on sale! & with free shipping, the total was still less than the original price - even after adding personalization!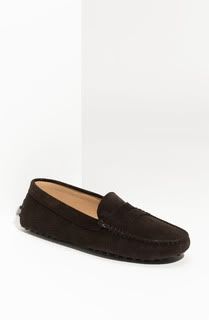 &...I want these ones!
(LOL...I feel like Pretty Little Bare Feet when she says, "Ummm, I want...that one!")
...& what's #1 on my Lilly Pulitzer lust list?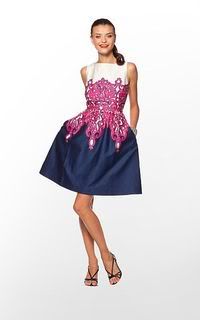 This gorgeous dress, that could take me from
the ballet,
to church,
to a football game!
(We SEC girls do like to dress up nicely for those...)
Pretty sure it might be the perfect cut for a petite mama-of-a-three-month-old who still has something between about two&eight pounds left to lose.
(Seriously, depending on the day & the time of day...)
T.G.I.F.! What do YOU want this weekend?