One of my favorite blogs to follow is
Pink Preppy Lilly Lover
. Trish is fabulous, & she posts about lots of my favorite things, as I am sure you can guess from the title of her blog. You should definitely click over & check out her blog. You will love it!
Sometimes I fret a bit that I have too many "memes" going on. But actually, I don't always do them. & sometimes doing one means I post when I otherwise probably wouldn't have at all. I do still want to post about recipes & other randomness, but this is not a personal blog. At least, not in the sense that it is a diary blog. It is more of a shared-interest blog that ends up being peppered with bits about my family because my family is so important to me.
So being the choosy, picky gal that I am; I think of these days that I do play along with these memes, as opportunities to connect with other bloggers with shared interests (hence the label "sharing") - while also staying true to myself for my own readers. There are a billion other blogs out there, that do a billion other fun link-ups&memes, but I would be doing a bloggy disservice to just jump in with all of them. When I choose to contribute to one of these, it is because it is a good one, that gives me a good platform for posting within the (very) broad boundaries of my blog's (many) purposes. & because the ones I do are so me, it has been so exciting that they have connected me with so many of you!
(Anyway, Sips of the South is on hiatus right now, so that means I'm not really

adding

another to-do, right? ;) Pink&Green Thursday is just too cute to pass up!)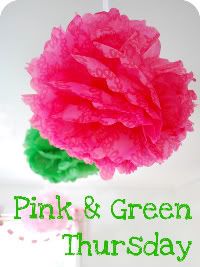 (Pink&Green Thursday has no rules. It is just for us to celebrate&share our love for all things pink&green!)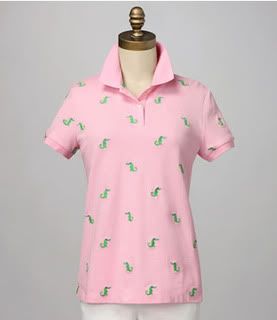 I love pink&green. I love polos. I love pink&green polos.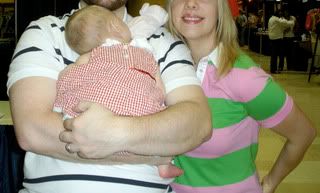 (In fact, I kind of lived in the Lilly polo in that photo last summer.)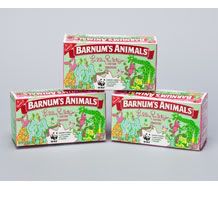 Lilly Pulitzer Edition Barnum's Animal Crackers
I've been buying about a half dozen of these each time I go in Target. & I've been in Target a lot in the last couple weeks, between
buying groceries,
filling prescriptions,
& shopping for my secret sister.
(The secret sister is a MOMS Club thing I'm doing.)
& speaking of my secret sister, her questionnaire says her favorite color is blue. But I'm sure she smiled when she saw that pretty pink&green box of animal crackers, aren't you?
(You'll never guess how I answered my secret sister questionnaire. I could do a Pink&Green Thursday post just on the fabulous pink&green goodies I've been getting from my secret sister!)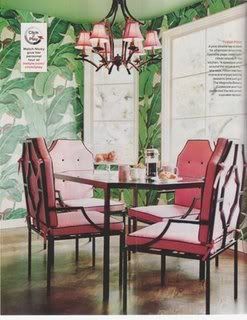 One of several things that inspired my descent into pink&green madness, two or three years ago, was an
In Style
magazine article about Nicky Hilton's house. At the time, the house we were living in already had some green border in the breakfast nook & kitchen. I already had some pink&green dishes&linens. When I saw that photo of Nicky Hilton's breakfast nook, I ripped it out & added it to my inspiration folder for decorating our home. I've looked at it so many times now that I don't even have to pull it out for reference anymore - it's mentally filed away!
Love
that wallpaper!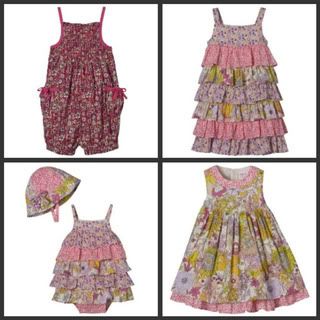 Speaking of Target a minute ago, I've got to tell y'all how disappointed I am that I haven't been able to find any of the Liberty of London clothing for toddlers in any of our Target stores. They have had plenty of the
girls',
home,
& ladies'
items. But the only things I've found in the baby&toddler section are a couple headbands (which yes, I bought for Pretty Little Bare Feet).
Oh, sure, I guess I could have ordered from the website. But good grief, I'm in Target so often that I don't even think to order from them online. & I don't particularly care for their website, for multiple reasons.
But had I actually found those items in the store, or decided to order online before everything went out of stock, those are what I would have wanted to buy. They are my favorite pink&green items from the line!
One of the other things that inspired my descent into pink&green madness, two or three years ago, was a shower curtain. I have no idea how old it is, or who designed it (although I guess I could go look, if I were really curious). I found it on a clearance shelf in a linens store that was going out of business. I paid next to nothing for it. The palm tree shower curtain hooks were a random Target find.
Anyway, the loud, floral pink&green shower curtain was the inspiration for what was once upon a time the guest bathroom. I'm not sure which grand vision came first, the breakfast nook/kitchen, or the guest bathroom. They were hatched right about the same time. Between the two concepts, though, Lilly came into my home. & once My Prince expressed a desire to see me wear more colorful clothing, as well...Lilly came into my closet. I'm sure many of you can relate to the Lilly madness that quickly ensued.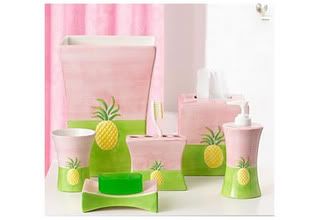 Lilly Pulitzer Pineapple Promenade Bath Accessories
I found my Lilly Pulitzer bathroom set when I was searching for bathroom items to coordinate with the shower curtain. I was able to get the toothbrush holder from
Macy's
, but it has been no easy feat finding the rest of the set at reasonable prices. eBay merchants take advantage of us Lilly ladies, knowing how obsessive we are, & knowing we'll pay just about anything for that one Lilly piece or print that we need. Hmph.
These are in Pretty Little Bare Feet's bathroom now, & it's slowly becoming a bit more "little girly." But I do intend to keep with the pink&green theme in there. I even found some pink&green inspiration for a little girl's bathroom...