"I wish..."
I could splurge on the Saba/L leather shoulder bag by Jimmy Choo, without leaving a gaping hole in our bank account!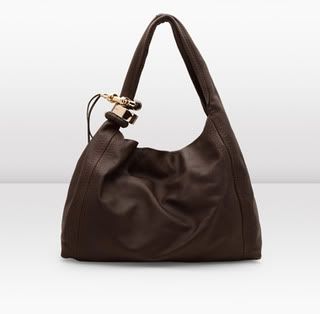 I need an oversized bag, as even though I've transitioned from the diaper bag era, I still like to be able to carry
everything under the bathroom sink,
everything Pretty Little Bare Feet could need,
plus a book,
a magazine or two,
my planner,
& the White Dog...
...you know, if I need to. ;) & this bag is made from a classic, gorgeous chocolate leather that would go with everything, & would dress up everyday mundane errands.
Honestly, though, even though we live in a pretty nice area, where a pretty substantial amount of residents make good money; there seems to be a serious lack of materialism around here.
(I would share my theory on why that is, but then I might as well broadcast my street address to the internet. =p)
Seriously, though, I think people were more concerned about status in the little one-redlight town where I grew up than they are here! I've certainly encountered more
brand,
designer,
fashion,
style
awareness in other cities I've lived in, in between high school & now. So, it's highly unlikely much of anybody would notice or recognize if we maxed out some plastic to invest in this bag.
& I'd fret about Pretty Little Bare Feet wiping her sticky little bare hands all over it!
So I'd rather stick to buying classic handbags from my familiar favorite designers,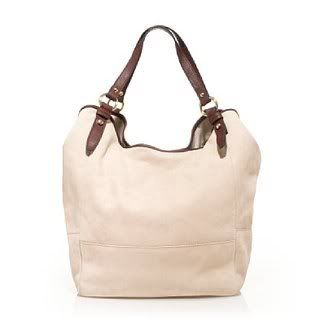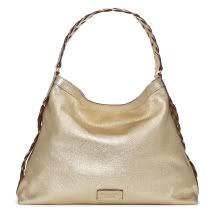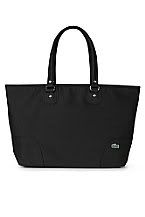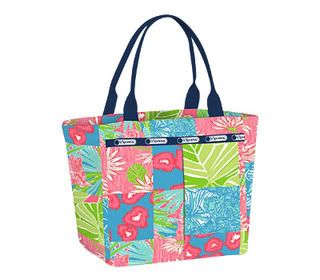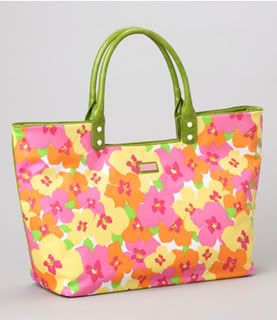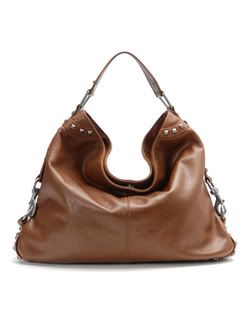 (Although, I swear even though I have at least one item by each of those designers, I think the only labels I ever carry that get routinely recognized are Coach & Vera Bradley. Not that I dislike either of them - on the contrary! But when eleventh-graders are carrying knockoffs of my Coach handbags, I have the desire to seek out something a little more chic.)
The handbags I buy, from the above designers, are of better quality&style than the average mall chain store or Target offers. But I won't need to take a sedative if Pretty Little Bare Feet colors on one of them!
& since I missed last week's topic, I'll answer it in the briefest of brief little answers, here at the bottom of this week's post:
"I wish..."
I could win the lottery REALLY soon, & I would hope to continue to stay at home with Pretty Little Bare Feet. It surely would be a lot easier on us if we won the lottery, though, as it would obviously make it easier to budget for one salary, if we had a backup stash of lottery money to dip into!
I am educated,
& I have enjoyed working;
but I feel like being a full-time wife&mother is fulfilling,
especially right now.
I am grateful that My Prince is also dedicated to allowing for me to stay at home with our child while she is little. I intend to take the Bar exam next February (since I missed the deadline for this July, & that will be the next time it's offered), but honestly...if I won the lottery, & paid off my student loan debt, I'm not sure I would necessarily feel a need to practice law. I do enjoy parts of law practice, & I do believe there are parts of it that I am good at. But I think there are other things I'd enjoy pursuing more...
...volunteering,
writing;
maybe even opening a business one day...
if the economy ever feels friendly enough for my
to find a footing. ;)