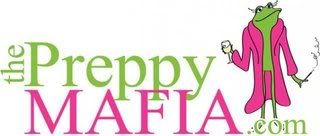 ...I've been crowned a "socialite!"
(I do try...;))
The Preppy Mafia is taking over the world, one monogram at a time. Thank you to the lovely Emma of
the Other Shore
for tagging me with this award. She is one of my sweetest followers (& commenters!), & she also has a cute blog you should go check out.
*Click on the above button, & then paste it on your blog/site.
*Answer the questions below.
*Let them know they've been "crowned socialites" with this award/tag.
Although she hasn't been around long enough to achieve the same "timeless" reputation of other favorites (I love Audrey Hepburn, former First Lady Jacqueline Lee "Jackie O" Bouvier Kennedy Onassis, & Lilly Pulitzer); she is definitely one of my favorites to watch today.
Some favorite labels from my own wardrobe that my style icon also loves:
L.A.M.B.,
Nanette Lepore,
"Chronicles the glittering lives of semi-celebrities, social aspirants, & moneyed folk...[with] withering precision."
carnivals,
parades,
& parties;
in
Mobile
(home of America's oldest Mardi Gras tradition!),
New Orleans,
& various other Southern cities.
What's fabulous about Mardi Gras?
Balls,
beads,
boas,
bright colors,
bright lights,
confetti,
costumes,
crawfish,
crowns,
Dixieland jazz bands,
feathers,
fortune tellers,
gold coins,
gumbo,
hurricanes,
jesters,
king cakes,
kings&queens,
masks,
Moon Pies,
sequins,
etc.
I love it. While I've gone to Halloween parties to find another bee, or another Dorothy, I've somehow managed to never encounter a duplicate Marilyn. I have
the platinum blonde wig,
several great shades of red lipstick,
the superlong fake eyelashes...
...& it's easy to create a last-minute beauty mark.
It's also a great excuse to find a new cocktail dress, & some new flashy jewelry...neither of which I'll spend very much on for a Halloween costume!
I hope to be as good a mama to Pretty Little Bare Feet, as my mama has been to me. To earn my own daughter's admiration would be an indescribable accomplishment for me. & of course I admire My amazing Prince, for being a great
daddy,
husband,
friend...
...& man.
Although I suppose technically it's a disorder, as opposed to an actual character trait. It's still difficult to live with sometimes. I don't want to be
anxious,
distracted,
forgetful,
or inattentive.
& I wish I didn't daydream, or procrastinate.
Specifically, the visual arts -
drawing,
fashion design,
graphic design,
painting,
sculpture,
etc.
(Wine helps.)
The first two outweigh the third, by far; but it was too much hard work & mental anguish to discount the third entirely.