Ohmygosh
, has it really been a month since I've posted a recipe?! I am so sorry, y'all! I started this blog for many reasons, but one of the main ones was
to keep track of recipes I'd tried,
seek discussion on the ones that didn't turn out well,
& share the ones I liked.
Of course, I had also hoped to discuss&share
books,
decorating,
etiquette,
Lilly Pulitzer,
mothering a toddler,
the preppy lifestyle,
the Southern lifestyle,
etc.
But goodness me, I've completely fallen off of the recipes!
So, without further procrastination, here is one of my
easiest,
favorite,
go-to
meals for anytime. It works great for when you have company, & is pleasing for both adults&children. You can, of course, tweak it any way you like, to make it more appealing to your palate, or to use what you have on hand.
This recipe comes from the cookbook
30-Minute Meals 2
, which is a Rachael Ray cookbook. I used to
love
Rachael Ray when I was in college, & I think I've had this cookbook since those days. I still like her, but I have an innate tendency to get turned off by anything that gets too mainstream or popular, & Rachael was no exception. I do buy her magazine every now&then, & I still use the cookbooks I've had of hers for years, but I don't seek her out as much anymore.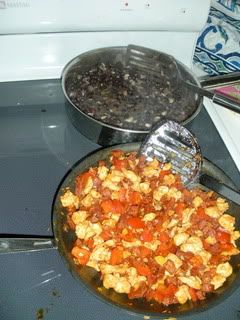 make-your-own burrito bar
(yield: makes 12 burritos, 6 of each filling)
*Timing Note: First, set salsa ingredients in a pan to char. Next, make warm fillings & refried beans. Finally, arrange cold toppings&sides.
(Just so you are aware, 30-minute meals are NOT really 30-minute meals, unless you have prepped everything completely before you begin. I'm sure if you've watched Rachael's show, you know that. But don't get it in your head that you'll be able to throw this all together in 30 minutes without doing some ahead-of-time prep!)
roasted salsa with mint&cilantro
4 plum tomatoes
1 jalapeno pepper, halved&seeded
1 small onion, peeled & cut into 3 thick slices across
3 or 4 sprigs fresh mint leaves
a handful cilantro leaves
coarse salt, to taste
*Add whole tomatoes & a seeded jalapeno, skin side down, & thick slices of onion, to a dry pan over high heat. Allow them to char on all sides; then add to a food processor. Pulse grind with mint&cilantro leaves. Season with coarse salt. Pour salsa into a strainer, drain off liquid, & transfer to a serving dish.
(This salsa is delicious, especially if you like mint. We love it. I also added some peach to it one time, which gave it another fun twist that was quite tasty. This is a great recipe just to use for snacking with tortilla chips, too!)
filling: spicy black beans
1 tablespoon vegetable or olive oil (once around the pan)
1 jalapeno pepper, seeded&chopped
2 cloves garlic, chopped
1 medium onion, chopped
2 cans (15 ounces each) black beans, drained
2 tablespoons chopped cilantro (a palmful)
1 teaspoon ground cumin (eyeball it in your palm)
coarse salt, to taste
1 teaspoon cayenne pepper sauce
filling: chicken, red peppers, & chorizo
1 tablespoon vegetable or olive oil (once around the pan)
3/4 pound boneless chicken tenders, diced
1 teaspoon dark chili powder
coarse salt, to taste
2 cloves garlic, chopped
1 red bell pepper, seeded&chopped
1/2 pound chorizo, casing removed, & diced
12 burrito-size flour tortillas
*Heat 2 nonstick skillets over medium-high heat.
*In the first, add 1 tablespoon oil, chopped fresh jalapeno, garlic, & onion. Saute 2 or 3 minutes; add black beans, cilantro, cumin, salt, & cayenne pepper sauce. Reduce heat to low & simmer.
(FYI: I don't know why Ms. Rachael insists upon adding garlic to every single recipe, but she does. I imagine if she baked more, she'd probably have garlic-chip cookies. The first time I made this recipe, I actually bought fresh garlic. I had been baking forever, but I was new to some cooking, & I wasn't sure about measuring fresh garlic cloves. I went by what it seemed the package of fresh garlic cloves said, & I even got backup confirmation from My Prince, but we were very wrong. We ended up adding about twenty times the amount of garlic called for. Disgusting. As I always have jarred minced garlic on hand, I have used it in almost every recipe that calls for garlic, since that disaster. Frankly, though, I don't think burritos need garlic, & you'd be fine to omit it. That goes for the chicken filling, too.)
*In the second skillet, add oil &, when hot, chicken. Season with chili powder & salt, & lightly brown the meat, 2 to 3 minutes. Add garlic, red peppers, & chorizo; & saute, 5 to 6 minutes; then reduce heat to low.
*Char&soften tortillas by heating them over hot burner flame, 15 seconds on each side. If you do not have gas burners, heat your dry skillet used for salsa, & cook tortillas one at a time, 15 seconds on each side.
(The flavor this adds is worth the extra step! But again with the "30-minutes" thing. Figure this in to your overall time.)
*Pile tortillas near stove & line up your toppings&sides. Serve fillings directly out of the pans.
refried beans
(as an accompaniment)
2 cans (15 ounces each) spicy vegetarian refried beans
1 can (4 ounces) sliced jalapeno pepper
1 teaspoon garlic powder
*Combine refried beans with jalapenos & garlic powder, & heat in a bowl in the microwave. Loosely cover bowl with plastic wrap. Stop the timer & stir beans occasionally as you heat them. This should take 2 to 3 minutes.
(No, it actually took a bit longer than this, 30-Minute Lady. But really, I'm not a big jalapeno fan. & again with the garlic! I'd be fine just to eat the refried beans plain. My Prince likes jalapeno pepper, though, so I do add it. The garlic powder, though, we can take or leave.)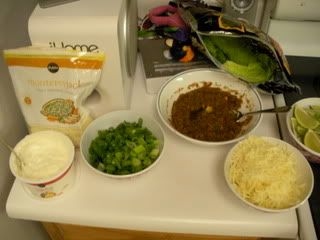 (Please ignore the mess behind my iHome. That was taken last summer, before we unpacked&utilized our little wooden box that normally holds all of those odds&ends!)
toppings&sides
sour cream
2 cups roasted salsa
1 & 1/2 cups grated Pepper Jack cheese
1 & 1/2 cups white smoked cheddar, shredded (such as Cabot brand)
4 to 6 scallions, chopped
1 heart romaine lettuce, chopped
wedged ripe limes
(Although I'm all for tweaking recipes to use what you have, I do think it's worth the extra effort&money to use these cheeses. They are delicious, & I even take the effort to shred them myself, as I can't easily find them shredded. Do include the limes, too! That's how they eat everything in Mexico - I know because I lived&studied there!)
*Tidbit from Rachael Ray: "Chicken tenders, the white meat tenderloins from chicken breasts, are perfect for 30-minute meals, because they cook so quickly, yet remain tender. Sliced or chopped chicken breast can always be substituted for tenders."