I could have worn Ali Landry's strapless Monique Lhuillier "Katarina" dress on my wedding day!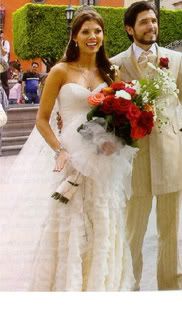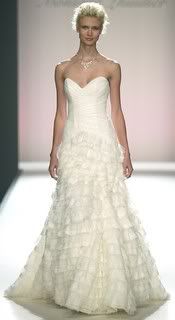 Well, okay, so actually,
I loved my wedding dress,
& it was pretty much perfect for me,
& for our wedding,
& I would absolutely wear it again.
But I only just recently did
a post on my wedding
. So I decided to be "wishful," rather than "nostalgic," & post one of my all-time favorite celebrity wedding dresses.
My Prince & I got married in 2007, & I think Ali Landry got married in 2006. But you know how delayed magazines always are (well, besides the weeklies). I am almost certain that I read about Ali Landry's wedding during 2007, when I was engaged & thinking about my own wedding. I remember
loving her dress,
loving the laid-back yet festive vibe of their whole ceremony,
& lamenting how way-out-of-my-budget a Monique Lhuillier dress would be!
Of all of the "celebrity" or "couture" wedding designers,
Monique Lhuillier
is pretty much my favorite.
You always hear about
Vera Wang
. Or anyway, it seems like her name is more often what you hear when you hear about "dream wedding dresses."
(Seriously, even My Prince recognizes her name. & he didn't have a clue who Monique Lhuillier was when she was on Project Runway!)
& I do think she's amazing. But I tend to think her dresses are more of a high-fashion, trend-setting style. Avant-garde & modern.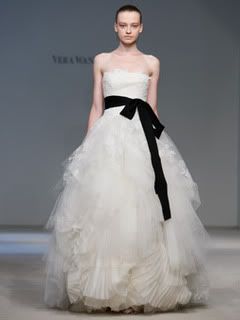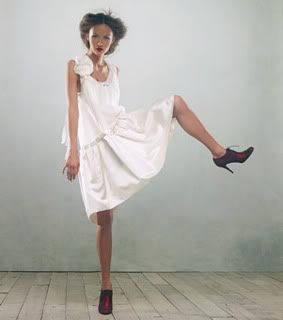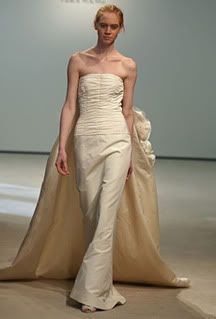 I tend to think of Monique Lhuillier as more
feminine,
pretty,
& romantic.
Which is more my personal style preference.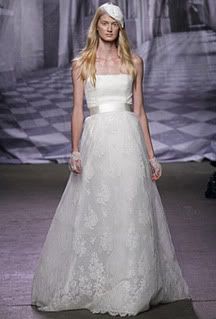 (source: brides.com)
I firmly believe that the wedding dress should be something the bride should never compromise on, perhaps more so than any other element of the wedding. The wedding dress is probably the single most memorable part of any wedding, for the couple
and
their guests.
(Well, except maybe the cake. Wedding cakes are pretty important. & wedding cakes are one of the main reasons why I will almost never turn down a wedding invitation. =p)