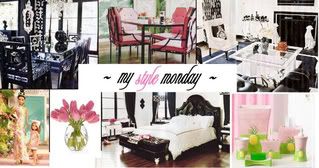 Today we are discussing
kitchen style
.
& since it is one of the areas of our house that we've always intended to remodel while we're living here;
I'll again be sharing some inspiration for kitchen ideas.
My Prince is determined that we are going to at least do
a new tile backsplash,
new granite countertops,
& new tile floors.
If we decide that we are going to be living here for longer than the next "few" years, I'd also like to do new cabinets.
I am also not the biggest fan of the whole "breakfast nook" idea. I prefer that when we are eating meals at home, we are seated at the table in the dining room. I don't like to have the cooking mess, & dirty dishes, right there in the room with us while we eat. & I don't like having the
dog's things,
garbage can,
refrigerator,
etc.,
in the room with us while we eat (even if most of the dog's things & the garbage are behind the closed door of our pantry). If we ever do a really serious remodel in the kitchen in this house, I would love to put a bit of a wall at the end of the kitchen, to close off my "elliptical room" from the kitchen.
Basically, here is what our kitchen looked like before we moved in, completely bare bones: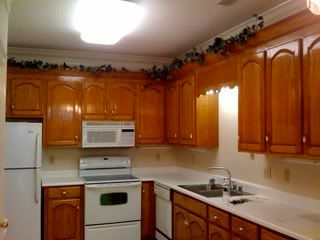 It's actually bigger than it looks in these photos (they are from my iPhone), but doesn't that breakfast nook just feel like such a waste of space? I'd rather have a larger kitchen. Our dining room is so much more spacious, & is open to the
hallway,
living room,
& stairs.
But here are some ideas of what I would love for our kitchen to look like...some of these are ideas we could realistically use when we remodel our kitchen in this house. Some of these are obviously more for "when we build our dream house."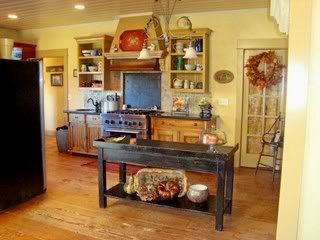 This is pretty realistic. I would love to have the kitchen floors blend seamlessly in with the beautiful hardwoods that we have throughout the rest of our downstairs. I would also love to lose the cabinet doors, at least in some of the cabinets, for that open look. I think the colors&materials of the backsplash&countertops would also be great for our kitchen, if we kept the cabinets that we have now.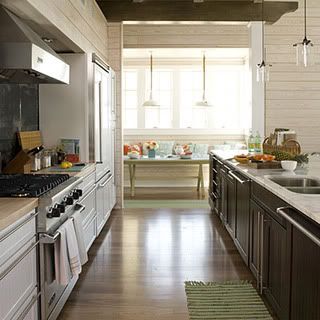 Of course, if you want to call that a breakfast nook, then by all means, give me a breakfast nook at the end of my long, open kitchen. I'm not opposed to something that's more of a "sit at the table & do homework while Mom cooks" kind of area. Or even "sit & drink coffee & read the newspaper" kind of area...It just seems like nowadays, the "breakfast nook" ends up getting used every day for meals, while the formal dining room collects dust, & sits as wasted space. Or gets turned into an office, or playroom. Thoughts?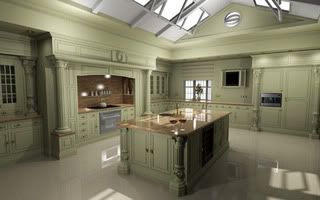 Did somebody say "dream kitchen?" This is mine, pretty much. Huge&open. Lots of counter space. Everything is tucked out of the way. & I love the idea of the green cabinetry. All of my green&pink kitchen decor would be perfect in here. This is also almost the exact shade of our wooden entertainment center, in our living room, which I love.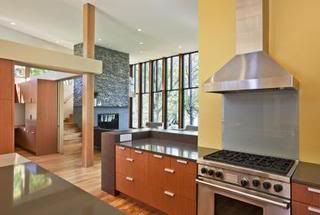 I'm not usually a big fan of anything that could even bring up the thought, "modern." But I share these photos because I like the feel & layout of this kitchen. (Personally, I'd have to decorate the heck out of it.) This is another example of how I think a breakfast "nook" could or should work; with this big table cozying right up to the other side of the counter, but with the dining room & sitting area off to the other side of the kitchen, in separate "rooms."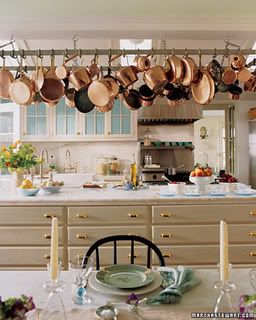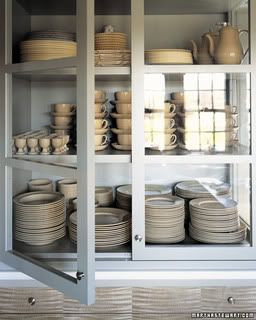 I love this idea of hanging old copper pots&pans from the ceiling, for decoration. The white/off-white cabinetry with brass/gold hardware is appealing to me, too. & just another reason I'd love to have glass-paneled cabinets...how pretty does that china look, out in the open, through the glass?
Now for some pretty things that I want to buy, to go in my kitchen right now!...