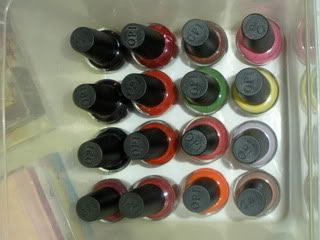 So, I've been inspired by the recent
nail polish & more swap I participated in
, &
this recent post
by the fabulous Gwen over at
Confessions of a Control Freak
.
When we first moved into this house (which still feels like "the new house," although we've been here for almost a year now!), I did my absolute best to take my time & organize everything the way I wanted it (the right way, haha) the first time.
I had a pretty regular nail technician in the town we lived in before, & he (yes, he!) was well-aware of my ever-growing collection of OPI nail polishes. I didn't always buy them at the salon I went to (but sometimes I did), but I did always bring my own bottle of whatever OPI shade I wanted to have him apply. One day he recommended to me that to extend the life&quality of my OPI nail polish that I loved so dearly, I should always roll it between my palms (never shake!) before applying; & I should store them in the refrigerator.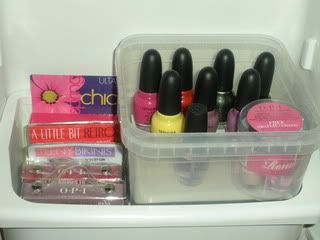 What?! I knew about the rolling, never shaking advice; but the refrigerator suggestion was new to me. Sure enough, though, I did some looking around & came up with similar advice elsewhere.
So I moved some things around in the refrigerator, & moved my OPI collection in. My other bottles of nail polish had to remain unloved & left behind on my dresser.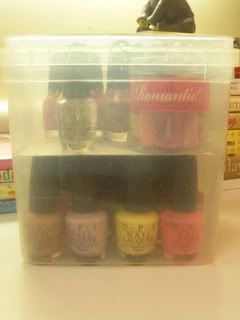 When we unpacked everything in the new house, I took my time & found the perfect size Tupperware container to arrange them in & fit them into a shelf on the door of the new refrigerator. Our male friends come over to our house & do a double-take when they open the refrigerator, & then My Prince explains
the cost&quality of OPI nail polish over the cheap drugstore brands,
his take on the science behind the refrigerator storage theory,
& how much less he'll have to pay for if we take care of what I have.
They usually nod & pretend they get it.
(My girlfriends are usually inspired to try to convince their husbands of their need for the exact same thing. I don't actually know of anybody else that has done that yet, though. I realize I am a lucky lady. Maybe they should bake something yummy to distract their husbands from the nail polish compartment? It works for me!)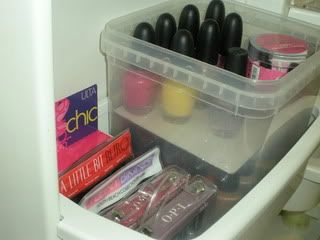 Anyway, so as I unpacked&arranged them, I catalogued them in a Word document, in alphabetical order by polish name. I included
each shade's collection in parentheses,
& I add the date each time I change my nail polish;
so I know what's getting worn most often,
what hasn't been worn in ages,
what I haven't even tried yet,
what mini nail lacquer I should just buy a regular bottle of,
etc.
(OCD much? I know. Forgive me.)
But if you'll click on that post I linked you to in the first paragraph, you'll see that Ms. Gwen has an even better system than that!
I read her post,
did the swap,
added a few new bottles of OPI to my collection,
& realized I was going to have to upgrade their housing to fit every bottle in.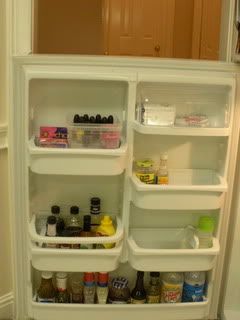 I figured while I was adding on to their house, I may as well add on to my little inventory sheet.
So now, complete with color descriptions & photos, I've updated the inventory.
I've also
rearranged the collection by color&shade,
leaving the Sephora by OPI bottles on the top level;
as their lids aren't flat on top,
so standard OPI bottle lids are better suited for holding the divider between the level.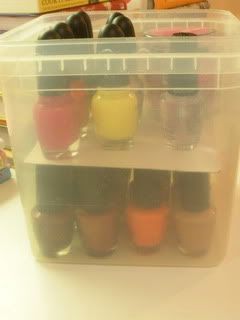 I had to move them into a different Tupperware container.
But that actually improved the visual display of the entire arrangement,
as I have a few sets of mini OPI nail lacquers,
& they now line up more comfortably&neatly along the side of the "big house."
& there is still room on the top level for a few more bottles before I have to update the system again! =)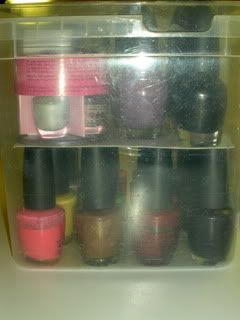 So counting
my OPI nail polish,
my mini OPI nail sets,
& my Sephora by OPI nail polish;
but not counting my OPI base or top coats;
I currently have forty different OPI shades.
I do have a few other bottles of different brands of nail polish, stored in our master bathroom. However,
I rarely wear them,
unless I am really trying to match something,
& one of the other bottles is a better match than any of my OPI shades.
The others just never hold up as well or look as good. Other brands just aren't as fun to collect, somehow, either.
There is an exception to this...I have two nail polishes from MAC cosmetics. Yes, I'm sure you can guess what they are:
Coconut Ice (peachy sorbet) & Steamy (hot&steamy pink)
(MAC in Lillyland Collection)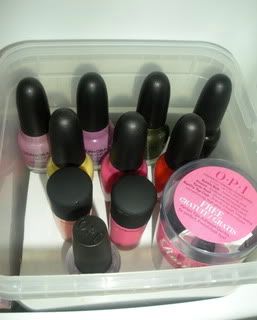 (They live on the top shelf in my OPI collection because they are Lilly, & so they are special.)
So, without further rambling ado, here is my current collection: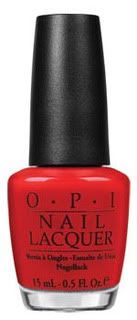 Off with Her Red! (glowering, empowering hot red)
(Alice in Wonderland Collection)
Brights Power (brilliant orange), Green-wich Village (vivid green), & OPI Ink. (sparkling violet-blue)
(Brights Collection)

Lincoln Park After Dark* (midnight purple)
(Chicago Collection)

Barefoot in Barcelona (luscious nude), Can You Tapas This? (yummy raisin), & Give Me Moor! (stunning wine-purple)
(Coleccion de Espana)
I'm Not Really a Waitress* (vivacious chianti red)
(Hollywood Collection)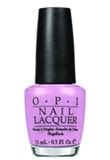 Panda-monium Pink (uproarious light pink)
(Hong Kong Collection)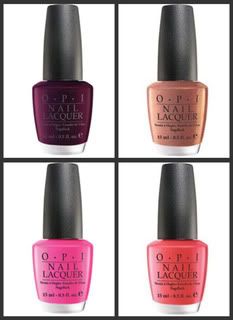 Black Cherry Chutney* (deliciously dark black-red), Charmed by a Snake (charming, disarming bronze), I'm Indi-a Mood for Love* (hot pink), & Lunch at the Delhi (luscious coral)
(India Collection)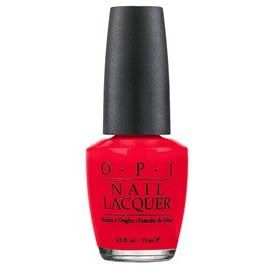 Cajun Shrimp* (spicy coral)
(Launch 89 Collection)
Magnifico Mexico (orangey terra cotta shimmer) & Strawberry Margarita* (bright pink)
(Mexico Collection)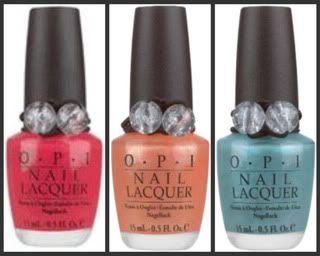 Calendar Girl (pin-up, perfect pink-red), Peach-A-Boo! (soft peach w/ just a touch of metallic sheen), & Sea Ya Later, Sailor! (fun, flirtatious turquoise shimmer)
(Retro Fun in the Sun Collection)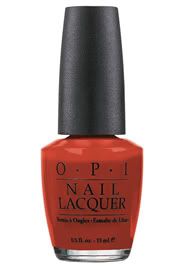 Cheyenne Pepper (shimmery golden brown)
(Rocky Mountains Collection)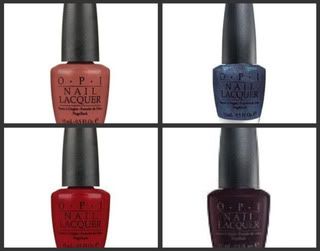 Kreme de la Kremlin (creamy terra cotta pink), Russian Navy* (deep-sea indigo), St. Petersburgundy* (aristocratic claret), & Suzi Says Da!* (decadently dark chocolate)
(Russian Collection)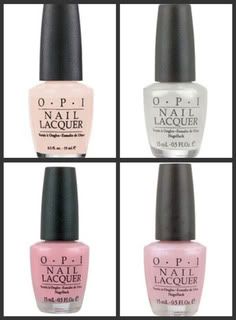 Bubble Bath (sweet candy pink), Kyoto Pearl (shimmery white satin), Passion (endlessly enticing pale pink), & Rosy Future (shimmering, glinting rose pink)
(Soft Shades Collection)

Done Out in Deco (arty lilac), Overexposed in South Beach (vivid purple), & Suzi & the Lifeguard (not-so-innocent light pink)
(South Beach Collection)
Banana Bandana (sunny yellow)
(SUNBelievable Collection)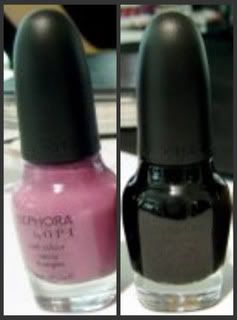 Don't Go There (muted violet) & Never Enough Shoes (black w/ multi-color glitter)
(Sephora by OPI Autumn&Eve Collection)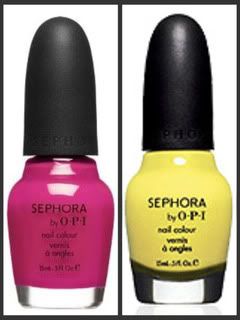 Access 24/7 (juicy magenta pink) & IM Beauty (bright buttercup yellow)
(Sephora by OPI Digital Diva Collection)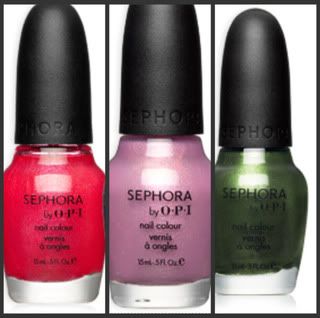 Go with the Flow-er (bright tulip pink w/ hot pink shimmer), Handpicked for Me (light pink lilac w/ silver shimmer), Leaf Him at the Altar (metallic vine green)
(Sephora by OPI Modern Flowers Collection)
(*asterisk denotes a polish color that was originally part of a collection that has since retired, but the polish is considered a "classic," & is still readily available to buy)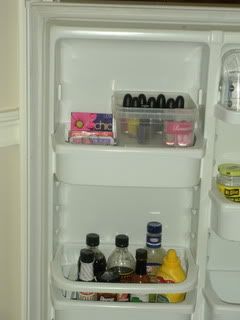 & now for something new...
Y'all know how I keep y'all updated on my voracious book appetite, right? Over there on the right-hand sidebar, under my profile, I have a little "What's on My Nightstand" box for y'all, where I post a link&photo for what is, literally, on my nightstand.
I try to keep it updated as best as possible -
but to be honest,
I do sometimes get ahead of myself,
& I'll finish a book a day or two before I update the book on the blog.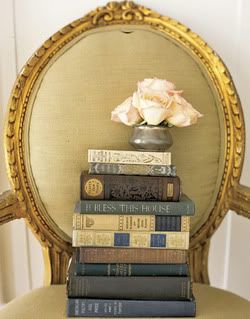 I do, however, pretty much start a new book as soon as I finish one. Even if it's just
reading the covers,
& the inside of the jacket;
opening to the first chapter;
& putting my bookmark in.
I will do that much with a new book, within a half hour of finishing a book. The longest before I'll actually sit down & start reading it will be within 24 hours, almost without fail.
(& I used to be worse than that. In elementary school on up through college, I would read several books at once. However, it took so long in law school, to read books for leisure, that I pride myself on reading about fifty pages a day now, one book at a time.)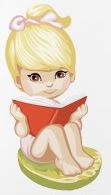 Anyway, sorry for the sidetrack into book clubbing.
What I was getting at was, I think I'm going to add a "What's on My Nails" box over there, too.
It seems like many of y'all are as into nail polish as I am,
some even more so!,
& most of y'all seem to be big on the OPI brand, as well!
(Well, it is superior!)
I doubt I'll be so ambitious as to post a photo of my actual nails each time, but I will try to keep the link&photo updated like I do with my books. You can be sure that what you see is what is on my toenails, although I don't always keep my fingernails painted anymore.
(I just do too much with my hands these days to keep them unchipped for long enough to make it worth it with the darker shades; lighter shades I'll touch up myself, & can usually manage to keep looking nice for a couple weeks in between manicures.)
In the winter, I can sometimes go as long as a month without a pedicure &/or polish change, but summer usually requires a bit greater maintenance.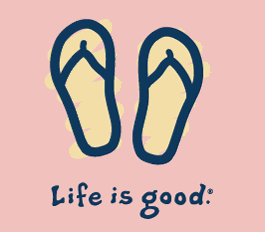 (I don't always go to the salon for it anymore either, which I do sometimes miss...but to be perfectly honest, My Prince does an absolutely outstanding job of painting my toenails, which he started doing for me sometimes when I was pregnant. When we moved, bought the house, & started owing student loan debt, it saved needed money to have him do my nails for me. Now, it's just a sweet, special time for us to share, catching up & talking to each other, while he does something so sweet for me! I appreciate him so much for being willing to do little things like that for me!)
Anyway, let me know what's on your wish list. I have only managed to find one of the four Alice in Wonderland shades, which is driving me bananas.
(I hate ordering nail polish online, since it's one of the few of my preferred beauty items that I can find locally...& I like beauty & nail polish shopping!)
So I'm currently wanting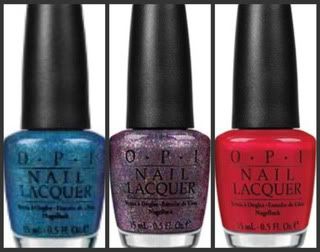 Absolutely Alice (absolutely amazing blue glitter), Mad as a Hatter (madly marvelous black-multi glitter), & Thanks So Muchness! (red shimmer)
(Alice in Wonderland Collection)
& I'm also wanting to try a couple of OPI's longest-running classic shades that I haven't tried before:
Grand Canyon Sunset* (deep pink warmed by brown)
(Fall/Winter 1990 Collection)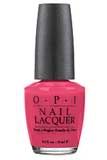 Tropical Punch* (vivid coral-pink)
(Spring/Summer 1990 Collection)