Well, since you're all aware that I got a bit behind last week...it should come as no surprise to you that
Sips of the South
has ended for the season, & I've still got two more posts to add to it! But you know, I did start a couple weeks late to begin with, so I'm not going to beat myself up too badly for ending a couple weeks late, too!
(Y'all won't mind, will you?)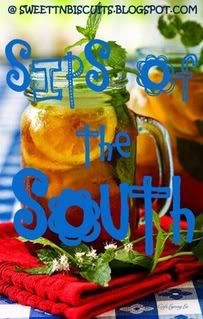 The "little belles&beaus" post is intended for us to show off our littlest Southern family members. Y'all know I can't help but talk about (& shop for) my only little belle, Pretty Little Bare Feet, all the time. But the blogosphere hasn't always been the most secure place for me. & because of that, this old-fashioned Southern lady is still a bit wary of sharing too much. That is why I'm pretty careful to guard
names,
photos,
etc.;
especially when it comes to my most important little treasure.
(Y'all do understand, don't you?)
But I will tell you that Pretty Little Bare Feet is the light of my life. She is a little mini-me, which we could tell the first time we saw her little face in a 4D-ultrasound.
She is fourteen months old now, & she is becoming such a little girly girl. She loves to sit on the counter of our master bathroom, in front of the big mirror, to watch me
brush her hair,
& teeth,
& put her little headbands on.
She also loves to watch me fix myself up each morning, & she delights in playing with my
brushes,
combs,
headbands,
makeup,
toiletries,
& things.
She also does me proud by being so, so excited about books - she loves to go to Barnes&Noble or the library. She especially loves storytime at the library, & she also loves it when one of us reads a book to her here at home.
(We even have a bathtime book tradition!)
It just warms my heart when she toddles over with a book & hands it to me; & then reaches her little arms up to be pulled up into my lap to cuddle&read together.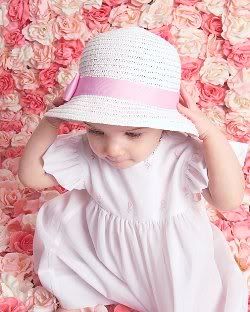 (Pretty Little Bare Feet, Easter 2010)
I will more readily share with you all a couple of my favorite ways that I'm already trying to raise Pretty Little Bare Feet to appreciate being a proper little Southern lady...
She has a whole little closetful of dresses&skirts.
So far, so good. I am hoping that she never declares that pants&shorts are more comfortable, or preferable, to dressing like a lady. Oh, sure, she has lots of little jeans&things, too (mostly feminine, ruffly ones, I might add!); & she certainly doesn't wear a dress every day (but she does wear one
every
Sunday!
). But I just hope it never becomes something I have to argue with her about.
I also do try to keep even her little pants outfits relatively feminine (although not always pink, believe it or not!). So much ends up being so androgynous these days, & I want to keep her a sweet little girly girl for as long as I can!
I love to find some little ruffled, smocked frock at a local boutique or shopping market show; but a few of my favorite sources of Pretty Little Bare Feet's pretty little wardrobe are:
Etsy
- I can seriously spend hours!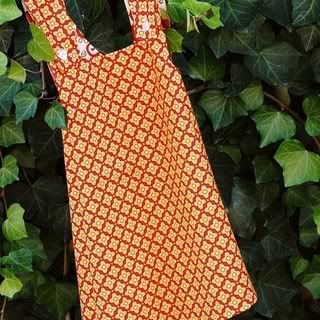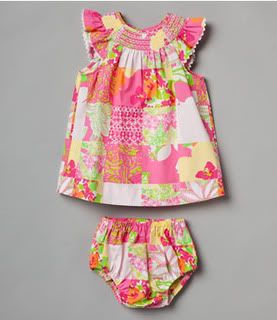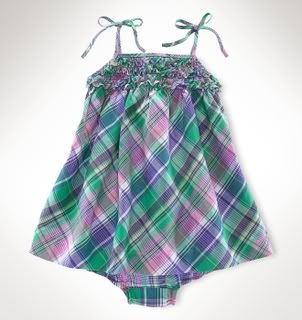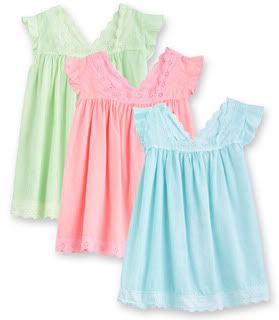 (& of course we'll monogram nearly everything we can around here!)
& of course it's never too early to start learning about etiquette&manners!
There are many ways, every day, that we find opportunities to begin teaching Pretty Little Bare Feet about these important concepts. But we are also able to sneak these lessons in with help from some of our favorite books&toys!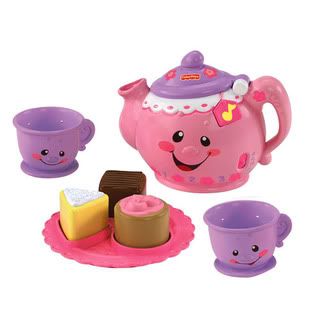 Pretty Little Bare Feet loves, loves, loves this toy! I think it was her favorite little gift that she received from playgroup friends at her first birthday party. & I love it, too. The little songs are adorable, & they're sung with a little British accent. ("Time to 'ave a spot of tea!") & in addition to all of the little learning setups with shapes&sounds, etc.; it teaches children to always say "please" & "thank you."
(& it's darling to look at, too.)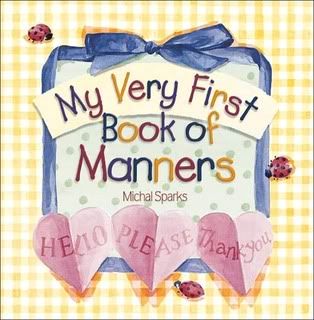 Books&manners - two of my favorite things.
(Oh, & it's a board book, another of my favorite things...any of you have any insight on when Pretty Little Bare Feet might stop throwing her beloved books&toys around like they're all indestructible?)
Okay, okay, & there are still good television shows for children around, even though I probably do complain too much about the ones I dislike. I have to give credit to our friend Elmo for being really great about always having good manners, & making it a point to teach good manners, on "Elmo's World."

So, thank you, Elmo, for helping me with raising Pretty Little Bare Feet to act like a polite little lady.