Here are some pretty,
green
things I've come across this week,
from some blog
or catalog
or friend
or magazine
or another;
or just from my own browsing&shopping&surfing,
that
would appropriately honor St. Patrick on our next shopping trip
...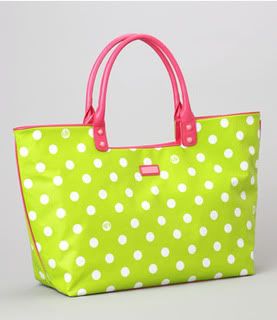 Not that any tote could replace my currently beloved Lilly Pandamonium original tote, but if I sought out a green one to carry my shamrocks around in on St. Patty's Day...well, this would be it. So cute.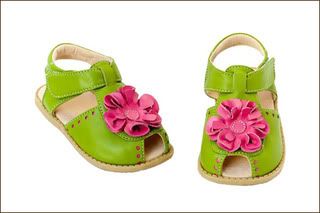 I've had my eye on these little sandals for several weeks now. I haven't ordered them yet, as Pretty Little Bare Feet won't be allowed to wear sandals at her Montessori school that she's beginning in August, & I wasn't sure I wanted to splurge on these colorful kicks in addition to her rule-observant dress shoes & Nikes, which I'm already counting on lasting through the summer months & into the first few weeks of school...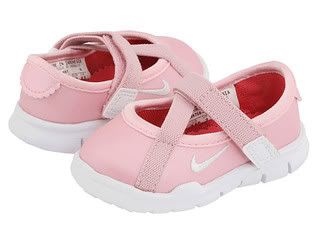 Mary Jane 3s
in Medium Soft Pink/Aster Pink/White by Nike Kids
So, what I'm getting at is, if I'm not even sure I want to get them now, since she won't be able to wear them three mornings a week months from now, I'm definitely not getting them just for St. Patty's Day.
(Ah, but they're so adorable...if they go on sale...)
But,
lucky lucky
me...last night I came across these...
Miss Trish for
Target
Flower Sandals in Green Patent
(which I can't find anything about online anywhere...strange?)
...& I was able to justify a pair of perfectly fun, perfectly impractical Pretty Little Green Shoes for those Pretty Little Bare Feet of mine. =) & she'll be wearing them next week with her silly little St. Patty's tee that her granny picked up for her from Old Navy.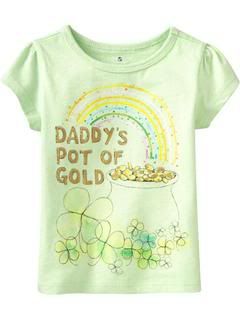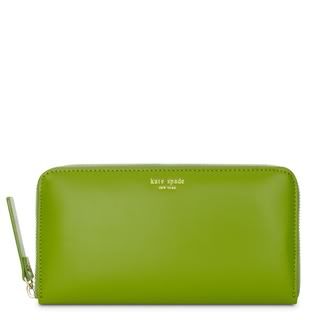 I legitimately need a new wallet. My poor, sad zip-around wallet, in Mediterranean white, from
Vera Bradley
, has retired (literally - you can't buy it new anymore). It's been through at least two cycles in the washing machine that the label clearly indicates it should not go through. It's time for
me
to retire it, as well.
So I had already decided that wallet from Kate Spade was going to be the perfect update. & it's green, so it made the
Blarney
list this year. =)
Okay, okay, I know what you're saying. Come on, we know you have a year-round fixation with lime green & pink, Sara. Where the heck are the actual
clover green
picks that are St. Patty's-centric? So I'll oblige you.
I like Life is Good. I think their kids' stuff is adorable. Their pajamas are super-comfy. & their tees&things are ideal super-casual wear for
running,
throwing over a bathing suit,
traveling in the car on a long road trip,
etc.
Since the only real daytime activity we have planned (thus far, anyway) for St. Patty's day proper this year, is our regular toddler gymnastics class; I think
this little tee,
under a green cardigan,
with my favorite dark denim J. Crew shorts,
would be perfect.
Yep, it's warmed up enough in Alabama to wear shorts (thank You, Jesus!). Finally.
Okay, so St. Patty's Day, much as I love it, isn't one of the Holidays that I decorate our home for. We wear our green, & I buy some fun festive trinkets for Pretty Little Bare Feet, but that's about it.
(Oh, & we drink for it. I mean, we make the effort to take a break from our signature Bombay Sapphire gin&tonic [for me], & Crown Royal [for My Prince], to drink something more Irish-ish...like an Irish car bomb if we're out somewhere. Or Jameson if we're at home.)
But having something St. Patty's-themed in Lenox would definitely motivate me to pull it out of the Holiday closet (yes, I have one of these), & find a special place for it in the month of March each year. I
love,
love,
love
Lenox -
their china,
their Christmas ornaments,
& pretty much anything&everything,
in that beautiful signature ivory china of theirs.
Especially the nativity figurines. I am collecting, piece by piece, toward the goal of having a complete Lenox Christmas Nativity set.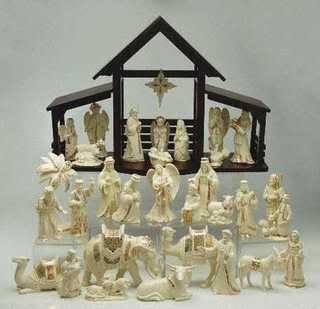 I've also already started gathering some of their Easter&Halloween figurines, mostly motivated by their visually tempting catalogs I receive by mail...& their great post-season sales! Now maybe it's time to pick up one of their Leprechaunish trinkets!
T.G.I.F.! What's got

*

you* dancing an Irish jig

this weekend
?