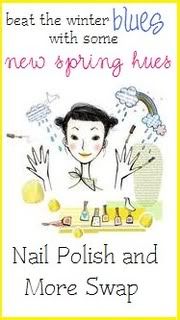 A few weeks ago, I signed up to do my first swap, the nail polish & more swap, which you can find out a little more about by clicking on that button! In addition to getting to know a bit more about what these swaps are all about, I was excited to find a couple more great blogs to read - I particularly love the blog by the hostess herself, which I've also linked to right up there, Confessions of a Control Freak (how fun for me, being somewhat of a control freak myself!).
(Love the title, & I go through phases where I also live on sweet tea, although these days I need the power of Coke Zero. My Prince still lives on sweet tea, though. =))
I was excited when I got home from a playgroup friend's fun (but exhausting) second birthday party yesterday, to find a package on my welcome mat. The only thing I was expecting was my swap package!
(swap package I received)
Sephora by OPI Nail Polish in Handpicked for Me
(light pink lilac with silver shimmer)

Sephora by OPI Nail Polish in Go with the Flow-er
(bright tulip pink with hot pink shimmer)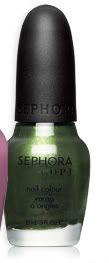 Sephora by OPI Nail Polish in Leaf Him at the Altar
(metallic vine green)
These are all from the new
Sephora by OPI Modern Flowers collection
. I used to live close enough to a Sephora that I was in there at least weekly, so I have been known to pick up a bottle of Sephora by OPI nail polish on my way to the checkout. I haven't been in Sephora in a while, & I honestly forget to look at their nail polish when I'm shopping online. So I hadn't even seen their newest shades - & now I have half the collection! & pink&green
are
my favorite colors.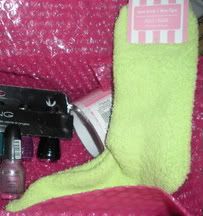 I actually saw these when I was at Michaels - I always look in their
"fun finds"
section. If you love the "dollar spot" at Target - I do! - you will also love the "fun finds" at Michaels. (I've picked up a lot of great little Mary Engelbreit things from there!) I'm pretty sure they also have these socks in blue&pink - you can't go wrong with lime green for me! I love fuzzy socks - I'm kind of obsessed with
snuggle socks
from
Life is Good
. In fact, I almost need to separate my get-dressed-for-the-day socks (primarily
J. Crew
- I can't explain why I love them best, but they just have the perfect anklet socks, & great tights, too; & they do great promotional sales on them!); from my thick, cozy, lounge-around-the-house fuzzy socks. I'll add that to my never-ending quest for perfect organization!
I also got an Icing set (I can't believe these Icing people didn't properly embrace the fun of naming nail polish colors! LOL Maybe I will come up with my own clever names for these shades!), & Michaels printed packing tape (which I'm going to keep handy for the next swap I sign up for!).
Again, thank you to my swap partner Jess!
I hope she loved her package from me...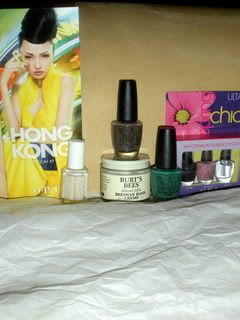 (swap package I sent)
I'm bummed that I didn't think to take a photo of the mailer I found to send these goodies in. I found a pink&green mailer at the post office! For real! But there was only one, so I couldn't stockpile any for later. =(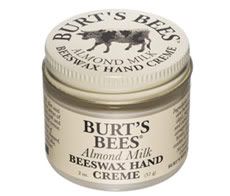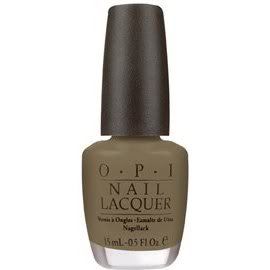 (dark brown-taupe gray with hints of purple)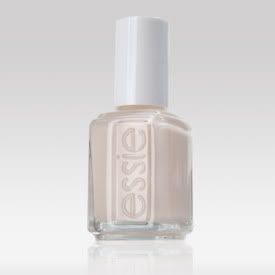 (a sheer ivory, pretty as a pearl)
OPI Nail Polish in Jade is the New Black
(vibrant jade green)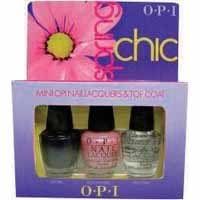 OPI Spring Chic Mini Pack
(mini OPI nail lacquers in OPI Ink. & Rosy Future, & OPI top coat)
(OPI Ink. is sparkling violet-blue; Rosy Future is shimmering rose pink.)
I also included an OPI nail polish color chart featuring their newest collection, Hong Kong. I know I love having these...because I am OCD about my OPI collection! =)
(In fact, the nail polish swap inspired me to get back out yesterday & get two more bottles of OPI nail polish for my collection - Panda-monium Pink, a light pink; & Off with Her Red!, a hot red. & I couldn't help but get myself one of those Spring Chic mini packs, too. I'm going to need to increase the frequency of my polish changes to get to all of these before spring is over!)