Sorry I didn't do last weekend's "What I Want" post. All I wanted last weekend was a healthy child. =(
So here are some pretty things I've come across this week,
from some blog
or catalog
or friend
or magazine
or another;
or just from my own browsing&shopping&surfing,
that I need to convince My Prince to dole out the cash for...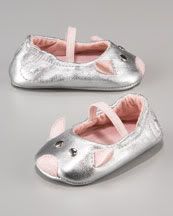 Uh, how adorable are these? I've got to be honest - I have my limits on how much money I'm willing to drop for cuteness, but I was really, seriously considering buying these sweet things to put on Pretty Little Bare Feet's pretty little bare feet...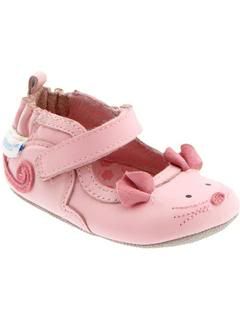 ...until I found these! Just as cute (well, okay, almost), but without the guilt of knowing I had really spent too much on impractical, soon-to-be-grown-out-of, toddler shoes...that look like mice.
(But come on, these little toddler shoes look like mice! & they're dress shoes - not house shoes! Love 'em!)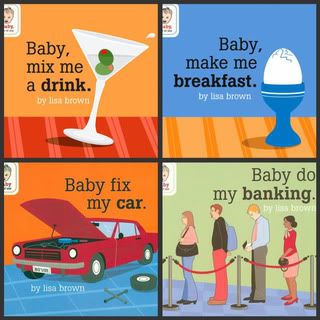 Okay, yes, you could construe these as awful, if you take them seriously. But they are obviously meant to be funny; & Lord knows, if we mommies of toddlers couldn't laugh, we'd all go insane.
(Or was that song about a different group of people, Jimmy?)
Anyway, y'all know I love board books...hehehe...
The ones with the chocolate brown dippy dot rain boots, with strawberry envelopes, are my favorites. But pretty much everything in this Etsy shop is adorable. & I am such a hopeless stationery junkie that I can't help myself when I find something that really stands out amongst all of the stationery I obsess over peruse on a regular basis.
I found another pretty summer dress! I found another pretty summer dress! I love this one, & I want to add it to my exponentially-increasing collection of pretty summer dresses.
& I'm curious about what y'all think...should short, petite ladies like myself be wearing these long, flowy maxi dresses? Especially with prints?
I wear them, & I love them. But for the life of me, I am not sure if they are flattering on me or not. But Nicole Richie is short&tiny, & I think she usually looks fabulous in them. So surely they're great on short, tiny moi, right?
(Although I'm no Nicole Richie - I do realize that!)
Oh, & I have had mine hemmed up by a tailor, so I'm not dragging them along the ground when I wear them!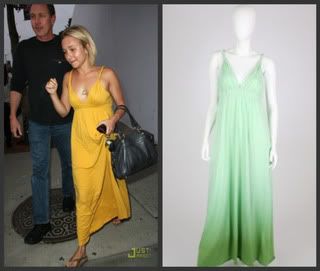 I have these
Gypsy 05
maxi dresses from 2008, that I love love love, & wore to death the last couple summers.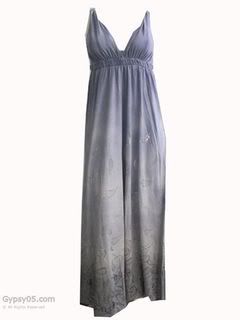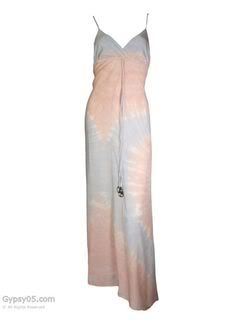 & I just scored two more of their maxi dresses from
Ideeli
last week.
I just love these because they are so comfortable, & so easy to wear pretty much anywhere. You can also easily throw a cardigan over them to make them a bit more appropriate for
church,
more formal meetings,
etc.
(Well, except for the tie-dye, anyway - I loved the colors of that one, & I think I can style it so that it's not so hippie, but I still wouldn't wear it to church! LOL)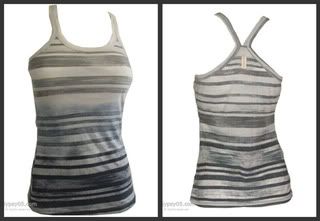 (I love my Gypsy 05 tank tops, too! They are great casual summer tops, or even bathing suit cover-ups!)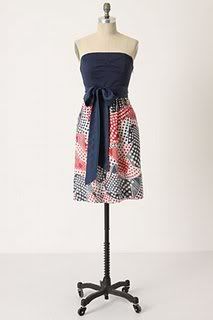 This one doesn't exactly fit the maxi dress bill that I was just pushing, but it is another pretty summer dress that I am excited about getting.
(I'm thinking..."What are our plans for the Fourth, this year?")
& I do know that this style of dress is very flattering on my short, petite frame. I also take advantage of a tailor for even these lengths of dresses. It makes such a difference in the overall effect of the dress, worn by a shorter lady, if it retains the same appearance of how it fit on the runway models - & that calls for tailoring!
Anyway, I know most of you are aware of how wonderful Anthropologie is. It is one of my favorite shops to stroll through with Pretty Little Bare Feet, too, as she is always mesmerized by all of the colors & different fabrics around her. & I'm pretty sure I could do a whole post on all of the things I want from their home selection.
T.G.I.F.! What do YOU want this weekend?