Sorry for the unexpected interruption in posting here, y'all.
First I got behind because we had overnight guests.
(& it's just as rude, as a hostess, to spend my entire time on the laptop, as it is to spend it watching television!)
Then Pretty Little Bare Feet got sick...& well, y'all know how it goes with a sick toddler in the house...if they ever do settle down without needing attention for a moment, Mama needs that moment to take a nap herself!
(But I do hope you get to feeling better ASAP, Angie!)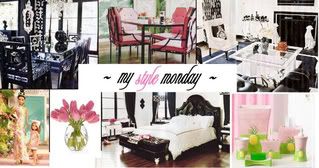 This is such perfect timing for this post, as My Prince & I just sat down to discuss our new budget (thanks to a loan consolidation, & the paying off of my old car); & how best to allot money from our income tax refund.
Pretty Little Bare Feet's furniture is all new in her room,
the dining room is okay for now,
& we have new living room furniture.
That basically leaves three pressing furniture needs:
bookshelves;
a desk in my upstairs "office"
(I'm essentially just putting the hand-me-downs in the guest bedroom/office, for now,
as we acquire new furniture for our other rooms);
& most importantly,
we need new furniture for our master bedroom!
As I've said before
, I've tried to be a bit more sensitive to My Prince being, you know, a
guy
, in our master bedroom. He lets me add some pretty serious feminine touches to most rooms of the house, & I want him to feel represented, too.
"Man" stuff also pretty much rules
the guest bathroom,
a good portion of the guest bedroom,
& one whole wall of the living room;
the yard is all his to play with, too!
So I showed y'all our bedding in that earlier post I linked to up there, but I'll refresh your memory: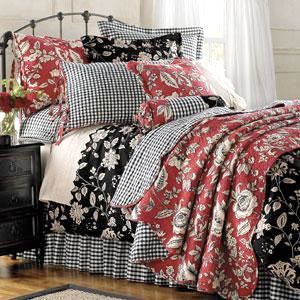 (Our bedding is fairly new, & we both love it; so I doubt we'll be changing it anytime soon.)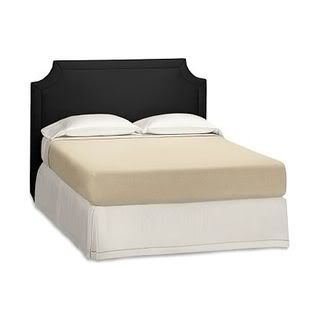 We do need a new headboard, though. & at some point, we'd like to upgrade to a king-sized bed. However, our queen-sized bed is fairly new, so that's not as much of a priority as getting new pieces of the other bedroom furniture.
We have some black&white art&photography, framed&hung on the walls, that will also stay.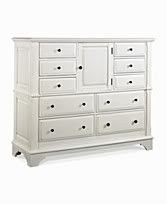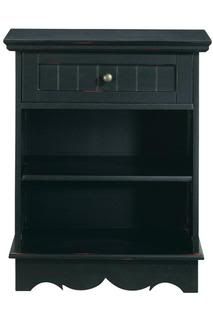 (I'd use a pair of these end tables as nightstands.)
But our dressers&nightstand are ancient, & I'd like to paint the walls. I think it's fairly easy to keep black&white from being too modern, as you can use damask&toile to give it a more classic appeal. I also think you can make cream&white work in the same room, if you have enough
accent colors,
& black,
around&between.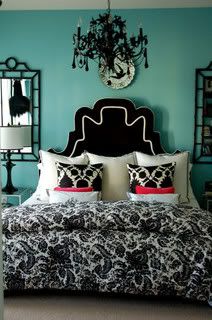 We already have the warm crimson red to work with, in the bedding, & I am thinking about painting the walls a pale turquoise blue. That would give me
two main accent colors to work with
(pale turquoise blue & the warm crimson red);
with a lot of
black,
cream,
& white neutrals
in the furniture & main design elements.
(Do you think that can work? It looks great in my head. =) I don't have much blue anywhere else in the house, but I know My Prince likes it.)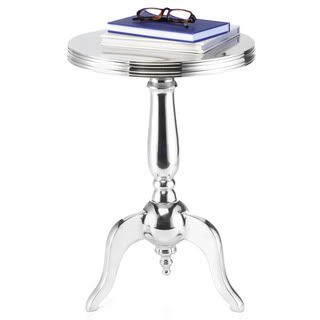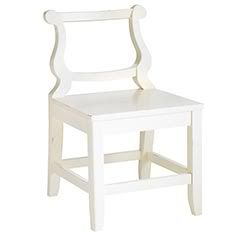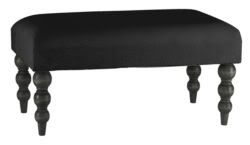 I would also like to
add a nightstand
(right now we're making do with one);
consolidate down to one dresser
(I think this will be possible once I get the closet reorganized again);
add a chair in the corner where the other dresser is currently placed
(maybe even with a little table or vanity);
& eventually put a bench at the end of the bed
(but not until Pretty Little Bare Feet's Pack&Play is gone,
& we use it too much to move it out of our master bedroom yet.
Until then, it'd be too crowded to have two large items in that close proximity).
So those are some ideas I have for our master bedroom.
Here are some more photos, just for some inspiration: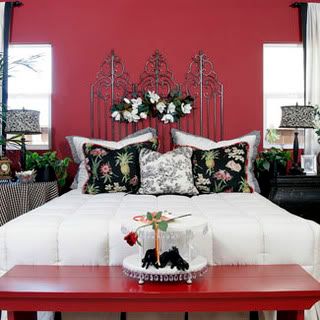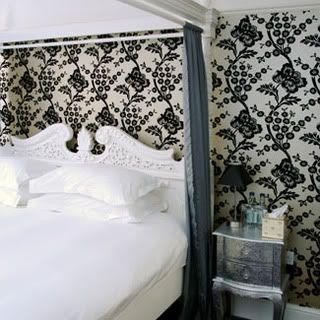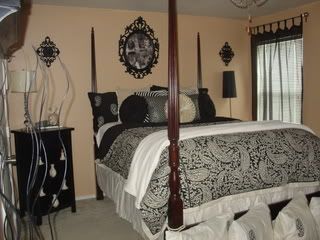 I am looking forward to
a fabulous annual tent sale,
that goes on in May,
at a great furniture store,
in the town where my mama lives.
It's where we got most of our new living room furniture last year.
The sale pieces are all in fine condition - they're usually just
parts of sets,
that have already had one piece sold separately;
& then the others get priced at lower prices,
since they're not part of a set anymore.
(It's great for me, because I don't like the matching-set look, & I do like discounts!)
Once I get a feel for what kind of furniture I can get from that this year, I can figure out what other types of things I'm going to need to buy/find from other places.
& then maybe we'll have a whole new master bedroom by summer!