inspirational,
& so sweet;
& she has a lovely blog full of
fun,
pretty
things.
So, because I'm such an inspired follower, I am delighted to tag along with her on her new adventure,
My Style Monday
. Hopefully I can be as inspiring in my own finds&ideas that I'm doing this justice!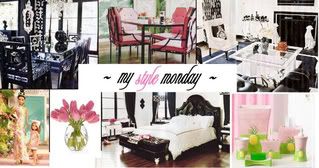 To introduce my own My Style Monday "style," I'll try to briefly
summarize my own personal style,
before completing the first "mission" of showing five things that showcase it.
(I'm a word girl, what can I say?)
I have to say, my favorite styles of
clothing,
hair,
home decor,
jewelry,
etc.
- even children's things -
veer toward
classic,
preppy,
& sometimes French country
or shabby chic,
looks. I like black&white backdrops (I LOVE damask&toile), but I also love bold splashes of color - especially in smaller places like the bathroom&kitchen.
One of the main selling points for My Prince & me, when choosing our house, was having hardwood floors in all of the rooms, except the bedrooms.
I lean toward a more feminine style, & as I've mentioned before, My Prince is happy to indulge it. This is partly because I go more overboard on the feminine touches in rooms like the
bathrooms,
dining room,
kitchen,
& office
- while maintaining a bit more neutrality in
our living room,
our master bedroom,
& Pretty Little Bare Feet's room.
I'm not a big fan of primary colors - my blues&greens are usually muted&soft, & even my reds tend to be closer to "crimson." ;)
You saw my green&pink kitchen in
an earlier post
, & I also do a lot of green&pink in our upstairs bathroom (which is technically Pretty Little Bare Feet's, although she still takes her baths in our master bathroom). Our guest bedroom, which is
huge
, & also contains the beginnings of my home office, has a lot of black&pink, as well as some French country elements (some of which actually came from travel to France!) - our master bathroom has a similar style.
Anyway, that's enough for now - I don't think the point of this was to describe each room in the house! =) I will add that I love to get inexpensive little accents from Pier 1 Imports, & now I'll move on...
Style Me Monday mission:
Share five things that show something about your home decorating style.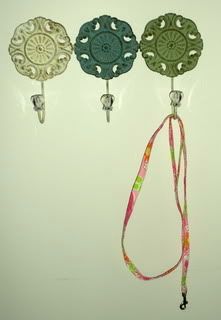 (Lilly Pulitzer, medallions, preppy)
This seaglass embossed wall hook from Pier 1 Imports hangs in my front entry. I don't know that it'll ever be used to hold a bunch of heavy sweaters, but it's a nice home for the White Dog's Lilly Pulitzer printed dog lead.
(colorful, silver, wine)
I wish I could tell you more about this silver pitcher with the cobalt&green accents. I love it. It was one of my favorite wedding gifts from a dear friend, whose style I really admire. I believe she bought it somewhere in Auburn, Alabama.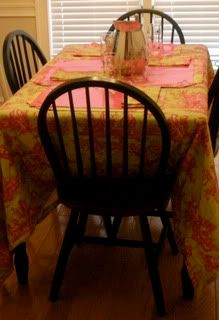 It's too pretty not to display, so during the spring&summer months, when I have my table set with my favorite table linens (the green&pink Orleans toile from
Williams-Sonoma
), I use it as a centerpiece vase.
My Prince loves fresh flowers, so he'll often bring home a new bouquet to place in it. During the fall&winter months, as you can see in the first photo, it sits atop our fridge, adjacent to our most heavily rotated wooden wine rack.
(I also have a few wine accents in my kitchen, which was sort of the feel I was going for back in my college days.)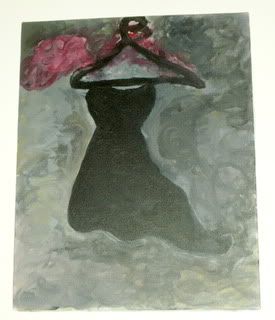 (elegance, fashion, French, girly)
This is my "Little Black Dress" painting. My painting - as in, I painted this! Impressed? Don't be too impressed (although I did surprise myself, as I don't think I have any real artistic talent) - I did this at one of those painting party places, where you bring a bottle of wine & paint along with an artist. It was so much fun - I'm hoping to do it again sometime soon.
(elegance, fleur-de-lis, French, scrollwork, upholstery, wrought iron)
I don't even remember where I bought this ottoman, although I do remember that I was with my best friend from high school, & I do remember that it was a great deal. I've had it forever, & I absolutely love it & will probably continue to have it forever. It serves a lot of purposes, & occasionally gets moved from room to room, but mostly it just looks pretty.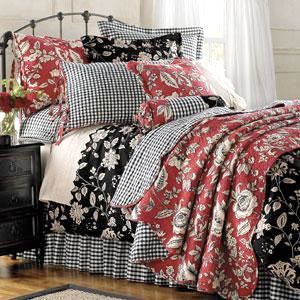 (black&cream, classic, floral, French country, gingham check, scallops, traditional)
This is the bedding ensemble we have in our master bedroom, where I keep the colors a bit more neutral (not so feminine), but I still maintain the same style. It is
"Sabrina" from Linen Source
, & we have the entire set (including the coordinating "Monique" duvet), except for the bedskirt (ours is a solid cream with a lacy trim) & the bolster pillow. My Prince loves the warm red, almost crimson color, & I love the classic French floral pattern.
I am looking forward to reading everybody else's My Style Monday posts - & finding inspiration for the next one!