I should probably just go ahead & admit, relatively right up front, that I have a tendency to buy cookbooks that are "pretty." In fact, I keep my less-pretty cookbooks on the top shelf of our pantry, bookended by vinegar on one end, & the White Dog's ridiculous treat collection on the other.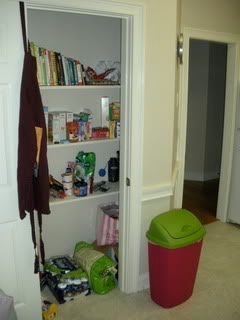 (Why, yes, I do have a green&pink garbage can, thank you for noticing. & yes, I did keep the shopping bag from my last visit to a Lilly Pulitzer signature store. It is the perfect size for containing the White Dog's clothing collection. & yes, I do wear an apron when baking...so should you! I'm keeping an eye out for a new, more colorful one...)
However, my
pretty
cookbooks...
those get to live on my countertop, under my cabinets. Yes, they take up precious counter space, but they're so...
& I just want to look at them every day!
I move them when I'm undertaking serious cooking tasks that require ALL of the counter space in my kitchen. Or if I fear a splatter could land on one of them, I throw a pretty towel over them until order is restored.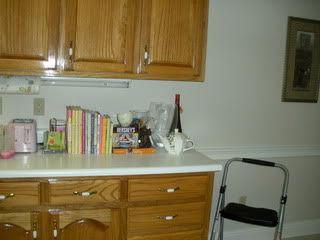 (Why, yes, I do have a pink toaster, thank you for noticing. Not pictured: my pink blender, or any of my great number of brightly colored, green&pink, girly&preppy dishes, prep bowls, utensils, etc. My Prince doesn't mind that our kitchen has been completely taken over by such femininity, because I spend so much time in it, & he gets to eat whatever yummy creations are made in there.)
I tell you this because I worry you might think there is some rhyme or reason to how I find cookbooks or recipes, but it's simple, really. I like to bake more than I like to cook - though I love to do both - so I have an abundance of baking, desserty cookbooks. & I like pretty cookbooks.
Anyway, after posting real photos, I hate to disappoint you by telling you that I have no photos of this burger recipe I'm posting. BUT My Prince says I cannot blog all of these favorite recipes that I did months ago without including these burgers. This recipe came from
Mary Engelbreit's Dining Out Cookbook
, & I made it for Father's Day 2009.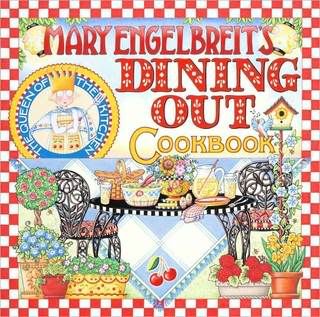 I suppose burger recipes are more customarily a summer staple, but I actually made these on the stove because we didn't move our old college hand-me-down grill with us to our new house.
(Plans are in the works to get My Prince one of those behemoth manly grills that will take up one entire end of the patio - definitely before kickoff for football season. What? Football season's not over, you said? Oh, that's cute...you think the NFL qualifies for "football season?" Well, bless your heart.)
Besides, it's never too cold to grill in the South. Even when they cancel school because they think some snow flurries might flutter about in the middle of the afternoon.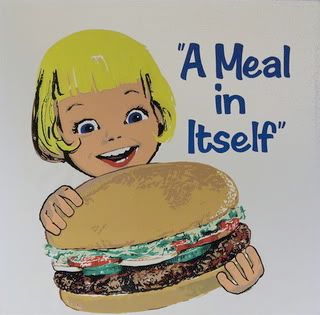 Santa Fe burgers with avocado relish
(yield: serves 4)
1/2 ripe Hass avocado, peeled&chopped
1/4 cup sour cream
1/4 cup "thick&chunky" salsa
1 tablespoon chopped fresh cilantro
1 teaspoon chili powder
1/2 teaspoon ground cumin
1/2 teaspoon ground coriander
1/4 teaspoon salt
1/4 teaspoon ground red pepper
1 pound ground beef
4 seeded rolls, split
8 thick slices ripe tomato
8 small romaine leaves
1 small red onion, sliced into rings (optional)
*Preheat the grill to medium-high & oil the rack.
(Obviously, you're going to have to make some adjustments if you do this on the stove, as I did. You do know how to cook a hamburger patty on the stove, right? In your iron skillet? Oh, law, you DO have an iron skillet, don't you?)
*In a small bowl, stir together the avocado, sour cream, salsa, & cilantro. Set aside at room temperature.
(Of course, this is the avocado relish. You may have to set it aside someplace that you can't see it while you cook the burgers. Because it is delicious, even by itself, & you don't want to, um, keep "tasting" it & have to make more later...OH, & BY THE WAY, did I mention before that when you're baking, use real whole milk? I also encourage you to use REAL full-fat sour cream. No, I don't drink whole milk on a regular basis, I drink skim. & no, I'm not a big ol' cook like Paula Deen...I fit in the same size zero jeans that I wore before I became pregnant with Pretty Little Bare Feet. HOWEVER, if you are going to eat a big, fat slice of cake, a couple percent difference in the milk is not going to make a big difference in your belly bulge, but it will make a difference in the deliciousness of the indulgence. & I believe people would give that Paula Deen a lot less grief, if she would take up running or yoga...& eat smaller PORTIONS of the good, real stuff. This is turning into a separate blog entry altogether. Buy real sour cream.)
*In another small bowl, stir together the chili powder, cumin, coriander, salt, & pepper. In a medium bowl, sprinkle the beef with the spices & gently combine, handling the mixture as little as possible. Form 4 patties, each about 3/4 inch thick.
(If you're going to make these, make them right. Don't scrimp on the spices. They truly MAKE the burger. Ground coriander is one of my favorite smells, & it is not that hard to find. & make note of the suggestion to "handle the mixture as little as possible." I wholeheartedly reaffirm. My late granny would say some of those foolish folks on the Food Network ort to be ashamed the way they constantly keep their hands in the food they're going to serve. She might would even call it vulgar.)
*Grill the patties for 5 to 7 minutes on each side for medium-rare; grill the rolls, cut side down, for about 2 minutes.
(Again, there are easy adjustments to make if you want to cook these on the stove. It doesn't make a whole lot of flavor difference if you still use the correct spices, unless you just really can't eat a burger that doesn't taste like charcoal. & of course you can use a toaster - pink or otherwise - to toast your buns.)
*Spread the bottom half of each roll with the avocado mixture; top with a hamburger patty, 2 tomato slices, 2 lettuce leaves, & red onion, if using. Add the top halves of the rolls & serve, accompanied by the remaining avocado mixture.
(If you're like me, "hamburgers" is a foreign term. There is no point in trying to give me a burger, of any kind, with any toppings, unless you add cheese. I can forgo the bun - & often do, halfway through, if I'm starting to get full - but I always add cheese. Just a slice of American or cheddar.)