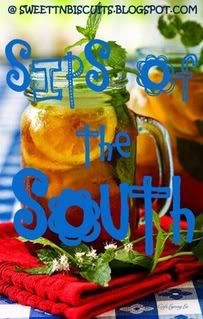 (YUMMM. The South is the best place to eat!)
The instructions for this week are to link to a favorite Southern
hole-in-the-wall,
meal,
menu,
snack,
restaurant,
etc.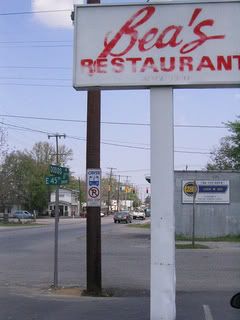 Bea's Restaurant is one of my favorite hole-in-the-wall restaurants in the South, & it is just about as "hole-in-the-wall" as you can get. It is in downtown Chattanooga, Tennessee, off the beaten path (& honestly, I don't know if they serve supper, but I probably wouldn't drive into that part of town after dark!). My mama has been eating there since she was a little girl, when my granny&pawpaw would take her & her brothers on trips into or through Chattanooga.
Her older brother found it while he was working in Chattanooga, I think back in the sixties.
My mama & I try to go back & have lunch there at least once a year, but we just don't always go to or pass through Chattanooga at the right time to eat lunch, even though we do go to or pass through Chattanooga several times a year, on some trip or another. My Prince has been lucky enough to join us for lunch there, & he was so impressed with the good eats that I think he'd drive back there just for lunch, if he could!
Bea's is so old-school that there is apparently not a website for it that I can link to. & I can't go & take my own photos right now. That means I'm just going to have to
describe it as best I can remember
(I'm sure I'll leave out something great - there's so much!),
find some photos in the same spirit of what Bea's has to offer,
share a few user-submitted photos from travel websites,
& list the basic information for finding it.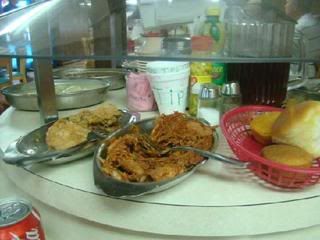 I guess what I love most about Bea's (well, obviously, the delicious Southern cooking, but besides the obvious!) is that your food is served lazy-Susan style, on big, round tables that you share with other diners. You just don't see that type of dining environment anymore! I'm pretty sure Bea's opened up back in the forties, & I'm also pretty sure from looking at it that it hasn't done a major redesign or renovation since then either.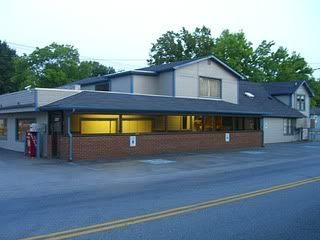 But it doesn't need to! It's always clean, & the nostalgic atmosphere really lends something to the experience.
Plus, it doesn't seem to matter what time of day you happen to be in for lunch, there is almost always a crowd, & this means depending on how large your party is, you are more than likely going to be seated with some complete strangers for lunch. Bea's draws a friendly bunch of Southerners that love good food - everybody from doctors&lawyers that have come from downtown offices for their lunch breaks, to the folks that live just across the street. & because of the dining style of the restaurant, all of these folks end up chatting through lunch like the best of old pals, when they might not would ordinarily exchange more than a passing nod on the street.
(Because that's as unfriendly as it gets in the South...even complete strangers in a hurry merit a nod, or the one gentle finger lifted off the steering wheel - no, not that finger - it's a friendly gesture down here.)
Oh, & the food.
The food is amazing. I have to really practice the rule that I think Bethenny Frankel summarized best in her first book, Naturally Thin, "Taste Everything; Eat Nothing." There is so much food that comes out, you basically end up with an entire lunch buffet on your table right in front of you. Even if you eat just two or three bites of everything offered, you will leave full as a tick. Overindulge like My Prince did, & you may need your wife to drive for a while, so you can take a nap in the passenger seat. ;)
I'm guessing that the Bea's menu hasn't changed much more than the decor has, & is still pretty true to the classics it began with.
Some call it country cookin',
some call it "soul food,"
& some are confused by it.
I call it "good eatin'." I imagine my pawpaw probably said, "That Bea's Restaurant is some good eatin'."
Southern eats you're likely to find on any given day at one of Bea's tables:
BBQ
(& in the South, that's slow-cooked pulled pork - not hamburgers or hot dogs or sloppy joes),
boiled potatoes,
chicken&dumplings,
coleslaw,
collard greens,
cornbread,
fried chicken,
fried okra (that's a vegetable, for you Yankees),
ham,
mashed potatoes,
pinto beans,
spaghetti (not that that's Southern - but it's good there!),
tater salad...
Southern drinks you'd be a fool not to order there:
sweet tea,
a refill of your sweet tea,
& oh, why the heck not, refill that sweet tea again!
& I'm not usually a bread girl & can usually easily bypass the bread basket - but the homemade yeast rolls here are "betcha can't eat just one" good!
To end the pig-out, you never know which cobbler is going to be the cobbler of the day, but you can be sure it'll be delicious&fresh. The best I've had there was the peach. =p
Bea's Restaurant
4500 Dodds Avenue
Chattanooga, Tennessee 37407
(423) 867-3618
(Disclaimer: I'm pretty sure I gained about four pounds just posting this. It's possible you could gain four or five yourself, just reading it.)