...because I can't believe I've been gifted with another award this week...from
another totally fabulous blogger
whose
adorable,
always interesting,
beautiful-to-look-at
blog always gives me a case of blog envy.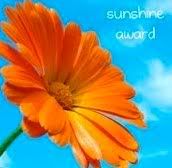 Yes, I am so grateful to
Whitney
over at the
Preppy Pink&Green Puppy
, for giving me this sunshine award. We can definitely ALL benefit from some sunshine in this groundhog-induced state of
brrr
. Go check out her blog if you like charm&cuteness...& who doesn't like charm&cuteness?
Rules:
Post logo.
Pass it on to twelve shiny, happy, lovely bloggers.
Link 'em.
Notify 'em.
Share the love&sunshine with a linkback to the blogger that gifted you!
Twelve colorful, happy blogs that brighten gray days:
.
..& it is apparently just my lucky day, because
before I could even get through my list of links up there,
to notify my sunshiney bloggers,
I found out that one of my sweet recipients had left me an award of her own on her blog!
So if you haven't already clicked up there on
Recession is the New Blonde
, please do so now, because she is super!!!, & has a cute, chic new apartment that she is sharing with us as she decorates it. She has so sweetly shared this award with me, & so I'd be delighted to post it right on up here with some more blog links for y'all to visit.
Be polite, say thank you to the blogger that gave this to you, & give 'em a linkback.

Pass it on to about fifteen other beautiful bloggers that you've recently discovered.

Link 'em.

Notify 'em.

Say seven things about yourself.
My Prince wants to get another dog. But I'm not unconvinced that the White Dog isn't an only furchild. I mean, we're already putting her through the trauma of little human siblings, right?

Sometimes I sing my old sorority songs to Pretty Little Bare Feet as lullabies. Sometimes I even sing the dirty ones when I'm trying to entertain her - but that's only until she starts repeating what we're saying!

I fully intend to set an alarm on my iPhone for the Lilly Pulitzer stationery sample sale on

One Kings Lane

tomorrow...& the Lilly Pulitzer sample sale on

Rue La La

next week!

Sometimes I watch Elmo's World even if I've already put Pretty Little Bare Feet down for her nap. I find Elmo intellectually superior to the trashy courtroom shows & talk shows on daytime network television.

I used to get the Sunday newspaper every week, but I got behind because I actually

read

all of my magazines&newspapers, pretty much cover to cover. Then I recently discovered that the birth announcements are in the

Saturday

newspaper where we live now, so now I'm getting the Saturday newspapers because I have an unhealthy fixation on baby names.

(In fact, if Pretty Little Bare Feet starts to Montessori nursery school in the fall, I have a faint hope in the back of my mind that I could *gasp* start another blog, & join the ranks of the baby name bloggers, as well!)

After about fourteen years of addictive tanning, I quit cold turkey when somebody mistook me for

older

than my actual age, for the first&only time in my life. I miss it, but I'm more vain about looking old than I am about looking less-than-bronze, I guess. I'd like to note that since that day, I have been mistaken for a fifteen-to-sixteen-year-old - by somebody who did

not

work for commission! ;)