Here are some pretty things I've come across this week,
from some blog
or catalog
or friend
or magazine
or another;
or just from my own browsing&shopping&surfing,
that I need to convince My Prince to dole out the cash for...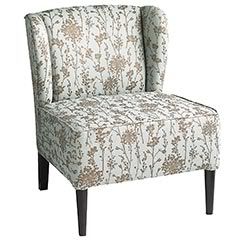 I have no idea where'd I put this. None. Maybe in the front entry? Then it would definitely be just for show, because none of us ever has a reason to sit in the front entry. Hmmm...at only $250, though, I am quite sure that I could find the perfect place for it in my house.
I have about as many pairs of jeans as I have pairs of shoes (a lot!), it seems. In the last few years, I've become obsessed with designer jeans, my favorites being
Anlo,
Citizens of Humanity,
Earnest Sewn,
J Brand,
James Jeans...
But I still have quite a few pairs of Banana Republic & Gap jeans from the days I worked there, & they always seem to make the de-cluttering cuts. These look promising, & I wouldn't be distraught if I dropped pesto on them, since they're not designer price.
(I was distressed, however, when I dropped pesto on one of my favorite pairs of Citizens, on a recent road trip.)
I know you can't tell much from that small photo, but trust me, it's cute. Click on the link.
I love this little onesie for Pretty Little Bare Feet. I'm sad that it's not going to be long before she'll have outgrown the sizes that pieces are still available in onesie styles. I've bought several baby gifts from Barneys & have always been happy with them. I'd die to go to the flagship store, but as of right now, I've really only done the airport part of New York City, & that wasn't much to write home about.
Anyway, cute little onesie from a line that I haven't really noticed before. Pretty Little Bare Feet would look darling wearing it to a birthday party this spring.
This may be my favorite of the new arrivals at Lilly Pulitzer. Hard to pick a favorite, as I adore all of it, but I can just see myself wearing this to so many places. I have several tops made like this that have gotten worn a lot, but none quite so colorful. Of course My Prince loves it, too, both for the colors & the style, so there is a real possibility I could hang this in our closet soon!
& while we're discussing Lilly, I'll also share my current favorite pick for go-to, wear-anywhere dress for spring. I've had my eye on this one for a while. I know short girls like me (5'1) aren't really supposed to wear long dresses, as it overwhelms our frames & makes us look shorter blah blah blah. But Nicole Richie does it, so that makes it okay, right? We're also not supposed to wear flats, & I wear them all the time because I like them. Anyway, I lived in maxidresses the last couple summers, & I'd love to add this beautiful one to my collection.
This is a short post, y'all, & not nearly so filled with my usual anecdotes & wit, but that's because what I really want most right now is to get over this awful stomach bug I've caught from my precious little Pretty Little Bare Feet. It's kept me sidelined from life for the last two days, & that includes virtual life. I've been in bed with the White Dog, in a Phenergan haze since last evening. Before that I spent the entirety of the day sick in a way I don't remember ever being sick. I'm not sure my first trimester of pregnancy was so bad, although it was pretty awful, too.
Anyway, enough about me.
T.G.I.F.! What do YOU want this weekend?