As I posted before
, I have always preferred to make most of Pretty Little Bare Feet's food myself, even her "baby food."
One of the vegetables My Prince & I consider a favorite staple is asparagus. We like it pretty much any way that you can prepare it. We like it
baked in the oven,
grilled,
or used in casseroles or ensembles for entree dishes.
Now, of course, Pretty Little Bare Feet is able to eat it pretty much any way that we prepare it for ourselves, although maybe cut into smaller bites. We cultivated her love of asparagus early, though, as I began feeding her this homemade asparagus puree last summer when she was about seven months old.
I adapted the following recipe from combining bits&pieces of information&recipes, mostly from my
aforementioned sources
; as well as from my own trials&errors.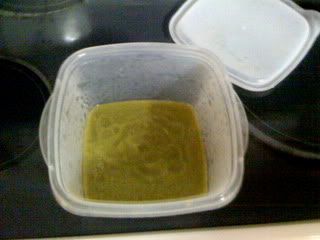 (sorry for the iPhone-quality photo)
asparagus puree
(yield: makes about 3/4-1 cup)
1 bunch asparagus (about 12 spears or 1 pound), woody ends snapped off
*Cut all spears into 1/2-inch pieces.
*If you have a Babycook, follow Babycook directions for adding water to steam asparagus. After steaming, remove steamer basket. Then follow Babycook directions to puree.
*If you do not have a Babycook, bring 1 inch water to a boil in a pot. Put asparagus in a steamer basket, set in pot, cover tightly, & steam until tender & bright green, 7-9 minutes. If you do not have a steamer basket, cook asparagus in a saucepan of boiling water until tender, about 6 minutes. After you have cooked the asparagus, rinse asparagus under running cold water to stop the cooking; or have ready a bowl of ice & cold water, & immediately transfer cooked asparagus to ice water to stop cooking.
*Puree asparagus in a food processor until smooth. Additional liquid will not be needed.
*To store, refrigerate cooled puree in an airtight container for up to 3 days; or fill ice-cube trays or other containers to freeze for up to 3 months.
(Asparagus offers a wide range of vitamins A, C, K, & several of the B vitamins. You may have more success getting your baby to eat green vegetables in the early months than a few years later, especially if you swirl in some fruit puree. Try this puree alone first, but if your baby is reluctant to eat it, stirring in some apple or pear puree may tempt him. Pretty Little Bare Feet loved it just by itself like this!)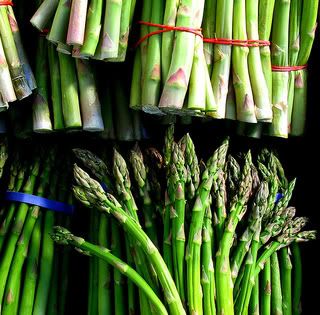 ***Please note that I am not a doctor. I am a blogger, a lawyer, & a stay-at-home mama. I gather&read a lot of information before I prepare food for my own child. I would encourage you to do the same, rather than only going by what I've posted (although I do stand behind the observations I've recorded here). Each child is different, with different needs. Foods are also different in different regions. I use guidelines I've received from our pediatrician, for feeding our child. Please use the advice of your own pediatrician regarding the age at which your child should begin eating which foods, & what serving sizes are appropriate for your child. Thank you for reading my blog! Please feel free to email me with any questions you may have.***