Here are some pretty things I've come across this week, for our pretty little budding gymnast,
from some blog
or catalog
or friend
or magazine
or another;
or just from my own browsing&shopping&surfing,
that I need to convince My Prince to dole out the cash for...
Okay, okay, I know what you're thinking.
Really, Sara?
You're one of those mamas?
The one that pushes her toddler into every activity or lesson you can find within a sixty-mile radius?
Who hovers over her tot during the class to make sure she does everything perfectly,
& then remarks loudly enough for everybody around her to hear about her child's "gifted, natural talent?"
No, I promise that is not me. You do not have to unfollow me, on principle. I am not that mama.
(However, I do know those mamas. A couple of those mamas inspired the

aforementioned

playgroup coup of 2010.)
But I will concede, that as a full-time stay-at-home mama, I am all about finding someplace to
go
during weekday mornings. Since I am
not a big fan of having the television on
, it helps both Pretty Little Bare Feet & me to get out of the house - both to avoid being stir-crazy & to meet people. & since toddlers love their routines (&, I admit, so does this mama!), it is also helpful to have consistent destinations with familiar faces.
Last summer, when Pretty Little Bare Feet was all of about five months old, we attended a local baby fair with our newest parentfriends. We had met Clint&Mary when we were all waiting for tables at a new local pizza restaurant. It was quite the wait, & our Pretty Little Bare Feet was striking up quite a flirtation with their Handsome Little Keko.
We ended up talking to the couple,
discovering they were also relatively new to the area,
& exchanging numbers.
I met up with Mary for several playdates/shopping trips before we ended up joining a local chapter of MOMS Club together.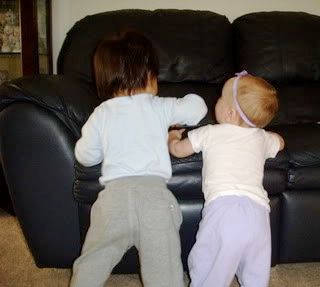 (Handsome Little Keko & Pretty Little Bare Feet, about eight months ago)
Months later, we ended up in the same playgroup (& yes, we're still in the same new playgroup), & our toddlers still adore each other.
Anyway, it was such a relief to meet Mary & start getting involved in our new local community. Our babies were just getting to the age where they were becoming more active, & neither of us mamas had been venturing out as much as we wanted to. At the baby fair, I got information about parent-child gymnastics classes & agreed to show up for a free introductory class.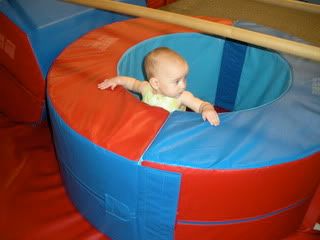 (Pretty Little Bare Feet loved it!)
& I enjoyed meeting other (mostly stay-at-home) mamas. So we've been progressing in these classes, with perfect (although not always punctual) attendance ever since.
Pretty Little Bare Feet has actually done really well in the little classes. Her first pediatrician once remarked at one of her checkups (maybe at six months?) that she was remarkably strong, with particularly strong muscular skills for such a short, tiny thing. He actually suggested then that she might naturally excel at gymnastics, although his remark didn't really register until I saw Pretty Little Bare Feet doing her thing at this little gym.
Anyway, we haven't taken it especially seriously - it's just another of our places to go during the week, like playgroup or storytime at the library. But in mid-April, Pretty Little Bare Feet surprised us. During "exploration time" one day, while I was chatting with a momfriend, Pretty Little Bare Feet
pulled herself up onto the shorter balance beam,
gripped the little rail that runs parallel to it,
pushed herself up to stand,
& then let go to stand freely on the balance beam.
This one is a little bit lower than the standard beam, but it is the same (narrow) width.
When she saw us watching,
she clapped for herself,
which tested her balance
& sent her wobbling;
but she caught herself on the rail again
& recovered.
I didn't know whether to be horrified or proud, until the sweet instructor remarked to me that she was amazed that Pretty Little Bare Feet had done that by herself. & she was proud of me for allowing Pretty Little Bare Feet to be independent enough to try it for herself.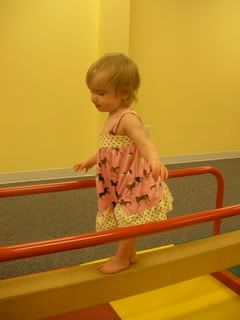 Within the last few weeks, Pretty Little Bare Feet has begun walking the beam by herself.
Now she is even climbing the stairs to the standard balance beam. But she at least recognizes that she can't quite trust herself to walk on it yet, without somebody guiding her.
When Pretty Little Bare Feet starts her little Montessori nursery school classes in the fall, we'll be moving on from some of our little routines. She'll be getting storytime there instead of at the library, & I'll be doing some of my errands without her in tow (bittersweet). She'll have two days a week off from nursery school; & on one of those days, we'll be attending our normal playgroup.
I'd still like to have a "free day." But since her nursery school class only meets for three hours each morning, only three days a week...I think I'm just about going to have to allow for us to continue scheduling gymnastics classes - at least for as long as she continues to enjoy it so much & show such an ability for it. In fact, after some encouragement from the impressed instructors, to "move her up" to the next level class (which she is still at least three months too young for); My Prince & I have begun to realize that we may just need to look into a tumbling program at a "real" gym, if we are actually going to keep this up. If not on our "free day," then before or after nursery school or playgroup...
...but nothing else! I've got to study for the bar exam, & my head will spin if I let anything else fall onto our regularly scheduled plates! & I want our family to have plenty of downtime, too!
So anyway, that's the (long) story behind the desire to get a balance beam for Pretty Little Bare Feet to play&practice on at home. She's fallen twice this week, both here at home & at Mary's house, trying to make the couch her own personal balance beam.
So I love that colorful one that I posted up there, with its options for building different constructions.
& I love that one that looks like a crayon, too!

& the pretty one that looks like a log in the flower garden.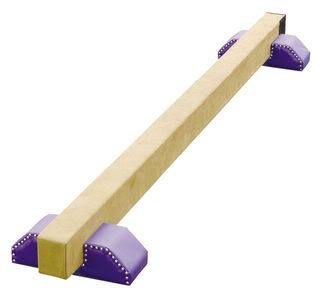 But I have a feeling that Pretty Little Bare Feet would be happier with something that looks more like "her" balance beam. & that she would probably benefit more from something that will give her the chance to really practice her little craft.
& well, let's be honest...
...even though I strive to create a laid-back existence for our family,
with a slower pace...
...I am a type-A,
go-go-go girl at heart.
& if Pretty Little Bare Feet ends up wanting to pour her little heart into gymnastics, there are a lot of awfully cute (girly!) little incentives: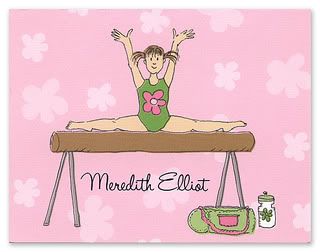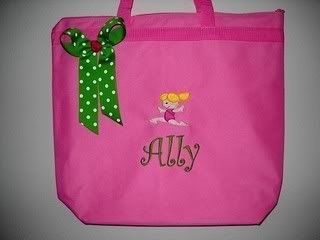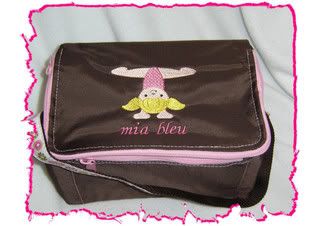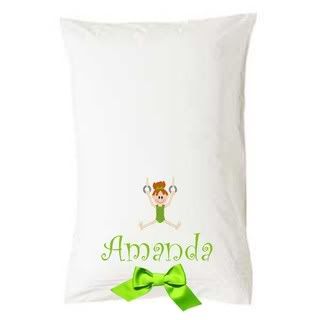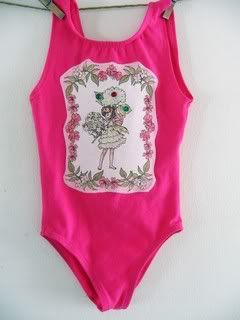 But really...
...as long as she remembers that she is a girl;
& that in our house,
we don't do the androgynous boys&girls-aren't-different stuff;
I'll be perfectly content to chauffeur Pretty Little Bare Feet back&forth to whatever it is she chooses to focus on.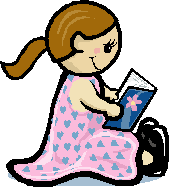 Even if she just wants to choose library books to curl up & read beside me on the couch!
T.G.I.F.! What do YOU want this weekend?