As many of you know, Pretty Little Bare Feet officially began her Montessori nursery school program this week. She will go three mornings a week, for three hours at a time. However,
this was a "phasing-in" week,
which I appreciate that they do!,
& so it was a bit different.
(& a bit overwhelming for both of us, although I believe in the end, it probably is the best way to acclimate little ones to their new classroom environment.)
So we went for an hour together on the first day,
then she went for an hour by herself the next,
two hours by herself the next,
& two hours by herself on the fourth day.
Next week she starts her real schedule.
So far I've been very impressed by her
classroom,
school,
& teachers.
I also like most of the fellow daddies&mamas we've met.
I am optimistic that this is going to be a great school year, reinforcing it to be a good decision to enroll Pretty Little Bare Feet in a toddler class.
Now of course y'all know I've mentioned once or twice recently that this mama was at least excited about the prospect of
"school" shopping
. There aren't quite as many "supplies" to round up for these littlest students, but there are a few.
(& of course there are "school"
clothes
to buy for both Pretty Little Bare Feet & me! I am one of the two "room moms" for the classroom, so I do have to be there for more than just the everyday drop-off & pick-up...not to mention that even those things require coming all the way into the classroom to sign the children in&out, & say goodbye...another policy I appreciate about the school we chose. Anyway, y'all know how I feel about
always looking your best for even the smallest occasions
...)
This Friday is a bit different, as I have actually already procured most of these items(!). But I wanted to share them with y'all, as I know that many of you have children, or at least have children that you shop for sometimes.
(& FYI, a lot of the shops that I link to carry a lot more than just toddler items, so if you see something you think is cute...click on over & see what else is offered from the same retailer!)
So here are some pretty things I've come across this week,
from some blog
or catalog
or friend
or magazine
or another;
or just from my own browsing&shopping&surfing,
that
some sweet tot
you or I know might want to keep in their
cubby at school
...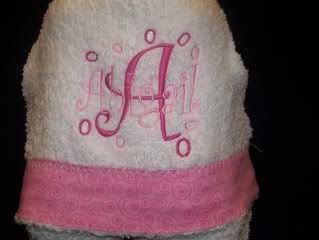 Custom Hooded Towel with Child's Name Embroidered by
Kute Kiddo
Pretty Little Bare Feet is required to have a towel kept at the school. I can only assume it is because in this unpredictable Southern climate, a downpour could happen faster than the teachers can corral a dozen toddlers off the playground & into the classroom. Makes sense to me! Pretty Little Bare Feet also has an adorable little purple hippo hooded towel, as well as a soft yellow hooded towel with teddy bear trim.
However, pretty much everything that is required to be kept in the classroom, is also supposed to be labeled with the child's name. So the custom towel is the one that went to school.
(Isn't embroidery so much prettier to look at than just writing a name on a tag with a black Sharpie?...Yes, it is!)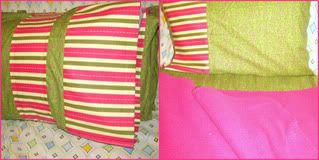 Personalized Nap Mat with Attached Blanket in Green Vines by
Hullabaloo Baby
I can't say enough about how lovely these nap mats are.
(Be sure & check with your child's teachers to make sure they are allowed, though! There is a reason vinyl kinder mats are the norm, & that is because they are easy to clean when messy, potty-training toddlers make messes on them.)
However, if you are lucky enough not to have the "vinyl only" rule, you can make sure your child has the cutest, most comfortable nap mat in the classroom. Pretty Little Bare Feet's teachers were thrilled that the blanket&pillow are attached to the cover, which is easily detached from the nap mat. If Pretty Little Bare Feet gets any kind of mess on her nap mat, they'll just send the cover home with me to launder.
& again, I much prefer the look of
Pretty Little Bare Feet's name embroidered on her pillow;
rather than written in black Sharpie on her mat,
& each tag on each item that goes with it!
(Also, you get what you pay for. Yes, this is a lot pricier than just grabbing a vinyl mat off the shelf at Target. But the workmanship that goes into these is incredible, & they can be used for years...for camp, sleepovers, travel, etc.)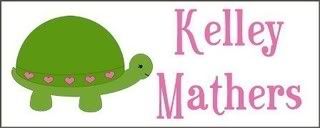 So I have to tell y'all that I did not actually buy Pretty Little Bare Feet's labels from this shop. For the first time in the billion orders I've placed on Etsy, the seller from whom I did order Pretty Little Bare Feet's labels was very misleading about her turnaround time. So although I placed an order for those labels...oh, about two weeks ago...I still don't have them, & so can't vouch for their quality.
(Although obviously I can tell you the service is lousy, I'd rather not name names since the lady seems perfectly nice, even if unreliable.)
Even with that being the case, I still prefer the labels I've found on Etsy to the labels I've found on all of the "big name" sites from which to order name labels. I'm sure you mamas know the ones - they're in the backs of all of the parenting magazines. I have several momfriends who have ordered from those. Although they seem to do the job fine, y'all know me...I seek pretty!
(& hey, those turtle labels are pink&green, another bonus in my book! ;))
Since I've harped&harped about how ugly just writing a name with a black Sharpie is, I thought I'd let y'all know that I do realize that you can't just embroider a name on absolutely everything. For one thing, there are some things that just can't be sewn on.
(Although of course most everything
can
be monogrammed! Just ask
2PreppyGirls
!)
For another, I do realize that it can get expensive to customize&personalize every item you own. So...I just wanted to share my label love! The easier, less expensive way to personalize!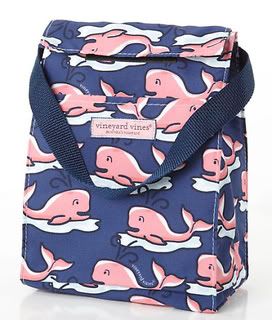 Most days Pretty Little Bare Feet won't actually be at the nursery school for lunch. She is attending a shorter program, so I will actually pick her up just before the longer program children eat lunch.
However, another of the reasons we so love the school we've chosen, is that I am able to let Pretty Little Bare Feet stay for longer from time to time. Like if I have an appointment out of town, or something to that effect.
On those days, we'll be packing her a lunch in this super cute little lunch bag. I chose the most "childish" of their styles for Pretty Little Bare Feet. But it is definitely cute enough that I have no shame about borrowing it to tote my own lunch, if the need arises at some time. It's also something that I can pack a lunch for her in if I go to pick her up, but we aren't coming right back home....she can have her lunch in the vehicle, or at whatever our destination is.
Oh, & the story behind the "tied to a cause" with these lunch bags? Half of the purchase price is going toward
Share Our Strength
, an organization that aims to eradicate hunger in the lives of American children.

Okay, so technically this is not really something Pretty Little Bare Feet needs for school. Fortunately, we weren't asked to supply Pretty Little Bare Feet's crayons or anything like that...although we've heard about nursery schools that have the parents supply the
crayons,
finger paints,
Play-Doh,
etc.,
for each kid individually!
Pretty Little Bare Feet has been quite crayon-obsessed lately, so we've been able to break out the little Easter-fabric crayon roll that a friend's mom made for
Pretty Little Bare Feet's Easter basket
. It's pretty much made like that one in the photos above, & it has her name sewn on it.
(Of course. LOL)
But these little crayon rolls are so darned cute & inexpensive, that I think I am going to get a couple more for Pretty Little Bare Feet.
(You know, to change it up from the Easter theme every now&again, although it is adorable!)
I also think they'd make really cute party favors for Pretty Little Bare Feet's second birthday party this winter...
T.G.I.F.! What do YOU want

in your cubby

this semester? ;)