As I posted before
, I have always preferred to make most of Pretty Little Bare Feet's food myself, even her "baby food."
One of the vegetables that she developed a real inclination for as a baby, that she is actually still wild about as a toddler(!), is broccoli. Whipped broccoli was her first source of tasting broccoli as a baby, & now she will eat it in virtually any form I prepare it for her!
(A broccoli or cauliflower puree like this can also be a great alternative side dish at your supper table, if you want to serve up something different from, & healthier than, mashed white potatoes. Just stir in a dash of garlic salt before serving it to the rest of the family!)
I adapted the following recipes from combining bits&pieces of information&recipes, mostly from my
aforementioned sources
; as well as from my own trials&errors.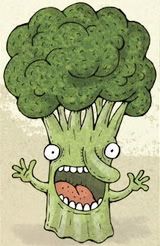 whipped broccoli
(yield: makes about 2 1/2 cups)
1 large head broccoli
2 tablespoons unsalted butter
*Trim broccoli & cut into similar-sized florets.
(Broccoli is rich in anticancer phytonutrients, beta-carotene, fiber, folic acid, iron, potassium, & vitamins. But avoid it if your baby is gassy, & instead stick with plain white mashed potatoes. Those will be less likely to aggravate an upset baby belly!)
*If you have a
Babycook
, follow Babycook directions for adding water to steam broccoli. After steaming, remove steamer basket. Then follow Babycook directions to puree to a consistency your baby can handle.
*If you have a steamer, place about 2 cups small broccoli florets in the steamer & cook until tender, about 10 minutes. Drain & blend to a puree with a little of the boiled water from the steamer. Alternatively, add just enough boiling water to cover the vegetables, then cover&simmer until tender, about 10 minutes.
*If you do not have a Babycook or steamer, put florets in a pot with cold water to cover. Put lid on pot, bring to a boil over medium-high heat, & boil just until broccoli is tender, 15-18 minutes. Be careful not to overcook, or broccoli will separate & fall apart. Drain.
(It *is* preferable to steam, or even microwave, the broccoli. Boiling it in water will cut its vitamin C content by about half. To microwave, place the florets in a microwaveable dish, sprinkle with 2 tablespoons water, & cover with microwave-safe plastic wrap. Pierce the wrap & microwave on high until tender, about 6 minutes, stirring halfway through. Let stand for 4 minutes, then blend with boiled water, or a little of your baby's usual milk, to make a smooth puree.)
*While still hot, puree broccoli with butter in a food processor until very smooth&creamy. If you do not have a food processor, you can use a handheld electric blender.
(Broccoli has a pretty strong taste, so if your baby doesn't take to it right away, try mixing it with a cheese sauce, potato, pumpkin, rutabaga, or sweet potato.)
*To store, refrigerate cooled broccoli puree in an airtight container for up to 3 days; or fill ice-cube trays or larger containers to freeze for up to 3 months.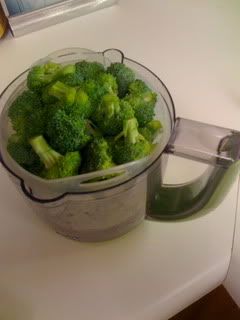 (sorry for the iPhone-quality photo)
I don't know about y'all, but the jarred meats they market as baby food creep me out way more than any of the fruits or veggies...& I've already emphasized how much I prefer the fresh stuff to the jarred stuff anyway.
When Pretty Little Bare Feet was just starting out on meats, I did go to the trouble to cook&puree ground turkey for her. But to be honest, I couldn't blame her for not being thrilled about it. It looked&smelled awful.
(In its defense, it smelled no worse than what came out of the jar, although the jar stuff maybe looked better.)
Certainly, though, both Pretty Little Bare Feet & I were quite ready to move on to "real" solid meats when that day came!
In the end, though, I do think it is worth cooking&preparing baby's meats at home.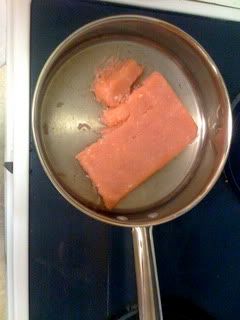 (sorry for the iPhone-quality photo)
baby's turkey
(yield: makes about 1 cup)
*In a nonstick frying pan over medium heat, combine turkey & 1/4 cup water. Cook, breaking up the turkey & stirring constantly, until meat is cooked through & no longer pink, 3-5 minutes. Let cool. Drain & reserve cooking liquid.
(Turkey is a great first meat for your baby, as it is easy to digest. It is a good source of both iron&protein.)
*Transfer turkey to a blender or food processor & puree until a powdery mix is formed, about 1 minute. With machine running, slowly add reserved cooking liquid by the tablespoon. The texture will be pastelike. Add more liquid to thin puree to a smooth consistency your baby can handle.
(Pretty Little Bare Feet hated turkey the first time she tried it, so we stirred in pureed apples to smooth&sweeten it. You can also use pears. Now that she's older, though, slices of deli turkey are one of her favorite go-to lunch meats! To try serving the turkey puree again later, without the fruit, you could add a dash of basil or garlic powder for flavor.)
*To store, refrigerate turkey puree in an airtight container for 1-2 days, or freeze for up to 1 month.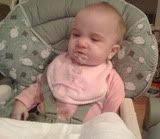 (sorry for the iPhone-quality photo)
***Please note that I am
not
a doctor. I am a blogger, a lawyer, & a stay-at-home mama. I gather&read a lot of information before I prepare food for my own child. I would encourage you to do the same, rather than
only
going by what I've posted (although I do stand behind the observations I've recorded here). Each child is different, with different needs. Foods are also different in different regions. I use guidelines I've received from our pediatrician, for feeding our child. Please use the advice of your own pediatrician regarding the age at which your child should begin eating which foods, & what serving sizes are appropriate for your child. Thank you for reading my blog! Please feel free to email me with any questions you may have.***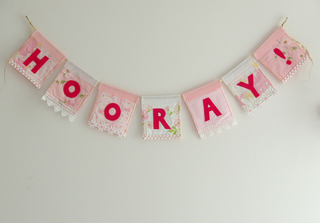 P.S. Be on the lookout for a surprise tomorrow!