I wish I were fluent in another language, & it would be German!
Really.
Mostly because that was the first foreign language that I studied. If I were fluent in it, it would mean that I had actually applied myself & studied hard enough to master the language.
Honestly, I find learning foreign languages really challenging. To make a long story short, I spent a semester of my junior year of high school at a boarding school. But I moved back home & transferred back to my old high school at home.
(The academics at the school were fantastic. I just wasn't ready for the independence, or the peer pressure, that came with the environment. Intellectuals can be weird.)
My boarding school offered German. My high school at home did not.
So I only got to take one semester of German. But I really, really liked it.
I ended up taking two years of French in high school, but my high school French did not prepare me for college French at all. I had to have an intermediate level of foreign language to obtain my college degree (liberal arts colleges, good grief), so I switched to German. Big mistake - one semester of high school German, even taught well, did not prepare me for college level German either.
(It didn't help that there was such a gap in time from when I first started learning it!)
I withdrew out of both of those language classes while I was still in the "withdraw passing" period of the semester. Meaning that I got out without damaging my GPA.
I ended up doing quite well in college Spanish. This is mostly because I opted to follow in my friends' footsteps & do an intensive summer language course abroad in Mexico.
Not only did I absolutely have the time of my life!!!...I also took care of a year's worth of intermediate Spanish that summer. & I still speak pretty good conversational Spanish when I'm drinking.
(Seriously...our Mexican teachers drank so much, & we college students drank so much, that I learned Spanish with a higher blood alcohol level than what I normally have. ;) So when I start drinking, it all comes back to me...I am not making this up!)
Anyway. It would have been nice to have learned German properly the first time. We had the sweetest "Frau" teaching the class. She was a native German. My roommate from boarding school went on to live as an exchange student with the Frau's family in Germany for part of her senior year.
Oh, & I would love to go to Germany! I have been to several countries in Europe, but I have not been to Germany yet. It is high on my list of places to go!
Pretty Little Bare Feet is "learning" German now. Have y'all heard about
Little Pim
?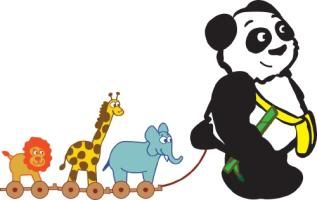 We love him! We have the
German gift set
with the DVD three-pack & the plush toy. Granted, Pretty Little Bare Feet is fifteen months old, so she's not really doing a great deal of speaking in
English
yet. But it is easiest to learn languages, foreign or otherwise, when you're little & soaking up knowledge. So maybe she'll get a foundation & want to study it more seriously as she gets older!
(Oh, & I wanted to thank

PaperFlora

for bringing it to my attention that I had not fixed my button issues

like I thought

. I am so sorry! I had everything renamed properly & resized properly. But I had failed to properly change the HTML code for you! So please add my button to your blog! Everything on the right-hand sidebar should be perfect for you to copy now!)
& in closing...
Happy Cinco de Mayo!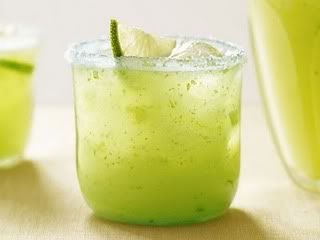 jalapeno margaritas
(yield: 1 pitcher)
*Make a big batch of margaritas with a twist.
*Pulse 1 thin slice jalapeno, a handful of celery leaves, 6 ounces fresh lime juice, & a spoonful of confectioners' sugar in a blender. Mix with 16 ounces tequila & 8 ounces orange liqueur in a pitcher; chill.
*Serve on the rocks in salt-rimmed glasses.