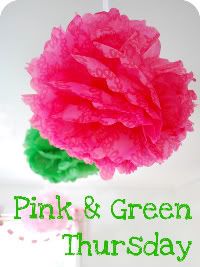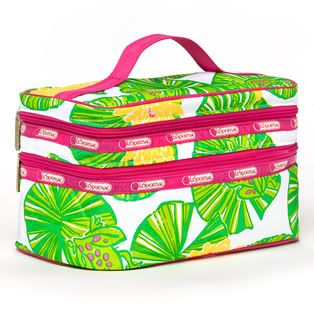 Lilly Pulitzer & LeSportsac
Page Traincase
in Prep Green Hip Hop Hooray
Since mid-March my local Lilly Via shop has had me on a list to call when this comes in.
(& of course they'll be hanging on to one behind the counter for me!)
I have a
LeSportsac Page
traincase now. It's old & in need of replacement. So how perfect is it that Lilly teamed up with
LeSportsac
this spring? Except that this particular print (my favorite) hasn't come in to the shops yet. I am so anxious for them to arrive, so I can move all of my pretty new makeup (& brushes) into a pretty new case!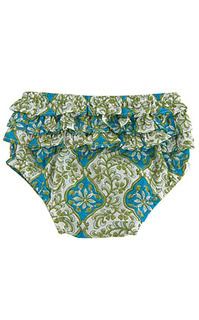 Pretty Little Bare Feet is so happy to run around the house wearing nothing but a diaper. I can't blame her. It's hot&humid in Alabama! & it is still only May!
In fact, after we get home from whatever activity we've spent the morning at, I generally strip her down to nothing but a diaper for her lunch. After cleaning her up, she gets to take a "naked nap," in only a diaper, all afternoon.
(It's the life, isn't it?)
Then I change her into something more "play clothes" than "wear out of the house clothes" to play in at home until she gets her bath in the evening & has pajamas put on for bed.
But what about mid-July when it is unbearably hot in the afternoon, & company is coming over to the house? It wouldn't be ladylike to run around wearing only a diaper in front of company, would it?
We have several little pairs of bloomers & diaper covers already. She had some last summer, as well, & we even had some darling photos done with her wearing one.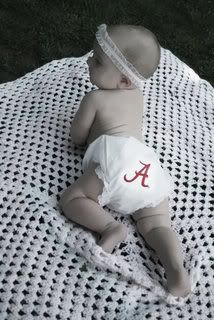 (Pretty Little Bare Feet - Summer 2009)
Rikshaw Design has several adorable prints for these bloomers. Udaipur blue is my favorite (& meets the green criteria for Pink&Green Thursday), but I also love the seahorse prints:

Girls Pink Dinosaur Applique Short Sleeve Shirt,
Girls Mermaid Applique Short Sleeve Shirt,
Seahorse Baby Girl Shirt in Pink&Green,
& Baby Lime Green Monkey One-Piece Short Sleeve Bodysuit
I have briefly mentioned Tadpole Creations
before
, but I wanted to share some of their fabulous new designs with you. They have so many precious nautical designs this spring!
(& Renee always does some designs in pink&green!)
I have ordered from Tadpole Creations several times, for baby gifts & also for Pretty Little Bare Feet. I am always impressed with
the great communication,
the speed with which the items are shipped,
& the top-notch quality of the items.
Go look at all their great designs!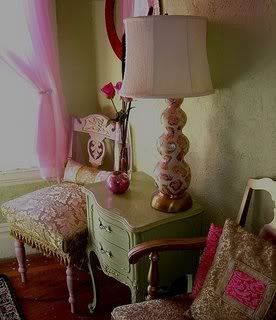 How fabulous is the pink&green corner of that room? Love!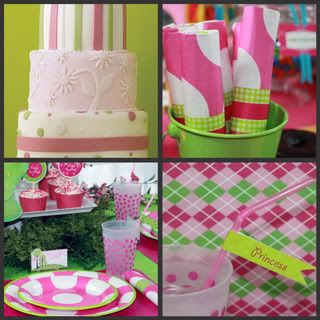 Finally...
It's party season! It is the peak time of the year for
baby showers,
birthday parties,
& weddings.
I don't know about y'all, but I love everything about these celebrations. I hate to turn down an invitation to any of them!
I love to hang beautiful invitations on my refrigerator door.
I love to see decorations at a party.
I love to see what everybody is wearing.
& I love cake!
So here's looking forward to some fabulous parties this spring&summer -
pink,
green,
& everything in between!