As I posted before
, I have always preferred to make most of Pretty Little Bare Feet's food myself, even her "baby food."
Last summer, we shopped at our favorite local farmers market almost every single Saturday. We are so excited that it will soon be opening back up for 2010!
Of course, this year, it will be even more fun for Pretty Little Bare Feet, as she is now able to really eat most of the fresh fruits&vegetables, experiencing all of the different textures.
But even last year, when she was just beginning solid foods, she was able to experience the rich, fresh flavors of these fresh fruits&vegetables.
(& once or twice when we traveled, & opted for the more convenient jars of commercial organic baby food, we could tell that she was disappointed in the difference in flavor.)
One of her favorite vegetables last summer was zucchini, which was wonderful for me.
I usually found a great selection of it at our farmers market.
It is really easy&fast to prepare.
A little bit of zucchini makes a lot of baby-sized portions of zucchini puree.
Plus there are many wonderful ways to prepare zucchini for adults,
so My Prince & I were able to enjoy it at the same meal that Pretty Little Bare Feet enjoyed it!
I adapted the following recipe from combining bits&pieces of information&recipes, mostly from my
aforementioned sources
; as well as from my own trials&errors.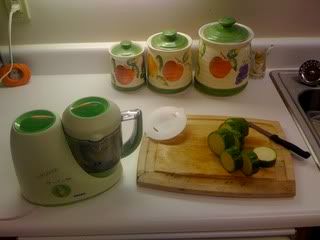 (sorry for the iPhone-quality photo)
zucchini puree
(yield: makes about 1 1/2 - 2 cups)
2 large or 3 small zucchini
*Wash, trim, & cut zucchini into rounds 1 inch thick.
(Zucchini has tender seeds, watery flesh, & thin, edible skin. Zucchini is a good source of beta-carotene, but most of the nutrients are in the skin, so do not peel it. Since your baby will eat the peel, try to buy it a farmers market, or be sure to buy organic zucchini from your grocery store if possible.)
*If you have a Babycook, follow Babycook directions for adding water to steam zucchini. After steaming, remove steamer basket. Then follow Babycook directions to puree to a consistency your baby can handle.
*If you do not have a Babycook or steamer, bring 1 inch water to a boil in a pot. Put zucchini in a steamer basket, set in pot, cover tightly, & steam until very tender, 5-12 minutes, depending on size. If you do not have a steamer basket, place zucchini in a small saucepan, cover with a little boiling water, put a lid on saucepan, & simmer gently until tender (6 to 10 minutes), then drain. Puree zucchini in a food processor until smooth. If you do not have a food processor, you can use a handheld electric blender. Additional liquid will not be needed.
(For the best results, steam the vegetables in a Babycook, steamer, or a metal steamer basket in a pot. I've never resorted to it, but technically you could also microwave, placing the zucchini slices in a microwaveable dish & adding 1 tablespoon water. Cover&simmer until tender, about 6 minutes, stirring halfway through. Then let stand for 3 minutes before turning into a puree.)
*Serve lukewarm.
*To store, refrigerate cooled puree in an airtight container for up to 3 days; or fill ice-cube trays or other containers to freeze for up to 3 months.
*As your baby gets older, you can add your baby's cereal to thicken this liquidy puree, if desired.
(Zucchini is a good choice for your baby's first green vegetable, as it is digestible&mild. Zucchini also delivers a wide assortment of nutrients in addition to beta-carotene, especially magnesium, potassium, & vitamin A. Pretty Little Bare Feet loved her zucchini by itself, but it also goes well with carrot, potato, pumpkin, rutabaga, &/or sweet potato.)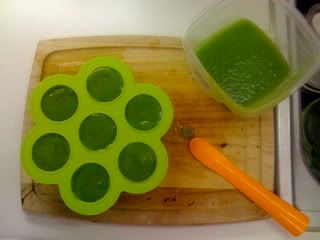 (sorry for the iPhone-quality photo)
***Please note that I am
not
a doctor. I am a blogger, a lawyer, & a stay-at-home mama. I gather&read a lot of information before I prepare food for my own child. I would encourage you to do the same, rather than
only
going by what I've posted (although I do stand behind the observations I've recorded here). Each child is different, with different needs. Foods are also different in different regions. I use guidelines I've received from our pediatrician, for feeding our child. Please use the advice of your own pediatrician regarding the age at which your child should begin eating which foods, & what serving sizes are appropriate for your child. Thank you for reading my blog! Please feel free to email me with any questions you may have.***