I suppose you could argue that it is completely the wrong season for me to post a chili recipe. But you know what? It is cool&rainy here (again), & I think chili would be
perfect
for this evening. So I would love to share this recipe with you. & if you would rather file it away for fall, I promise it will be worth the wait if you don't try it until then!
This is a yummy recipe that I found in the 2009
Taste of Home
Halloween Food&Fun
digest. I love these little digests because they are perfect for finding creative&fun ideas for holidays & seasonal parties. But they also have great recipes for everyday meals at home, & they are often easy&inexpensive to prepare.
I have such an appreciation for my crock-pot, & I am always eager to try new recipes in it.
Not only do I love that I can spend twenty minutes in the morning to prepare supper,
& then just leave it to cook all day...
...I also love the rich flavors & tenderness that slow cooking yields.
If you are also a big fan of your crock-pot (or keep telling yourself that you need to use it more), I recommend: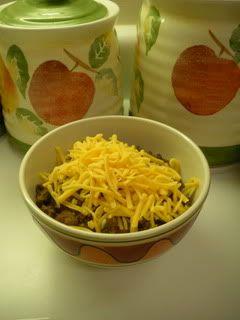 spicy two-bean chili
(yield: 11 servings)
*The author of this recipe notes that, "Chili fans will get a kick out of this untraditional recipe. Tomatoes with green chilies, lime juice, & kidney&black beans give it an original twist. It's wonderful ladled over rice."
2 pounds ground beef
3 large onions, chopped
6 garlic cloves, minced
2 cans (16 ounces each) kidney beans, rinsed&drained
2 cans (15 ounces each) black beans, rinsed&drained
2 cans (10 ounces each) diced tomatoes & green chilies, undrained
1 can (14-1/2 ounces) chicken broth
1/2 cup lime juice
6 tablespoons cornmeal
1/4 cup chili powder
4 teaspoons dried oregano
3 teaspoons ground cumin
2 teaspoons salt
2 teaspoons rubbed sage
1/2 teaspoon white pepper
1/2 teaspoon paprika
1/2 teaspoon pepper
hot cooked rice
shredded cheddar cheese
*In a Dutch oven, cook the beef, onions, & garlic over medium heat until meat is no longer pink; drain. Transfer to a 5-quart slow cooker. Stir in the beans, tomatoes, broth, lime juice, cornmeal, & seasonings.
(You really don't have to use a Dutch oven, if you don't have one. I have one, but I think I used a stockpot for this. Dutch ovens are huge, so I don't enjoy messing them up if I can use something smaller to achieve the same thing! I also use the same size crock-pot for everything. I believe mine is a 5-quart. Except when the recipe necessitates a small one. Then I borrow my mama's 1.5-quart crock-pot.)
*Cover&cook on low for 8 hours or until heated through. Serve with rice; sprinkle with cheese.
(This recipe is really delicious, & it makes the whole house smell wonderful. I love the spices in this recipe, so of course I urge you to use them if you can, rather than making substitutions. You won't be sorry if you add cumin & white pepper to your spice cabinet. My crock-pot almost always cooks dishes a bit faster than recipes call for. Get to know yours, so you'll know what adjustments to expect when cooking crock-pot recipes.)