Happy New Year! I have resolved to blog more, amongst other things...
do more yoga,
give more,
run more,
swear less,
take more photos.
Pretty Little Bare Feet has never been a good napper, although I can't complain too much about it, because she has pretty much always slept through the night, since she was about six weeks old.
However, in the last few weeks, I have begun a subtle shift toward putting her down for ONE nap a day, in the afternoon, & crossing my fingers that it will be a long, consistent one. This has been working, for the most part, since I started it a few weeks ago. It's resulting in more rest for her - & more time to get things done, for me!
So I'm going to attempt to keep my "blog more" resolution by periodically using this newfound naptime as blogging time. I may even venture out into the blogging community a bit more, in an attempt to make blogfriends, in an attempt to seek out motivation to keep updated!
So this being the tail end of a long line of holidays, I felt I should blog about my obsession with holidays...
I LOVE holidays. All of them. Not just these winter ones around Christmastime - all of them. I suppose it really became an out-of-control thing when I worked in a candy&stationery store off&on during my college years. Of course, in those realms of retail, absolutely every holiday is celebrated&marketed.
It stuck...I am now the exact consumer that Hallmark, magazines, & television specials are targeting. I go all out for pretty much every holiday,
from buying the cards,
to making the crafts&recipes,
to decorating the house,
to dressing up Pretty Little Bare Feet
(& the White Dog),
to packing it all back up in my gift/holiday closet upstairs in the guest room.
It's obscene, but I LOVE the festive spectacle of it all.
So this blog post is essentially just a photo summary of the lengths that I went to over the last year, sans any cooking projects because I am doing those individually. I'm also not going to bore anybody (least of all myself) with the excessive details of Christmas, although I will gloss over it a bit because (I am ashamed to admit) some of it is still around for me to photograph&recall.
Valentine's Day.
Did the fact that Pretty Little Bare Feet was too young to be anything but completely oblivious to my efforts, deter me from putting together Valentine's gifts for her & My Prince?
Nope, not at all.
I even forced the White Dog to celebrate.
In addition to
his mushy card,
stuffed mouse that was similar to Pretty Little Bare Feet's,
& whatever other gifts I gave My Prince for Valentine's Day
(& which I am sad to say, I don't fully remember),
I also gave My Prince cupcakes that very much resembled the White Dog.
Last, but not least, there were four sweet little stuffed animals that I gave Pretty Little Bare Feet on Valentine's Day itself. She wasn't impressed, in the least, w/
a white teddy bear from Hallmark;
two Ty Beanie Babies, a dog named Heartbeat & a giraffe named Smoothie;
& a pink Ty mouse named Patter.
(My Prince got the gray one, named Pitter.)
Of course Pretty Little Bare Feet was forced to go straight from little Valentine hearts outfits to little bunny outfits.
One of my favorite little Easter onesies of hers was from Baby Gap, & said "funny bunny" on it.
& then the Easter bunny came!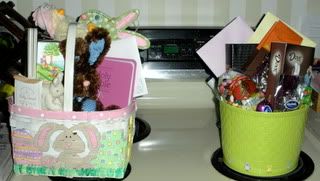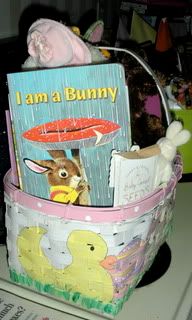 I found the handpainted basket at an adorable little gift shop in the town we were living in. They also painted Pretty Little Bare Feet's name on the back of it, in pink-&-white polka dots. The Easter Bunny also came to visit My Prince. I suppose it may be silly to fix an Easter basket for your grown husband, but he thinks it's sweet, & I think it's sweet, & he fixes one for me, too. His parents never really celebrated or went all out for holidays, just sort of putting in the minimal amount of effort necessary to consider them recognized, so I suppose I put forth a bit more effort where he's concerned, just because I hate that he missed out on so much of the fun of them!
(& well, as I said, I tend to go a bit overboard for holidays...I even fixed my mama an Easter basket. =))
Some of what was in Pretty Little Bare Feet's Easter basket:
a Bunnies by the Bay plush Emmie duck,
a little chocolate colored plush bunny from
Harry&David
,
(with a photo of My Prince & Pretty Little Bare Feet in it),
a chocolate bunny
(because My Prince insisted that a proper Easter basket must have one, even if the recipient can't eat it),
Pretty Little Bare Feet's first Bible
(it was difficult to locate a children's King James version, but I managed!), &
copies of I Am a Bunny by Richard Scarry,
Happy Easter, Biscuit! by Alyssa Satin Capucilli,
& some other Easter books.
She also got a bigger Easter bunny, who didn't fit in the Easter basket...& apparently didn't get photographed!
Oh, & this little tshirt was just too cute, & it doesn't show up in the Easter basket photo.
baby love bunny tshirt from Chasing Fireflies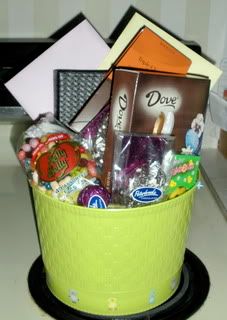 Some of what was in My Prince's Easter basket:
Jelly Belly jelly beans,
some specialty chocolates&eggs (coconut, etc.) from a gourmet chocolatier,
a Dove chocolate bunny,
some Almond Joy eggs,
& a Scofield reference Bible (King James version).
I LOVE HALLOWEEN!!!
It's truly one of my favorite holidays. I cannot get into anything scary, AT ALL, but I love love love cutesy little ghosts, pumpkins, witches, etc. I have some crafts&recipes that I did last year that I will blog at a later time, but I will share that we did a photo card with Pretty Little Bare Feet on it, which we found at one of my favorite stationery sites,
Polka Dot Design
. We changed it to say "Happy Halloween."
Pretty Little Bare Feet posed for the photo card photo in a "Daddy's Little Devil" onesie from Old Navy that her granny had bought for her.


Her granny also bought her a "Ghostess with the Mostest" tee.
Of course the White Dog got in on the Halloween spirit, sporting a "Witch in Training" outfit that coordinated with our Halloween doormat (which I found at Kohl's).
In 2008, while I was pregnant with Pretty Little Bare Feet, my mama called to ask me if I wanted her to buy Pretty Little Bare Feet's first Halloween costume, as she was out shopping after Halloween & came across a mouse costume at Old Navy that would be the right size for Pretty Little Bare Feet's first Halloween. I said, "Sure, if the price is that great." I hadn't really thought about what we'd do for her first Halloween (though I have next year's all planned out!), so a mouse sounded fine to me. Of course, then, a couple months before Halloween, a friend of mine mentioned that her little boy was going to be sporting the same Old Navy mouse costume, & I hit the brakes, thinking...
How many little Old Navy mice are going to be running around?
& is that costume really that gender-neutral? The ears are pink!
(I should point out that this same friend, whom I love dearly, but who admittedly has no real interest in fashion, femininity, etc., lets this little boy wear Dora the Explorer floaties. Yikes.)
So my mama&I made some modifications. Pretty Little Bare Feet wasn't just a mouse for Halloween.
She was a girly, preppy little mouse.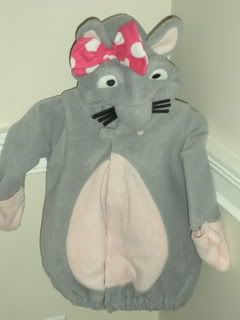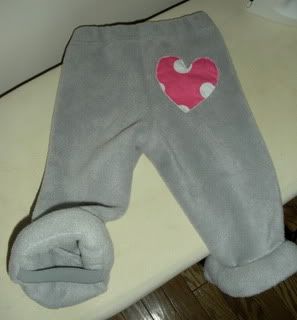 I'm not sure who it was that brought Halloween gifts...the Great Pumpkin, maybe? But in addition to the new trick-or-treat bag, some of the fun things inside included:
a couple Halloween bibs, which I think I found at T.J. Maxx;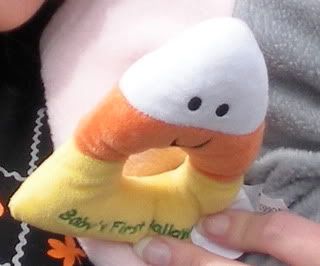 a Baby's First Halloween candy corn rattle, which I found at Babies R Us;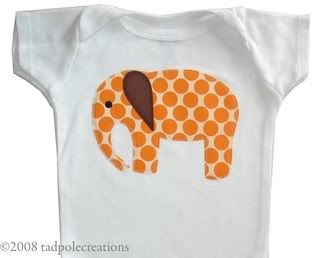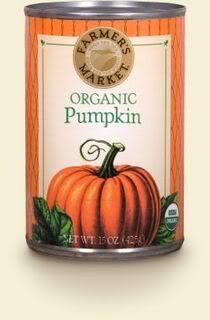 one of her favorite treats, canned pumpkin;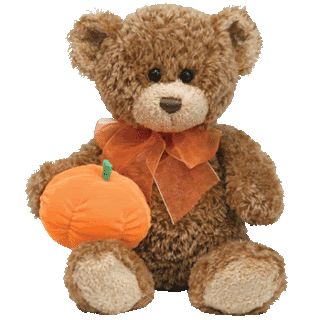 & amongst other things, a Ty autumn bear named Bumpkin.
We also forced the White Dog to dress up as a French maid on Halloween.
She gets forced into a costume every year, & she hates it, & hates us for it, every year.
My Prince also carved a mini Minnie Mouse jack-o'-lantern for Pretty Little Bare Feet, in honor of her costume.
He did it freehand (& last-minute!), without using stencils.
We put it outside for the trick-or-treaters to see.
& I found my own little divalicious "jack-o'-lantern" at Target.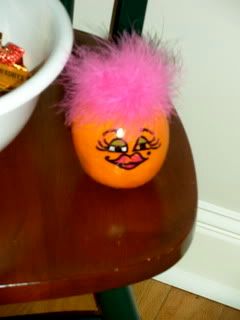 Thanksgiving
IS A HOLIDAY WORTH CELEBRATING. & I don't just mean on the actual day, at the actual dinner. I mean, it should be decorated for & celebrated in the weeks leading up to its date, just like all of the other holidays should be! I admit I get a bit put off when folks skip right over Thanksgiving & start playing Christmas music, or putting up Christmas decor, as soon as they've emptied their trick-or-treat bags out.
& although we don't have a big to-do of gifts (because it's kind of hard to find Thanksgiving-themed gifts, especially for small children), I did try to make it special for Pretty Little Bare Feet.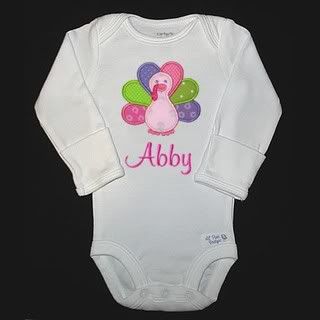 I also gave her a Baby's 1st Thanksgiving bib that I found at Babies R Us. It's Pooh, & I'm not wild about having an overmarketed character on everything my baby plays with, wears, etc.
But it was hard to find Thanksgiving anything, & even harder to find anything even remotely feminine.
Christmas,
oh, Christmas! I could go on&on&on about Christmas forever, or just start a Christmas blog.
Suffice it to say that since Christmas is the most marketed, most celebrated holiday out there, I have A LOT of Christmas
books,
clothing,
decor,
ornaments, etc.
& suffice it to say that Pretty Little Bare Feet got an obscene amount of Christmas gifts (especially for a first Christmas...that she doesn't even understand!).
But since this post was supposed to be more of an illustration of the gifts&things that I do&find for all of those other holidays that don't get as much love&attention, I'll gloss over the exorbitant excess that was Christmas here at our house.
We do two trees.
a smaller, more "fun," white tree, in the kitchen, with lots of candy & gingerbread -themed ornaments, & lots of pastels;
& a larger, more traditional, green tree, in the dining room, with lots of gold&red, Christopher Radko, Lenox, & Raggedy Anns.
(I have some better photos of the big tree, with the tree skirt, & with all of the gifts wrapped underneath, but I haven't gotten around to uploading them yet...will do!)
We used three different photo cards this year, two from Polka Dot Design,
& one from Target. We also used two different boxes of Mary Engelbreit Christmas cards.
I'd be on here all day if I posted every Christmas-themed outfit that Pretty Little Bare Feet wore over the season, but I the dresses that we had Christmas photos made in were a smocked one that my sister-in-law gave us; one with a tutu skirt that my mama gave us (I believe she may have gotten it at Kohl's); & a red gingerbread jumper that I got at Cracker Barrel. (She wore a little Santa hat w/ that one.)
So...now that I've committed to being a blogger this year, I may commit myself to being more diligent about photographing the assorted&various lengths that I go to for holidays this year.
Happy New Year, & Happy Everything Else this year!