I wish I weren't so materialistic sometimes, but the fact is
I like things.
Specifically, I like
pretty things.
& now I have
a little girl that I get to buy pretty things for.
& a house that I get to buy pretty things for.
& on&on it goes...
So here are some pretty things I've come across this week,
from some blog
or catalog
or friend
or magazine
or another;
or just from my own browsing&shopping&surfing,
that I need to convince My Prince to dole out the cash for...
As you know from
my earlier post
, I have to find something cute&fabulous for Pretty Little Bare Feet's Valentine's Day. I'm already getting to the point that I'm thinking, "
Another
stuffed animal?" But this one is so cute that I think we could find a place for it. & My Prince has already agreed we can take her to the Workshop (for the first time!), & get one of these for Valentine's Day. Yay!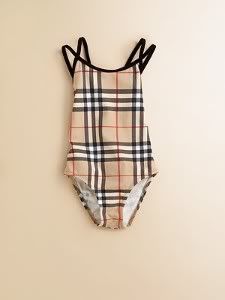 I saw a post on a celeb baby blog somewhere that featured a celeb tot sporting this. I can't even remember who it was, Honor Warren, maybe? Anyway, Pretty Little Bare Feet currently has two bathing suits:
one by
Mary Engelbreit
, which I think she's already outgrown;
& this one from Lilly Pulitzer, which should be fine for our beach trip next month, but which I'm sure she'll have outgrown by summer.
So I was thinking, oh, this Burberry bathing suit will be the perfect little preppy indulgence for Pretty Little Bare Feet to splash around in this summer. It seems, however, that the official Burberry website, as well as Saks, is already out of stock on this. But I found it on the website for a shop in Arkansas,
3 Monkeys Children's Boutique
; & I happen to have a good friend that lives close to it & shops for her own spoiled littles there.
(She sent gifts for Pretty Little Bare Feet from there - some adorable
Juicy Couture
bibs&pacis that she still uses, & the cutest little pink velour Juicy romper.)
So I may just have to call her & have her wander over to see if they have any bathing suits in the appropriate size. If My Prince can bear to pay that much for a bathing suit for a toddler (surely he will; the Lilly was almost that much?).
I've also found a couple others I love, in case we can't find the Burberry.
Moving on...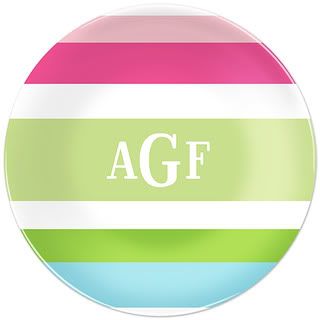 I spotted this on
the Finer Things
blog. I love this blog, & Fine Stationery is one of my newest favorite stationery shops. I had to break out of my usual go-to places for stationery, to find
Raggedy Ann invitations
for Pretty Little Bare Feet's birthday party. I'm so glad I did! Everybody complimented the lovely invitations, & the customer service & shipping from Fine Stationery were great! I've also been finding a lot of other pretty things on their website that interest me!
...like the plates! I don't know if I can convince My Prince to let me order these until I switch out the table linens with the seasons. But won't they be lovely on my favorite spring/summer table linens? Oh, wait, y'all haven't seen those yet! Those are queued up for my first
Style Me Monday
post. ;)
Finally...
I know, I know, I know. I really must
let go,
& grow up,
But a lot of my casual everyday clothes from high school & college were from there, & some of those things I still hang on to, year after de-cluttering year. Every now&then, they'll have a season just full of cute little preppy things - & so inexpensive, too.
Like now...in addition to those cute little pastel cords (which are on clearance for $12!!!), they have all of this cute nautical stuff right now, little silver anchor bracelets&rings&things.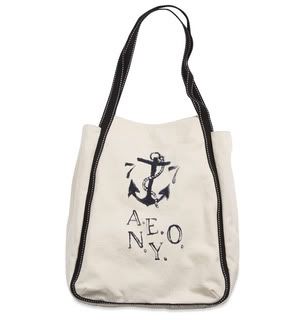 So I may get those cords because they are such a good deal, & I don't have any in that color. & I may get some of those nautical accessories. But I probably won't get the little tote bag.
Because My sweet, sweet Prince pre-ordered the Lilly Pulitzer Pandamonium original tote for me for my birthday!!! YAY, & Happy Birthday to MEEE!
(Do you want to see it again?!)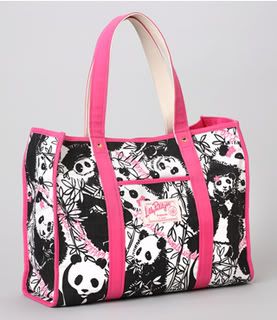 (Also a fresh bouquet of sunflowers on my bedside table, & sweet cards from My Prince & Pretty Little Bare Feet...I won't be obnoxious & share all of the other lovely gifts I've received. But my mama & My Prince have good taste, & I feel very blessed&grateful&loved.)
T.G.I.F.! What do YOU want this weekend?