Another of my favorite recipes from the Magnolia Bakery Cookbook is their chocolate chip cookie recipe. It's the best chocolate chip cookie recipe I've baked because the texture is absolutely perfect (chewy&soft - but thick, not airy); & the taste is just sweet enough...not too rich, not sickeningly sweet.
chocolate chip cookies
(yield: makes 2-3 dozen cookies)
1 1/2 cups all-purpose flour
1 1/2 teaspoons baking soda
1/2 teaspoon salt
2/3 cup (1 1/3 sticks) unsalted butter, softened
1/2 cup sugar
1/2 cup firmly packed light brown sugar
1 large egg, at room temperature
1 teaspoon vanilla extract
1/2 cup miniature semisweet chocolate chips
*Preheat oven to 350 degrees.
*In a large bowl, combine the flour, the baking soda, & the salt. Set aside.
(This may be a big, fat "duh," but make sure you are using baking SODA & not baking POWDER. Although I've caught myself before I've actually added the incorrect ingredient to a recipe, I have pulled the wrong one down from the cabinet in a frazzled-mommy moment!)
*In a large bowl, cream the butter with the sugars until smooth, about 3 minutes. Add the egg & the vanilla extract, & mix well. Add the flour mixture & beat thoroughly. Stir in the chocolate chips. Drop by rounded teaspoonfuls onto ungreased cookie sheets, leaving several inches between for expansion. Bake for 10-12 minutes or until lightly golden brown.
(I have never found a good argument for differentiating between dark brown sugar & light brown sugar. Both are yummy to me. If you have dark brown sugar, I don't believe it will make a difference...I wouldn't spend the money&time to go get light brown sugar. I do, however, distinguish vanilla flavoring from vanilla extract, as well as imitation vanilla extract from the real thing. Make sure you get the real thing - Madagascar, if you can - a big bottle of it lasts forever, even if you bake a lot, because recipes rarely call for more than a small amount of it. & I can definitely taste the difference! As far as amounts go, you are never going to hurt anybody's feelings if you throw in more chocolate chips than are called for!)
*Cool the cookies on the sheets for 1 minute, then remove to a rack to cool completely.
*The Magnolia Bakery sometimes adds in 1 cup of chopped walnuts or pecans, or substitutes vanilla chips or chopped Heath Bars for the chocolate chips.
(I haven't really played with this particular recipe, to add nuts or change the chips, but that's just my preference. I am a creature of habit. I am not a big fan of nuts, especially in baked goodies. When I want chocolate chip cookies, I want plain old chocolate chip cookies, warm & fresh out of the oven, with a glass of cold milk!)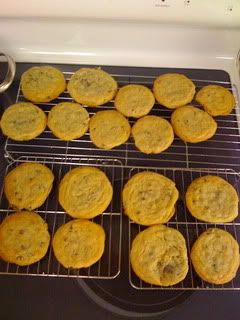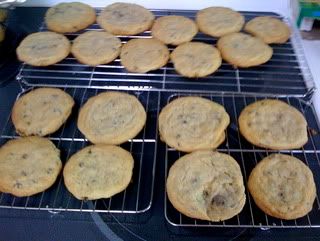 (I apologize for the dreary iPhone photos. This is another recipe that I had no plans to blog about back when I baked it, as I had no plans to blog at all. I'm attempting to get a bit more sophisticated when photographing my culinary goodies these days. Or at least waiting until they've been moved from the wire rack to a prettier dish!)