My Prince's birthday is in November (yep, coming up soon!). Last year, being the adorable, doting wife that I am (& being in second trimester "nesting" bliss), I baked an almost-from-scratch red velvet cake, which is My Prince's favorite.
(I used a red velvet Sprinkles cupcake mix from Williams-Sonoma, which you can buy
here
.)
Despite its not being entirely from scratch, I was oh-s0-delighted when My Prince declared that my red velvet cake was the best he'd ever had, beating out the red velvet cake annually baked by his Aunt Wynette for Thanksgiving (& occasionally for birthday requests).
(Personally, I was offended by his Aunt Wynette's cake, because the first year that I tried it, I bit into eggshells. But not everybody was raised by a Betty Crocker Homemaker of the Year, as I was.)
Anyway, My Prince is so darned nice that I might would have thought he was heaping on the praise just to be sweet, but my mama herself declared that the red velvet cake was amazing, & THAT is not praise easily won.
So for Father's Day this year, which was My Prince's first Father's Day as an actual daddy, I pulled out
one of my Magnolia Bakery cookbooks
, & made him a red velvet cake
TRULY
from scratch.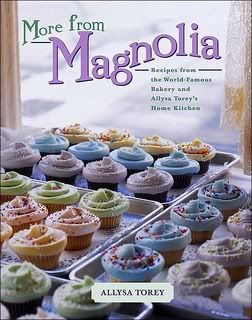 My mama (you know, that Betty Crocker Homemaker of the Year winner) & I agreed that the perfect red velvet cake recipe lay in between
the frosting I'd made for My Prince's birthday...
& the cake I'd baked for Father's Day.
The recipes that follow are for:
the better frosting (from the red velvet birthday cake in November 2008 - Sprinkles recipe),
& the better cake (from the red velvet Father's Day cake this year - Magnolia recipe).
For My Prince's upcoming 30th birthday, I'll be creating the perfect red velvet cake, for the first time combining this cake recipe with this frosting recipe.
(Note: All photos are from the first red velvet cake that I baked, in November 2008. There are no photos from Father's Day of this year. The cake in the photos had only one layer, but I baked three layers this last time, & I intend to bake three layers again for My Prince's birthday this year. Also, since I no longer use the Sprinkles mix, I no longer have or use the Sprinkles sprinkles to top the cake with.)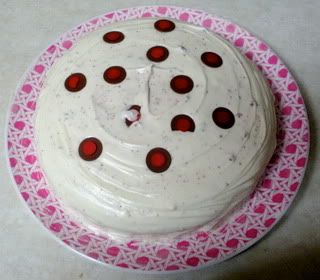 Sprinkles cream cheese frosting
8 ounces cold cream cheese
1 stick unsalted butter, firm but not cold
1/8 teaspoon salt
3 3/4 cups confectioner's sugar, sifted
1/2 teaspoon vanilla
*In a bowl of an electric mixer fitted with the flat batter, beat the cream cheese, butter, & salt on medium-low speed until smooth&creamy, 2 to 3 minutes.
*Reduce the speed to low, gradually add the confectioner's sugar, & beat until incorporated.
*Add the vanilla, & beat just until incorporated. Do not overmix, or the frosting will incorporate too much air; it should be creamy&dense, like ice cream.
*Add milk, 1 teaspoon at a time, if frosting does not have a spreadable consistency.
(This frosting was AMAZING, & I did not have to add any milk - the frosting was creamy&thick, just as frosting should be. I should note that I'm not sure if this recipe will make enough for the Magnolia cake recipe...I'll be finding that out soon, though.)
(Edited later to add: DOUBLE THE FROSTING RECIPE!!!)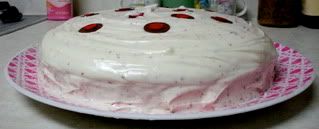 red velvet cake
(yield: one 3-layer 9-inch cake)
3 1/3 cups cake flour (not self-rising)
3/4 cup (1 1/2 sticks) unsalted butter, softened
2 1/4 cups sugar
3 large eggs, at room temperature
6 tablespoons red food coloring
3 tablespoons unsweetened cocoa
1 1/2 teaspoons vanilla extract
1 1/2 teaspoons salt
1 1/2 cups buttermilk
1 1/2 teaspoons cider vinegar
1 1/2 teaspoons baking soda
*Preheat oven to 350 degrees.
*Grease & lightly flour three 9x2-inch round cake pans, then line the bottoms with waxed paper.
(There is a definite art&technique to flouring&lining cake pans like this. My mama instructs me to do as my granny did. You get a pencil & trace the pan on the wax paper, then cut the exact shape&size out to line the pan with. You should also shake the flour around the pan, patting the sides & turning it, so the pan gets floured evenly.)
*To make the cake: In a small bowl, sift the cake flour & set aside. In a large bowl, on the medium speed of an electric mixer, cream the butter&sugar until very light&fluffy, about 5 minutes. Add the eggs, one at a time, beating well after each addition.
(I bought&used pre-sifted flour. DO make sure you add the eggs ONE AT A TIME. If you don't have the time to do this, you don't have the time to bake a red velvet cake from scratch!)
*In a small bowl, whisk together the red food coloring, cocoa, & vanilla. Add to the batter & beat well.
(Just so you know, red velvet cake mix, especially from scratch, is MESSY - but SO worth it. If you are as messy a baker as I am, your kitchen WILL resemble a crime scene after you are finished.)
*In a measuring cup, stir the salt into the buttermilk. Add to the batter in three parts, alternating with the flour. With each addition, beat until the ingredients are incorporated, but do not overbeat.
(Again, do be sure & do this in the proper order. There is a reason for the precision.)
*In a small bowl, stir together the cider vinegar & baking soda. Add to the batter & mix well. Using a rubber spatula, scrape down the batter in the bowl, making sure the ingredients are well blended & the batter is smooth.
*Divide the batter among the prepared pans. Bake for 30-40 minutes, or until a cake tester inserted in the center of the cake comes out clean. Let the layers cool in the pans for 1 hour. Remove from the pans & cool completely on a wire rack.
(I only have two 9x2-inch round cake pans - they are the divine ones from Williams-Sonoma. I removed one of my layers from its pan after about a half hour, & it was fine to cool on the wire rack while the final layer baked.)
*When the cake has cooled, spread the frosting between the layers, then ice the top&sides of the cake with frosting.
(I recommend putting the cake in the fridge immediately after it's been frosted. We like our cream cheese-frosted cakes thick, not at all gooey. Once it's all cooled, it's fabulous with a giant glass of cold milk. I also suggest keeping the cake in an airtight - like Tupperware - container in the refrigerator. Cake never lasts long enough around here to get hardened, & it's much creamier if you keep it cool.)