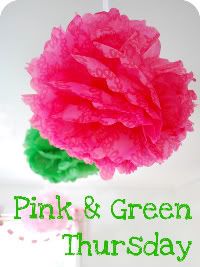 So apparently August 3rd is
National Watermelon Day
. Who knew? A while back when I ordered a few party goods from
Oriental Trading
for
Pretty Little Bare Feet's 2nd Birthday
party, I received a 2011 wall calendar with my order. Now of course it's not as pretty to look at as the
Lilly
wall calendar, but I enjoy it for a completely different reason - it includes all these random little fun holidays that I'd never know about otherwise!
So even though Wednesday has come&gone, I say continue celebrating the summer fun that is watermelons. I refuse to cave to all of this back-to-school madness...
(though I do love a good tax-free weekend!)
...as it is still way too stinkin' hot&humid to be shopping for jeans&sweaters. Pretty Little Bare Feet has been on her own little watermelon kick all summer long, & I am inspired to join her in her sweet fun!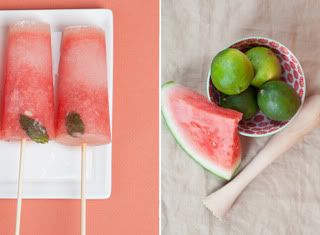 Yesterday I picked up some (more) watermelon & fresh mint, fully intending to mix these delicious goodies up last night for My Prince & me. 'Til I realized they have to chill overnight, so then I figured they'd be a happy hour treat for us today. Only I can't find popsicle molds anywhere! So they may end up being a day late...
...& uh, just watermelon mojitos w/out the pops!
(But there's still plenty of fun in that!)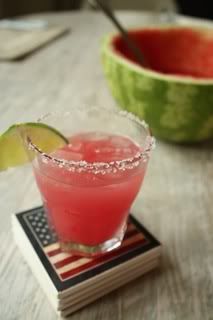 I also think these look fantastic & worth a try. I've been craving a mango margarita from
Chili's
since I was in about week 34 of my pregnancy, & I haven't gotten one yet...
...so maybe I'll do some more at-home bartending with this watermelon I have, & see if I can satiate that fruity margarita thirst that's been nagging at me!
I love,
love
,
love
pretty much anything Hartstrings, & I am especially grateful for them now that I have a boy - which makes it
so much more of a challenge
to find cute little clothes! There is still plenty of hot summer weather around these parts, so I've hit the summer sale on the Hartstrings website a couple times already, & will probably be back at it again!
(Especially with cute stuff like this on major sale!)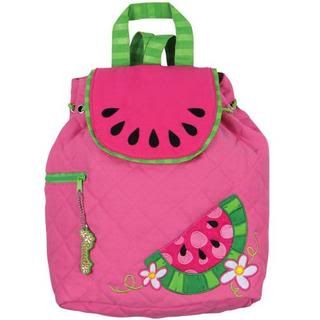 Is Stephen Joseph all the rage in the halls of your kid's nursery school? It definitely is in ours! & in the lobby of the gym where we take her for gymnastics...
...& pretty much anyplace around here where cute little mamas bring their cute little tots!
Pretty Little Bare Feet has the
cupcake quilted backpack
(
monogrammed, natch!
) & the
owl lunchbox
(
just a
name label sticker on that one
). & when she was a
little
baby, we loved her ladybug bib&burpcloth by Stephen Joseph.
I haven't seen this watermelon backpack in person, but came across it on the website, & now it might be on the list to replace the cupcake backpack once that one is completely worn out.
(& it's well on its way there...toddlers are pretty rough on their bags! LOL)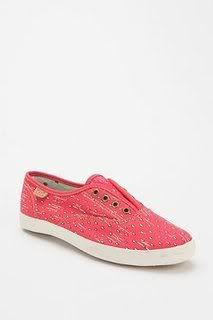 Although all the little watermelon-wear out there for kids is so sweet, it's not impossible to cutely incorporate watermelons into our own wardrobes. I think these little sneakers would be so fun to pair up with basic polo&shorts combinations, especially for a hot summer day outdoors!
Hmmm...
...now I see that today is Champagne Day...;)