I know, I know, I know. Many preps think
Uggs
are decidedly un-preppy. & furthermore, every other freshman girl at the local high school has a ubiquitous pair of the classic short boots in chestnut, right? So Uggs cannot possibly still be okay to wear, right?
I vote wrong. Well, okay, so maybe I wouldn't wear a pair of that style of Uggs.
But first of all, I never owned that same old pair of boots that everybody else had/has. My first Ugg purchase was actually the old Thelma style of moccasins.
(Not the less-attractive newer perforated version.)
& I still wear my oldest Uggs because they are perhaps the comfiest pair of cute shoes I've ever slid my feet into. They pretty much carried me through a winter of grad school classes, & another three winters of law school classes.
Sheepskin

Dakota

in Tobacco by Ugg Australia
The closest thing they seem to be carrying now is the Dakota. My old Thelmas, however, are not slippers; they are outdoor shoes with outdoor soles. & they look like penny loafers - more tailored, no ties.
(& as for tall, furry boots? Well, several years ago, I opted for the

Coach

Kimberly boots in black. They held up so nicely that the following year I got a pair of Coach Juniper boots in winter white. I haven't felt a need to buy any winter boots since, although I have bought ankle boots, cowgirl boots, equestrian boots, rain boots, etc. It is Alabama, so it's not like my "snow boots" get very much time out&about each year. ;))
So although I didn't really jump onto the Ugg trend, in the sense that I didn't buy the pair of Uggs that were actually trendy...I did fall in love with my Uggs.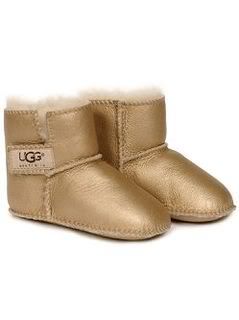 & when it came time for Pretty Little Bare Feet's first pair of shoes, I bought her a pair of Erin baby sheepskin boots in soft gold. & her little growing pair of feet have gotten three seasons' worth of wear out of them...& numerous compliments. ;) & most importantly, she loves them!
So now that I've admitted my love for Uggs; at the risk of your criticism, I have to share some of my favorite Uggs of the season.
(See, Jimmy Choo thinks Ugg is cool enough to collaborate with! So there! ;))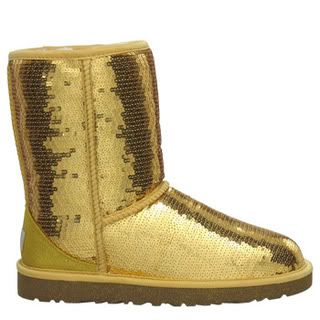 (I know, these are crazy, right?! But I like them. They'd be even cuter on Pretty Little Bare Feet, I'm sure. But I *think* I'm still cute&young enough to pull them off...maybe with a basic black sweater&leggings ensemble. Anyway, I *know* they'd look better on me than icky Oprah.)
(Love this coat for Pretty Little Bare Feet! She'd be swimming in it now, even in the 2T. But I have hope that maybe she'll be able to wear a 2T by next summer winter?)
(I think this is a cuter & much more tailored look for the "classic" style of Ugg. I think the buttons make them look more like boots & less like houseshoes. So more appropriate for wearing out&about with jeans, etc. I just don't think I can ever condone Uggs with dresses&skirts...)
(Speaking of houseshoes, as we call 'em in the South...since I am aware of how delightfully cozy all of these sheepskin Ugg babies are, I think I would actually *wear* houseshoes more often if I had a pair of these. I always get cute flimsy little houseshoes, & then never wear them because socks are more comfortable&practical - especially the

fuzzy ones

! But our house is all hardwood floors in the downstairs, where I'm at most of the day, & these floors do get pretty cold in the winter. It'd also be nice to have something to slip on my feet - other than whatever heels I've worn that day & haven't put back in the closet yet - to run out to the mailbox or take the White Dog out.)
So, alright, out with it...if you hate Uggs, at least give me the credit that I don't love the same pair of Uggs that everybody in the world has.
(& has had for years.)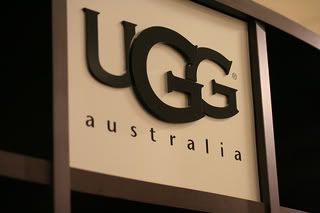 & if *you* love Uggs, are you willing to announce it? ;)