...so where did the time
go
this year?!
Dear readers, I have learned my lesson. Never again do I travel for Thanksgiving without doing all of my Christmas preparations beforehand! Last year we had Thanksgiving here at our house, & I was able to get pretty much all of my Christmas to-do list taken care of by December 1st. This year we were out of town until late on the Monday night following Thanksgiving. Pretty Little Bare Feet missed her first day back at nursery school to catch up on sleep, & I feel like I missed the whole first week of December to catch up after travel!
(I did manage to make it to the places I was supposed to be & uphold most of my time-sensitive commitments...I think...)
Then I realized at some point during the middle of last week that I was entirely unprepared for the Christmas season! Not only were we not listening to my carefully prepared annual CD mixes of old Christmas classics & new Christmas renditions...I hadn't even put up our Christmas trees! No wonder I didn't feel "in the Christmas spirit" yet.
So now that I've learned my lesson, & have had to work into the wee hours of the nights...
(Like Santa's elves, naturally!)
...I'll share with y'all what generally goes into my Christmas preparations.
& do let me know what I'm forgetting, or what you just have to do at your own home to get ready for the Holiday season!
1. I bake, bake, & bake some more. In addition to...
...baking&cooking for the actual Holiday dinners themselves...
(Thanksgiving & Christmas, respectively)
...I also participate in an annual cookie exchange with my momfriends,
& I bake something for our special Christmas playgroup.
I enjoy baking so much, & I always see so many great recipes to try this time of year. I often end up baking
while we're putting up Christmas trees,
while we're watching Christmas movies,
etc.
Those wonderful smells from the oven just seem to add to the festive feel of the season!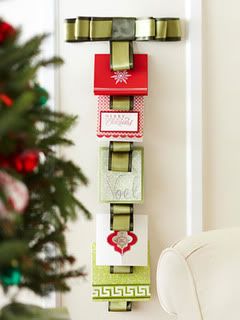 2. Usually sooner, rather than later, I update my Christmas card list. Last year I had the list finished & most of the addresses updated before the end of Thanksgiving weekend. This year I absolutely panicked when I received our first two Christmas cards in the mail.
(Last Thursday, I think.)
I had already ordered our Christmas cards, thank God, but the actual
addressing,
stuffing,
stamping,
mailing?
Yikes, I still needed to update the list! I got started on it this weekend, though, & I'm hoping to get most, if not all, of our Christmas cards mailed out by the end of this week. Please tell me I'm not the only one who's a bit behind on this!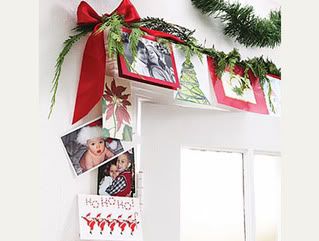 3. Last year, being on top of my game as I was, I had ordered our
first batch
of Christmas photo cards before Thanksgiving. They went out the first week after Thanksgiving. I ordered a
second
batch of photo cards (
Really!
) during Thanksgiving weekend & sent those out about a week afterward. I did a final batch of Christmas photo cards by taking advantage of a great sale at our Target portrait studio, & distributed all of those throughout the rest of the days leading up to Christmas.
I know that sounds excessive, but I also do photo cards for
Valentine's Day,
Easter,
the 4th of July,
& Halloween.
I don't scrapbook, so it's a way for me to share updates with our closest family&friends, while also nicely preserving our memories of our growing girl for ourselves. Since I only do a small batch of cards for each of these occasions, I tend to go all out for Christmas.
(I invest in the more expensive, professional photo cards for our family & closest friends...but I must say that if you make sure to print your cards in a 5x7 size, with a matte finish, on cardstock if you can!...you can make less-expensive prints from your local drugstore or Target look so much nicer! That's how I keep our Christmas card list so long. =))
I was so proud of the family My Prince & I became when we married...so I've embraced photo cards ever since the year we were married. Of course now I'm also so proud of Pretty Little Bare Feet, so I feel it's worth the extra dollars&cents to invest in photo cards for everybody.
(Even though there are some perfectly lovely boxed cards out there to be had!)
I'm also not always the best in the world at keeping in touch throughout the year, so I make an extra effort at Christmastime to reach out to all of my dearest friends to let them know I still think of them & wish them the best. Technically, it's
bad etiquette
not to at least sign a photo card, although that seems to be the norm these days. I always enclose a handwritten note - even if it's just a short one - to personalize the correspondence. This may be why the whole Christmas card thing is such a huge undertaking for me each year; but I enjoy doing it, however much time it consumes!
(& of course it never fails that somebody that you elected not to send a Christmas card to, since you hadn't heard anything from them in years, will decide to send a card this year - so it never hurts to have an extra stack of cards on hand!)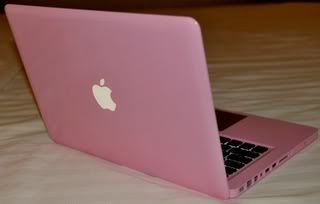 4. Of course, choosing the actual Christmas card - & the photo to grace it - can easily take a whole evening for me. I have several favorite places that I order stationery from online, & I can spend (& have spent) hours perusing the new designs each year. I'm also much more impressed with the designs that can be found on
Etsy
, than the standard fare that is offered from the local printers; so I'll be using a custom design from an Etsy seller for the cards that I'll be printing locally this year.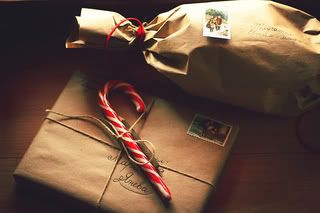 5. I buy Christmas stamps at the last possible minute every year, & I admit it. Sorry! I put the effort&time into other things (see #3), & I just don't pay a whole lot of attention to what seasonal stamp I get left with by the time I get around to buying them!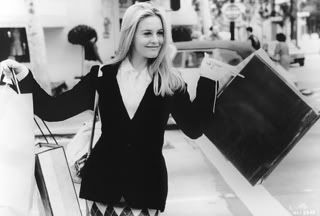 6. I wish I could say that like my mama, I start buying Christmas gifts for the following year on the day after Christmas. But I do not. However, I do usually start shopping for My Prince & Pretty Little Bare Feet as early as October.
Most years I have my Christmas shopping list made out well before Thanksgiving. Then, whatever gifts I haven't gotten yet, I keep an eye out for during my annual
Black Friday madness
. For any gifts I haven't found after that, I start shopping around every day until the list is finished. I'm usually able to avoid last-minute Christmas shopping.
(& if I receive a gift from somebody that I hadn't considered exchanging gifts with, I send a sweet thank you card with an invitation to supper or an offer to babysit or something.)
My card list is long, but my shopping list is pretty short. Of course we exchange gifts with one another at home, & with our closest family. But other than that, we only buy gifts for my best friend & her husband, & My Prince's best friend. I also put together smaller gifts for:
classroom/playgroup exchanges,
My Prince's office staff,
the nursery ladies at church,
secretaries,
teachers,
etc.
(& sometimes those are the hardest to shop for!)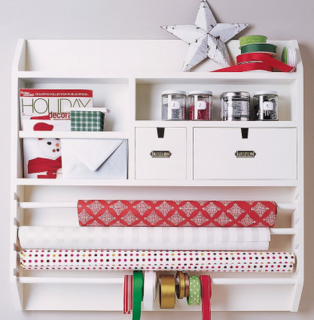 7. Although I do avoid last-minute shopping, I am awful about last-minute wrapping! Last year having a child in the house spurred me to get gifts wrapped much earlier, so they could be around&under the tree for most of the month of December. This year...well, yes, I'm behind on this one, too. =(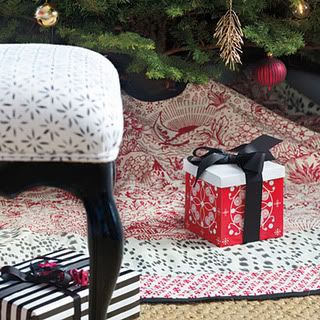 8. Last year I was able to decorate the house for Christmas & put trees up over Thanksgiving weekend. This year I didn't get around to it until this past week. But it's done!
What all do you decorate?
Until I got married...
(& really the first year or two that we were married, before we had a child...)
...I didn't put up a tree because I went home to my mama's house for Christmas, & usually several days before&after. So we've only been accumulating our own collection of Christmas decorations for a couple years, but I think we're well on our way to a festively decorated (but, um, not overdone&tacky) home for the Holidays.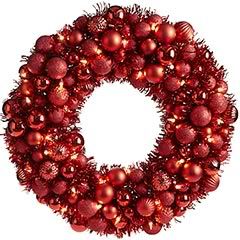 This year I was able to hang a beautiful, huge red wreath that my mama bought for me last year after I lamented the sad excuse for a cheap wreath I had hung at the last minute. Now I need to find the perfect doormat!
We haven't really done anything in the way of front lawn decor. It's so easy to go overboard with it, I think, & most of our neighbors are very understated. Traditionally in our neighborhood, you only see ribbons on mailbox posts, & maybe one small tree strung with lights. If there are any decorations beyond that, they are generally just done with white lights, & not much of anybody actually strings lights on the houses in our neighborhood.
(I think that inflatables are banned by our homeowners' association. Thank God, I say.)
I also put up two Christmas trees.
Last year my white one went up in the kitchen. But My Prince bought me a stellar piece of exercise equipment to run to my heart's content on, which has taken up residence in the empty room at the end of the kitchen, formerly known as a "breakfast nook."
(Breakfast nooks, good grief. I am perfectly content eating all of our meals in our dining room! ;))
So now the white tree is in the front entryway. It is my "fun tree." I put
colorful ornaments,
fun ornaments,
& all of my many, many candy-&gingerbread-themed ornaments
on the white tree.
The larger, more traditional green tree goes up in the dining room, by the window. It has more classic ornaments, mostly in golds&reds. It also has My Prince's nicer University of Alabama ornaments, as well as my nicer Raggedy Ann ornaments.
Both trees are strung with solid white lights.
I also have several special Christmas accent pieces that I place throughout the
guest bathroom&bedroom,
kitchen,
& living room.
& I have a pretty great collection of Christmas plush that I add to Pretty Little Bare Feet's "downstairs" toys.
(The ones that get played with the most, & thus get to take up residence in our downstairs main rooms.)
A few Christmas essentials I still really need to get are:
suitable tree toppers,
(I am *so* picky about these!)
& tree skirts;
(Last year I borrowed extras from my mama.)
Christmas dishes;
(I have a few - just not a fine set...)
& Christmas linens.
(Currently it doesn't look seasonal in our master bathroom&bedroom at all.)
I also need to replace Pretty Little Bare Feet's stocking, as a local monogramming place mangled it last year.
(Thank God I found an absolutely wonderful place that has done beautiful work for me all year this year.)
We just love, love, love when our house is decorated for Christmas!
We also love attending local Christmas events&parties. & as Pretty Little Bare Feet is getting older, we enjoy the activities for children so much more than anything else. The delight&wonder in her eyes at every little thing -
the Christmas trees,
Santa,
& her favorite this year, the Grinch! -
it is just magical! My heart literally fills to the brim every time I see her little eyes twinkle at some new discovery.
Now that I've finally caught back up on the everyday things, & prepared most of the Christmas things...I hope to be able to blog, & catch up on reading blogs, with a bit more regularity...
...but if I disappear for a few days again, just know it's because that precious little girl of mine is taking up every bit of my
devotion,
energy,
& time...
...& I'll be back to blogging as soon as I feel caught up on all of the commitments I have to my beautiful family&friends.