Here are some pretty things I've come across this week,
from some blog
or catalog
or friend
or magazine
or another;
or just from my own browsing&shopping&surfing,
that I need to convince My Prince to dole out the cash for...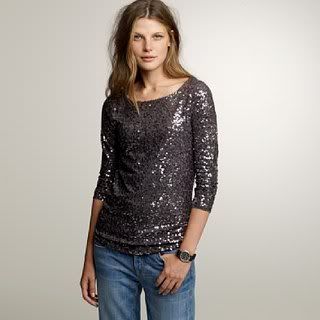 During one of my recent closet clean-outs (which I routinely do a couple times a year), I am quite certain I got rid of a pink sequin tank, determining it inappropriate for my vision of a posh mama wardrobe.
(Although I did just hear a week or two ago that I look nineteen! Woohoo!)
However, I think the color&cut on this chic little J. Crew top make it ideal for a number of upcoming occasions this mama may find herself attending. & it looks comfortable!
>
& when I am in a J. Crew store, I always end up adding at least a pair or two of socks to my purchases.
For years I have been
devoted to J. Crew socks
. I don't know what it is about them, but they are so comfortable & are of such good quality that they can endure multiple launderings without showing wear. So they always end up being my favorite socks. Aside from a few "around-the-house" fuzzy lounging socks, my sock drawer is almost exclusively filled with J. Crew socks. & if you shop in store, they are almost always on some kind of promotion.
(Buy two pairs & get a third half off, or something to that effect...)
Try them if you haven't - I bet your feet will become loyal, too!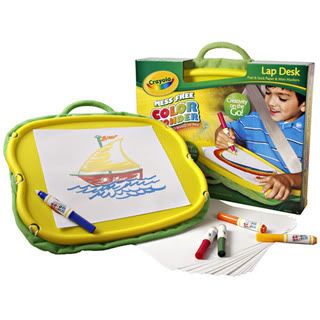 >
Okay, so technically we already bought this. But how excited am I that I found this before our upcoming road trip over the Thanksgiving holiday? We're going to be in a vehicle for a looong time. Although Pretty Little Bare Feet has been a pretty good traveler on the last few road trips we've taken, they've been relatively short trips in comparison to the next one we're going on.
(I am not a big fan of televisions in vehicles, but I think they bother me most when they are used on those everyday mundane commutes to&from school - you know, when I feel like it would be an ideal time for conversation. Plus I grew up reading books on road trips & generally entertaining myself just fine without a television in our vehicle. However, it has been pointed out to me by an acquaintance of mine that when we were children, we weren't strapped in to carseats for nearly as long, nor were we confined to booster seats for years after that. That being the case, I did relent & allow for a portable DVD player to accompany us on our

trip to Orlando

last summer, & it was used moderately&successfully enough that I am open to bringing one on longer trips in the future.)
Anyway, I'm all for new ideas to keep a toddler content to ride in a vehicle. I am really excited about this lap desk because Pretty Little Bare Feet seems to prefer coloring (or scribbling with anything, really) to most any other activity right now. & she also seems to prefer blank pages to coloring in coloring books. So I have high hopes that this lap desk will entertain Pretty Little Bare Feet when she's in her carseat for longer periods of time.
Oh, & the most exciting part of all?! Those markers will only write on the special kind of paper that comes in the tablet with the lap desk. So no mess all over everything (& everybody) else in the vehicle!
>
Last Dance Silver Chains&Pearls Necklace by

Alex Keller
Those of you that have been reading my blog for a long time (or that know me) may have noticed that I am pretty particular (one might even say boring) when it comes to jewelry. It's just not an area in which I often follow trends or take risks. I like my jewelry relatively
classic,
delicate,
simple,
small...
...& I prefer to have a few pieces of the "real thing" from, say,
Tiffany&Co.
; rather than an overflowing box of trendy trinkets of fashion jewelry.
(Or at least I *think* that's what they call it these days.)
Not that I have an aversion to fashion jewelry - I am just not as interested in jewelry as I am in other areas of my wardrobe, so I don't pay as much attention to it (or shop for it as often) as I do to other things. But I do have an appreciation for anybody that has a great eye for how to inexpensively accessorize with fun, playful jewelry!
That being said, when I do come across a piece I really like, I usually wear it to death. This is often because the pieces I'm drawn to are very much pieces you can wear with pretty much anything.
This necklace is one of those pieces. I think it would be fabulous with jeans & a simple white crewneck sweater. & equally fabulous with a little black cocktail dress. & the price is unbelievable!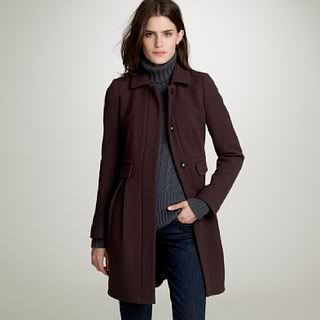 Okay, I really didn't mean to go back to J. Crew again in this post.
But the weather has finally been turning cold, rather than just cooling off.
(At least on some days.)
& this coat may be my favorite that I have come across recently.
Feminine, yet polished. Flattering cut. & that dark plum color is a perfect everyday alternative to black or tan.
T.G.I.F.! What do YOU want this weekend?